Editor's Note: This Q&A originally appeared in AG Tire Talk to provide answers that farm equipment dealers have about farm track technology. This series features a trending question followed by an abridged version of the answers. For the complete answers, check out www.agtiretalk.com
Question: What are go to ag tire apps and website portals you deem "essential" to increase tire productivity, increase yield, and maximize return on investment? What info do they provide? How do they work?
---
BKT USA Inc., Dave Paulk, Manager Field Technical Services
The BKT website is useful to find tires that will fit specific needs. Tires are broken down into three categories. By clicking on either the Agriculture, Industrial or OTR tires icon, the wheel diameter and size can be selected. If the "Pattern" is known, that can also be chosen.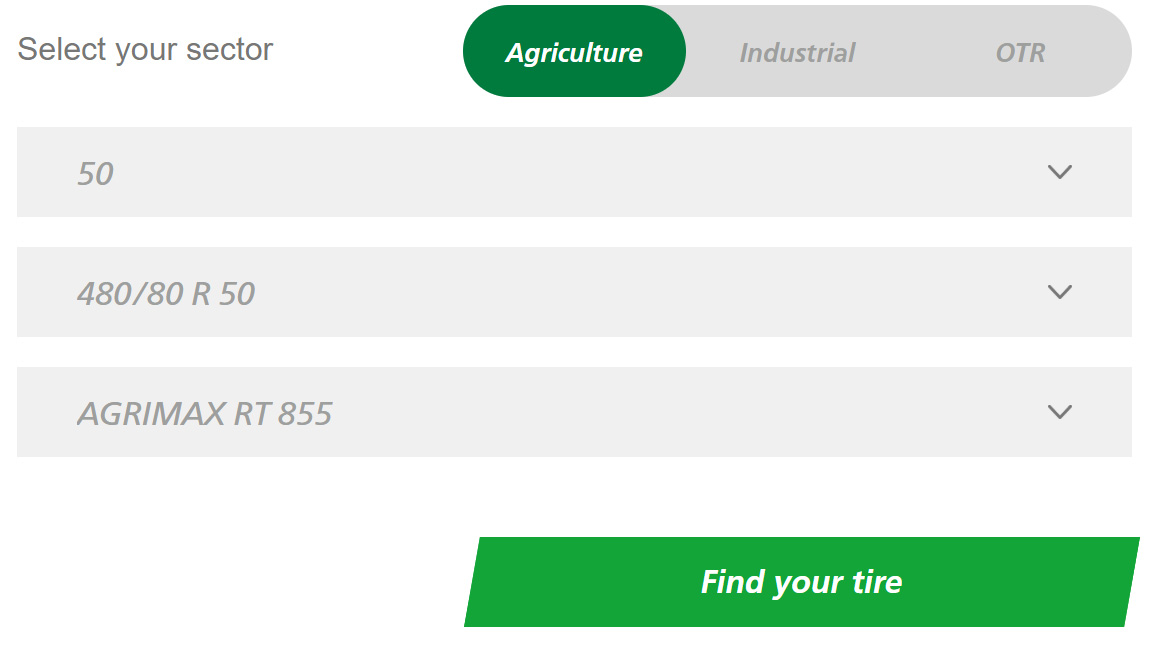 Once the tire is chosen, the following data and information may be found on the website:
Recommended Rim with Alternates (if any)
Section Width (distance from sidewall to sidewall with the tire inflated)
Overall Diameter (measurement from the bottom of the tire to the top. Tire height)
Static Loaded Radius (distance from the centerline of the hub to the ground. Important for planters and some tillage equipment)
Rolling Circumference (distance in inches that a tire travels in one revolution. Important for MFWD tractors)
Type (tube type or tubeless)
TRA Code (Tire and Rim Association Code for agricultural tires)
Load Index and Speed Rating (maximum load at the maximum speed a tire is rated at)
Version (Standard, special, steel belted, etc.)
By opening the Tech Sheet for a tire, important information can be found on air pressures and weight carrying capacities. By selecting the speed of the tractor or equipment, air pressure can be selected on the slide bar to find the needed load carrying capacity.
The "Technical Specifications" page shows all the above data as well as a description of the tire. It has the "Load and Inflation Tables" for the tire. This page can be printed if needed.
The Load Capacity tables are important. The Load and Speed Index Symbol for the tire is the rating at the maximum load and maximum air pressure. By using the above table, the correct air pressure for the weight and speed of the tractor and equipment can be used to eliminate potential tire problems.
The Load and Inflation charts are good for determining load capacities and air pressures at field speed and at highway speeds. Tires run at highway speeds need more air pressure to carry the same weight as when they are run at field speeds.  A multitude of tire problems are caused by not adjusting air pressures between the field and road.
---
Continental Tire Agriculture, Dana Berger, Farm Project Lead – Continental Commercial Specialty Tires
Outside of equipment manufacturer manuals, there are several resources that can be essential to life on the farm. At the end of 2019, Continental launched an application, "Agriculture Tiretech." The app is available for both iOS and Android devices and provides key calculations for load and air pressure. Continental also provides access to specific technical data to achieve the optimal performance farmers require every day.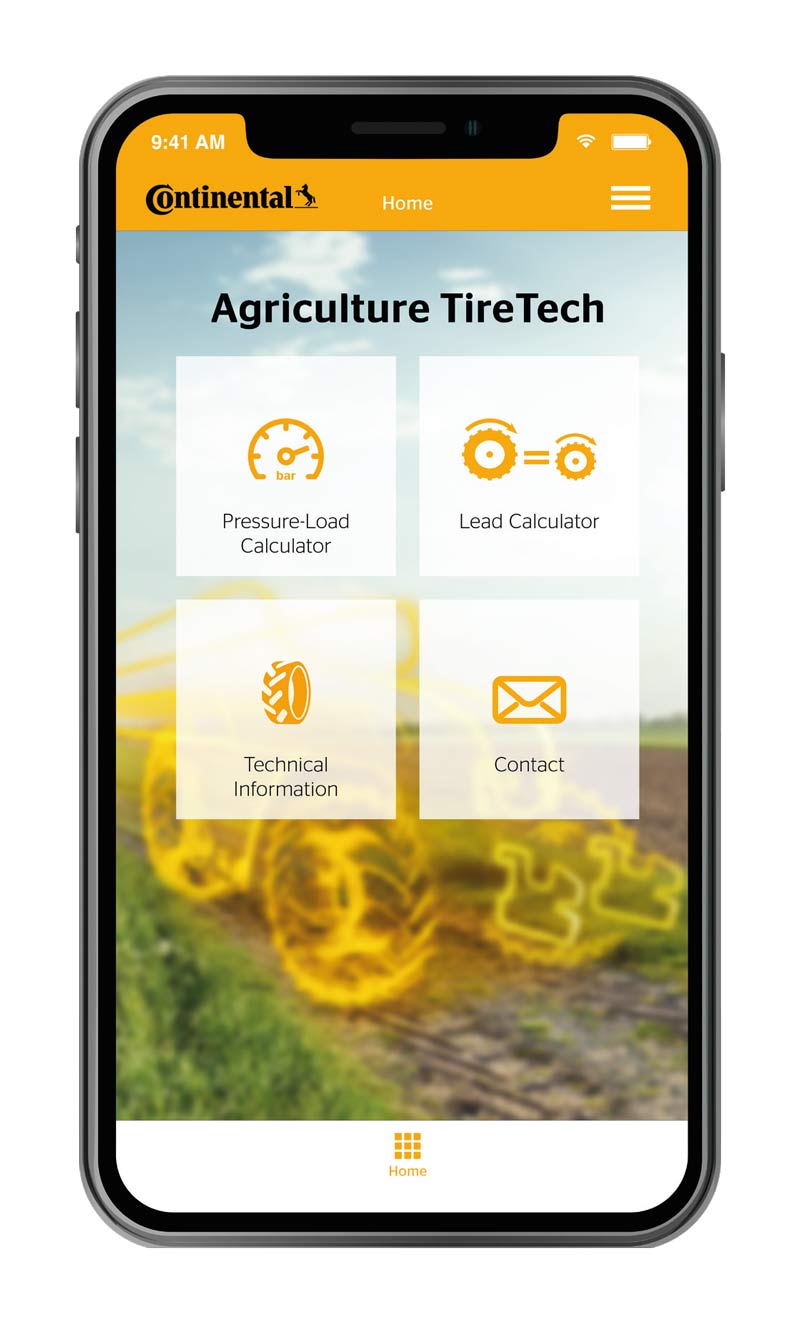 In order to maximize the return on a large investment, we need to do our best to take care of the items we purchase. For tires, that means paying close attention to the working inflation pressure required to haul various loads, on the road and in the field. Inflation pressure has a direct relation to machine performance, soil compaction and fuel consumption. 
In the "Agriculture Tiretech" app, farmers can select what size Continental tire they are using (including VF technology), choose the tire load, scroll through the estimated driving speed on the road or in the field, and the tire inflation pressure will be calculated immediately. Beyond that, farmers can find quick technical facts for that tire size, such as overall width, overall diameter, static radius, rolling circumference and permitted/suggested rims.
Continental has also included a convenient Lead Calculator for the customers dealing with MFWD (mechanical front-wheel drive) tractors. This tool suggests if your selected front and rear tire combination is best suited for the mechanical ratio of your tractor (unique for each OEM), and ensures the front tires are always pulling the machine.
New technologies are on the horizon to support tire inflation from equipment manufacturers. Until Central Tire Inflation Systems (CTIS) are readily available from the manufacturers, our Agriculture Tiretech app is the best solution. End users are normally inflating tires to the maximum allowed pressure but need to keep in mind that each operation is unique. For example, fully loaded equipment at the beginning of cyclic operation requires higher working air pressure. Once the farmer starts in the field, the required working pressure will decrease as the load is decreasing.
Additionally, there are many other resources available to farmers through supporting tire and equipment dealers. Continental can and will offer support through our partners, as well as our local Technical Solutions team of engineers.
---
Maxam Tire International, Greg W. Gilland,  Vice President of Global Agriculture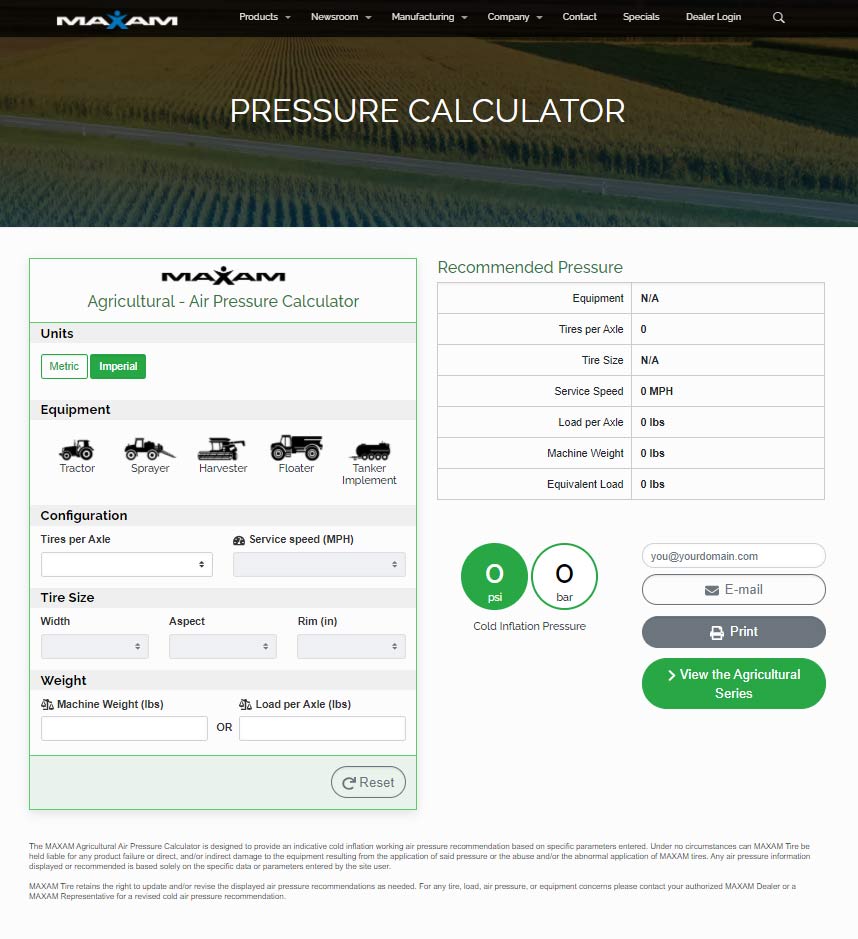 As the Maxam online services continue to evolve, we have enhanced our website and portal to include an AG Tire Load & Pressure Calculator designed to maximize our customer's return on investment. This new tool will allow our agricultural customers to effectively choose the right air pressure for any given tire load resulting in improved machine productivity while managing the tire's gross flat plate, minimizing compaction and increasing crop yields.
In agricultural applications, tires are designed to deliver the optimal traction or flotation based on their size, load capability and compounding. Agricultural tires are specifically sized to fit the wheelbase of a vehicle chassis. In all cases, assuming the right tire size has been chosen for that wheelbase, the key to delivering the best performance is the cold air pressure for a given load. In order to achieve the right air pressure recommendation that will deliver the right footprint resulting in improved productivity and greater yields, you need to account for the tire load by axle or individual by the individual tire and as well the speed required to work the field or transport the equipment.
---
Michelin Ag, David Graden, Operational Market Manager – Agriculture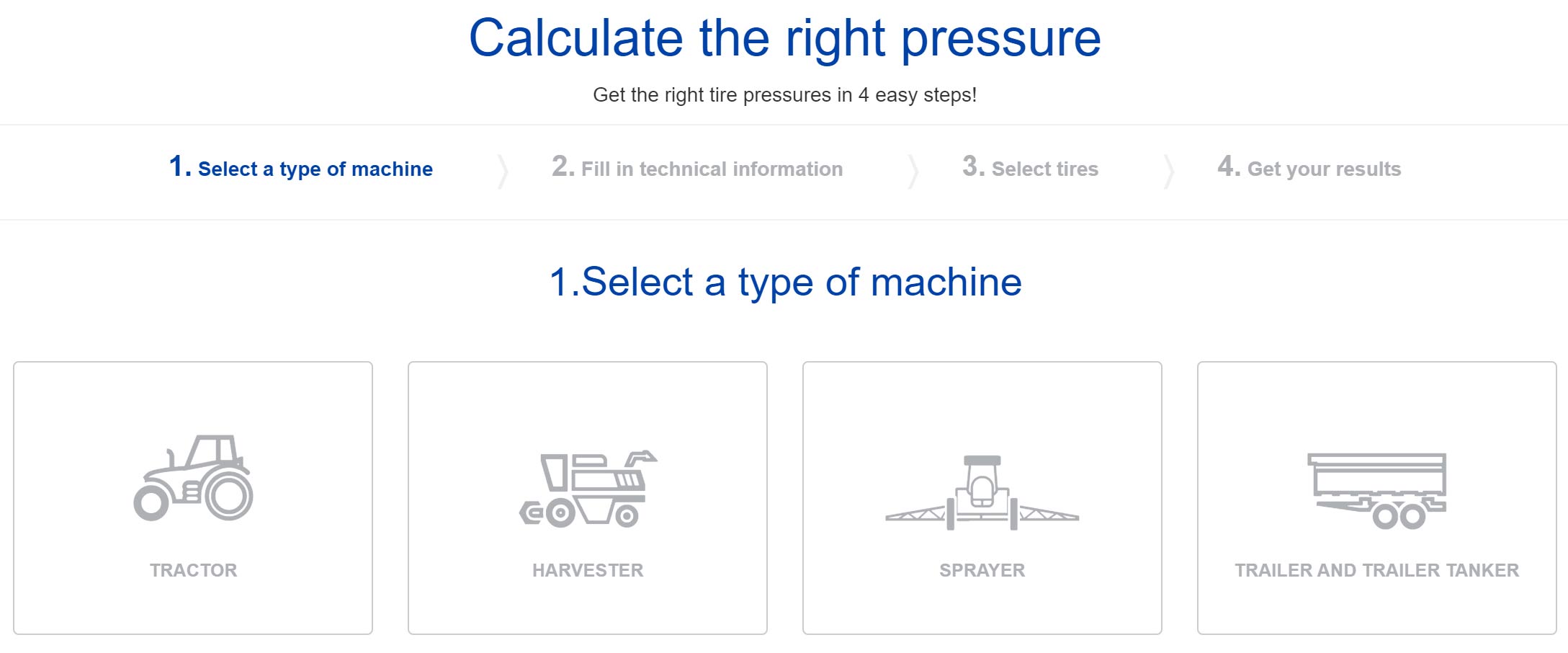 The Michelin tire pressure calculator enables precise air pressure set in accordance with speed and load, reducing soil compaction and maximizing tire life, as shown below
Select Machine
Add Load
Set Tire: Size / Load Speed Index / Type
Input Speed
Optimum Air Pressure is calculated!
At Michelin, we believe it is absolutely essential for ag tires to contain the precise air pressure for optimum performance. In the past, I have used many different pressure calculators, websites and sales tools to help me calculate this for my customers. Unfortunately, I have yet to find one place that does everything I need for every scenario.
Therefore, I prefer to use very basic tools- the Michelin AG Tire Data Book. If you will take a look inside the 2019 Michelin Agricultural Databook, toward the back, you will find instructions on how to determine necessary tire pressure (basically how to weigh the machine with/without loader or rear implement, etc.), maintenance guidelines, instruction to calculate mechanical lead, load-balancing calculation instruction, and even a few examples of weight per cubic foot of grains, produce, and fertilizers. All of this information is vital to setting proper tire inflation and achieving peak performance from your tires.
In summary, adjusting air pressures in accordance with exact weight, speed, application can reduce your air pressures significantly. Lower air pressures will lead to improved traction, reduced compaction, better yields and overall better performance.
As always, all Michelin Ag reps are equipped with the knowledge and tools to help you with all of this.
---
Titan International, Inc. (Manufacturer of Titan and Goodyear Farm Tires), Scott Sloan, Ag Product Manager / Global LSW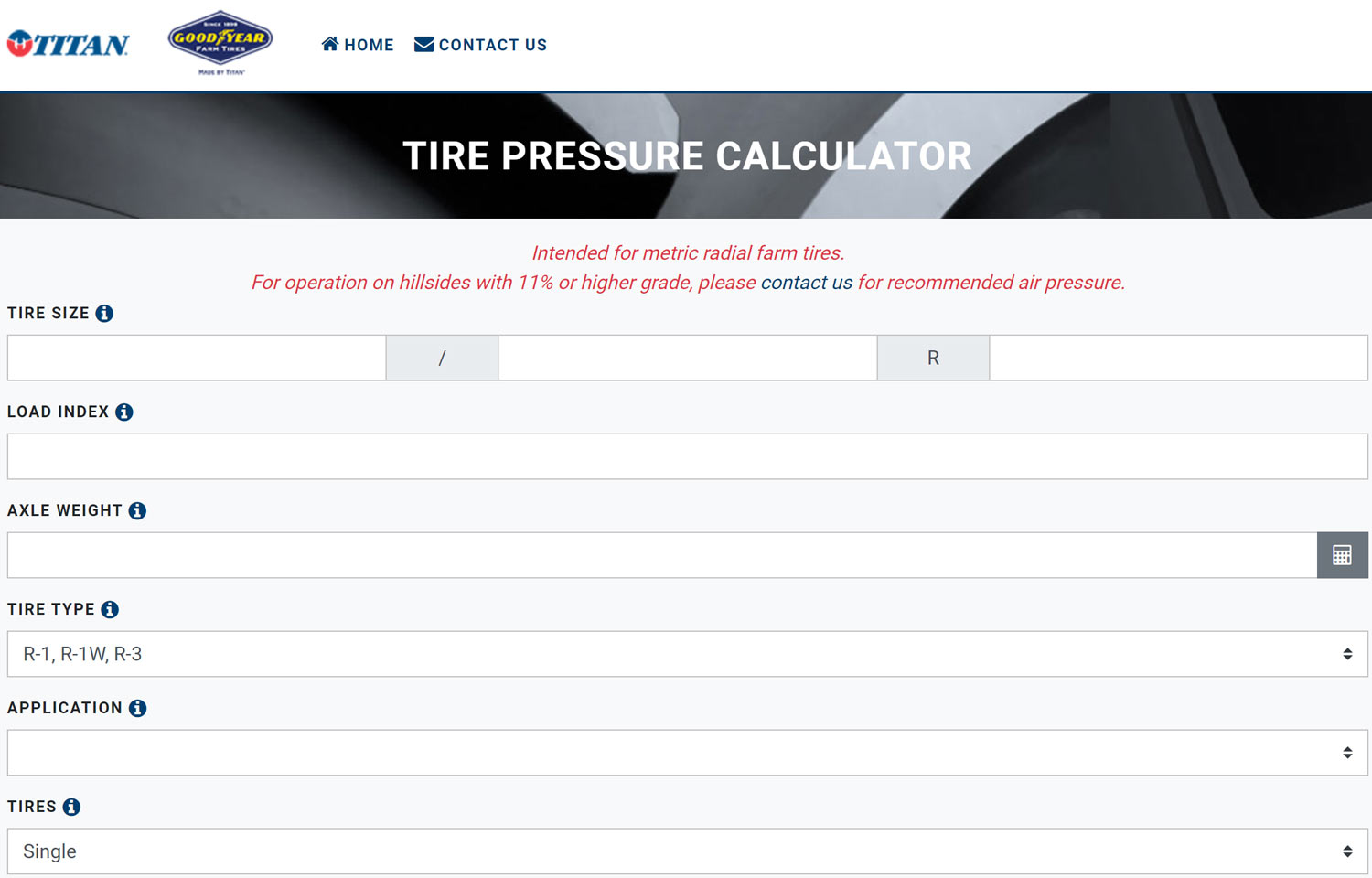 Two things are typically the most important when it comes to tractor performance not only in the field but on the road and that is inflations and ballasting recommendations. 
Most OE tractor manufacturers have their own websites to determine the proper ballasting packages for a specific tractor. Most, if not all, tire manufacturers have tire pressure calculators on their website. Our calculator is simple to use and allows the grower to determine the proper inflation pressures based on his specific set up. The grower just types in the size of his tire, the load index, axle load, whether it is conventional, IF, VF and what application and hits enter and the program calculates the recommended inflation pressure for that application.
Paying attention to proper inflation not only improves the performance of the machine which equates to less fuel consumption, but also extends the life of the tire. Running at proper inflations will also improve output due to the fact that there will be less compaction and potentially higher yields.  
It's easy to walk by the tires on the tractor and if they look "okay" and not check them for that particular days task, this may be costing the grower in the long run.  Knowing and understanding proper inflation pressures and the affect they have on the bottom line is key to any operation.
---
Trelleborg Wheel Systems, Norberto Herbener, OE Applications Engineer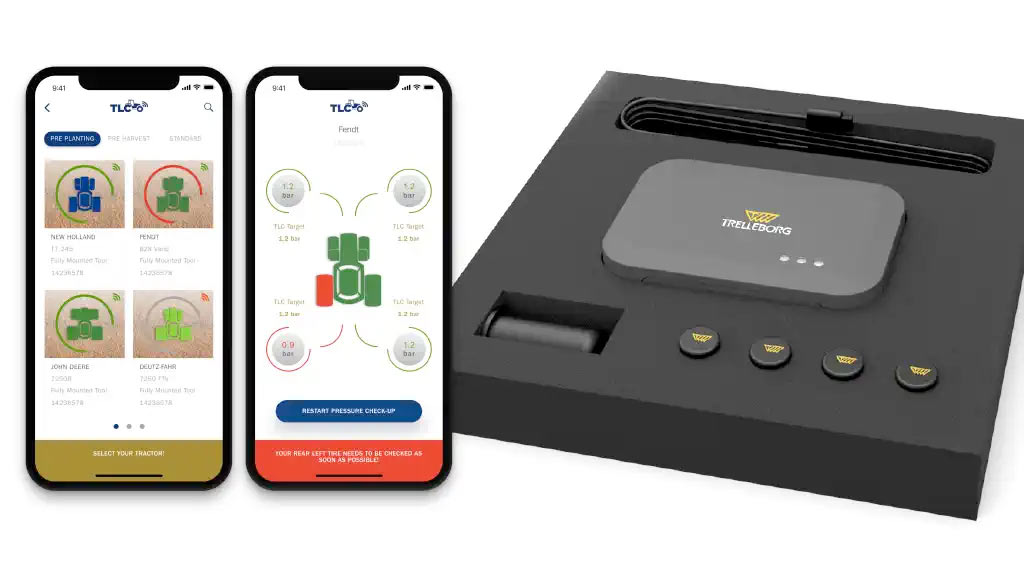 Trelleborg Wheel Systems offer several convenient options to review our tire product solutions and technology capabilities through our website and mobile apps. We have the digital tools available to find solutions to your tire needs from Tire Book to Tire iBrochure and many more. In addition to the Trelleborg tire selection, we have extended our tire family with Mitas tires, where you can search for a specific tire size and technical information.
With these digital tools, you can start your tire search needs, including dimensions, load capacities and inflation pressure. There are several factors to take into consideration when searching for the right tire size such as speed, cargo weight and PSI. The various apps will give you a quick lookup of important information needed to correctly choose the right tire for your application and requirement needs.
Going one step further, Trelleborg Wheel Systems has developed a system called The Trelleborg Load Calculator, or TLC Plus Load Calculator app. This app offers two levels of interaction, the basic TLC pressure calculator, that will calculate the correct inflation pressure based on information entered by you for a specific situation and condition. The TLC Plus level takes the basic level and adds live tire pressure monitoring allowing you to determine at a glance if your tire's pressures are set to perform at their optimal level for how you will be using your tractor.
The TLC Plus app does require more information to be entered, compared to other load calculators available in the industry, because it simulates actual working conditions of your tractor. Besides just knowing tractor's axle weights, the app requires information of what implement is being used, along with speed, ballast, tractor weight, etc. With this information the app will calculate the total axle loads and load distribution while the tractor is in motion. After entering the tire sizes, the app will suggest what inflation pressure should be used for each working speed to achieve optimal tire performance.
The TLC Plus takes the information for the basic level and combines it with a TPMS system that is connected to your smart phone, tablet or remotely, to quickly check your tires before heading out to the field. The app will check the air pressure in each tire and compare it to the optimal pressure determined in the basic level and shows you which tires need serviced. Besides determining the correct air pressures to optimize your tractor's performance, the TLC Plus will continuously monitor your tires while in motion alerting you to any potential problems via your phone/tablet, and through the web if working remotely.
This TLC Plus Kit is available from any Trelleborg tires dealer and includes a small box called the gateway and four pressure sensing valve caps that are easily attached to your tires.
Below is list of Trelleborg / Mitas AG sites & apps:
---
Yokohama Off-Highway Tires America, Brian Sheehey, Vice President – Marketing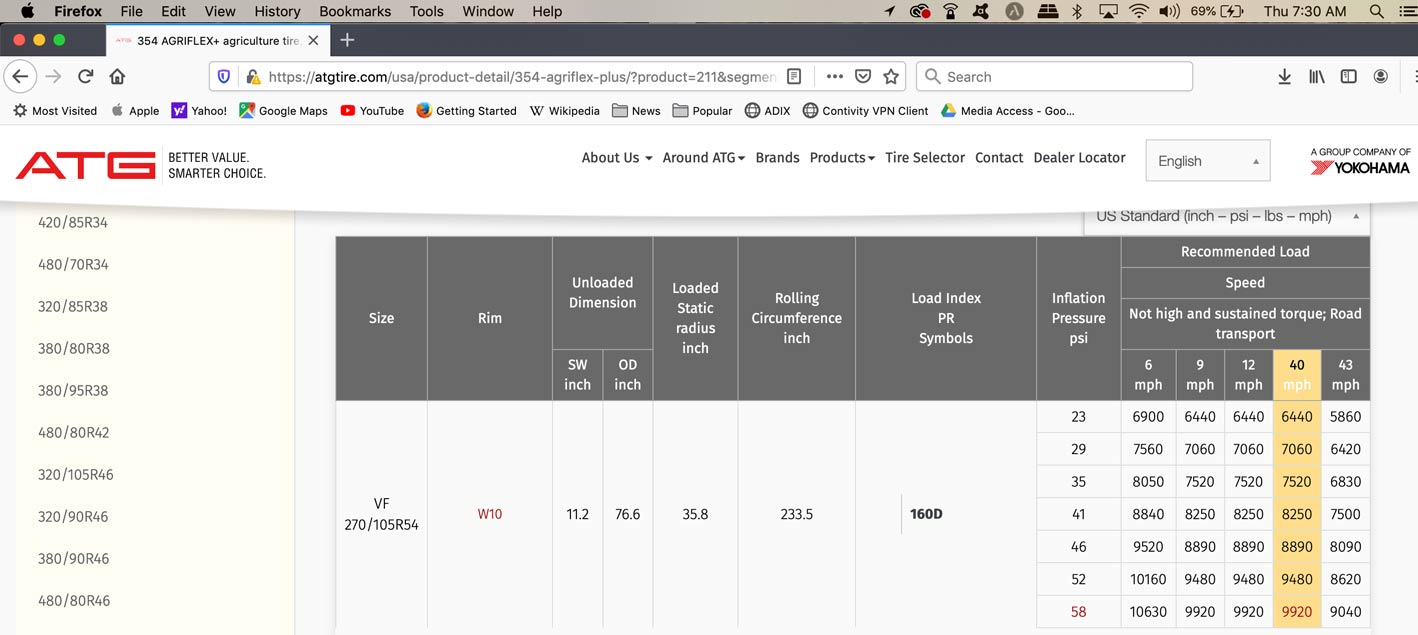 We've been working very hard on online resources that make it easier for our tire dealer customers and their customers z— the farmers, loggers and others who rely on our products as they make a living — to get the most from their tires.
The Yokohama Warranty Wizard app is an easy-to-use tool that allows dealers and farmers to quickly handle warranty claims in the field with their smartphones.
It takes just a moment to download from the App Store or Google Play Store and set up an account. Then the app walks you through the process of identifying the tire, briefly describing the problem, taking a few photos with your phone, and filing the claim by pressing Send. It's really that easy.
Nobody likes to have to make a claim, but making the process quick, simple and painless has really made it more pleasant for our customers, quicker for us to handle, and easier for all of us to put a claim behind us and get farmers back into the field faster than ever before.
The second online tool we are really proud of is our online load/speed tables. It's simple to get onto, find your tire by model, type or size, and up comes the load/speed chart. Because we're a global company, you can pick between U.S. standard measurements like psi and mph or switch to metric.
What's special about our approach is that the whole table is right there in front of you. That way, you can easily see how much pressure you need to carry a certain load at a certain speed. If you want to run at a lower pressure with that same load, you can just look at the table and figure out the speed you'd have to go. There's no need to have to input different figures or refresh your screen to get that information. Basically, you can see all your options.
Those tables are going to be especially exciting as people adopt central tire inflation systems (CTIS). If you know your load and you know the speeds you want to run in the field and on the road, you can just check the chart, set your CTIS with the inflation pressures you need, and you're off to work.