Heritage Tractor was among the first John Deere dealerships in the country to invest in Sedona Technologies' online customer portal in January 2018, in what became the dealership's "Virtual Parts Counter." "Today, we have more than 2,700 customers signed up and sales for the first 3 months of 2020 from the portal are nearly 10-fold from a year ago," says Craig Murray, Senior Director of Aftermarket for Heritage Tractor, Baldwin, Kan. Heritage Tractor is a 22-store John Deere dealership with stores in Missouri, Kansas and Ark.
Murray explains how the portal works. "The farmer arrives at the MyHeritagetractor "Virtual Parts Counter" and signs up. Once the farmer logs-in and enters the information, we connect the log-in to their inhouse account. This gives them visibility to all their equipment, their invoices and then to look up parts — with the same parts diagrams that our counter people have. From there, they can order their parts and select the location of where they'll pick up or want them shipped. The entire transaction and payment is completed online. They can also schedule service and set up parts cabinet distribution, bulk orders."
Another plus are the updates to the on-farm inventory that benefit both the dealer and customer. "Say a farmer sold a tractor and bought another one somewhere else. Now he can update the system through the portal before he needs something. So, the next time they're in any of the stores, we'll have information on the exact machines they have out on the farm, which is especially helpful when a spouse or hired man is coming in to pick something up."
While Murray says the system isn't fully automated on the back end, each of Heritage's locations have several people at each location commissioned to quickly connect the registration to the customer's account. "And the order is not going to sit in the queue for long. We do it quickly as there's an almost immediate response expected."
No one anticipated a virus outbreak nor how valuable the portal would be when Heritage Tractor made the investment 2 years ago. Instead, the dealership was interested in progressing in e-commerce. "At that time, we'd seen dealers do all kinds of different things in e-commerce. We'd done a little bit on e-Bay and Amazon but wanted to commit the resources to a portal to provide customers and e-commerce option." They briefly considered building their own system but went with the John Deere-approved Sedona system.
Getting Started. Sedona offered a turnkey package, and Heritage was one of the first dealers to go through the implementation. "We had some prep work, some back-office system stuff ('easy non-technical type of things,' he says) and 1-day training and they were off and running. "There was a decision to be made on how to get started. We could have activated our customers, but we decided it was better to talk with them one-on-one, explain it and get them interested. Our marketing team started with a heavy stock stuffer in every parts bag that provided the exact log-in page and the features of the virtual parts counter."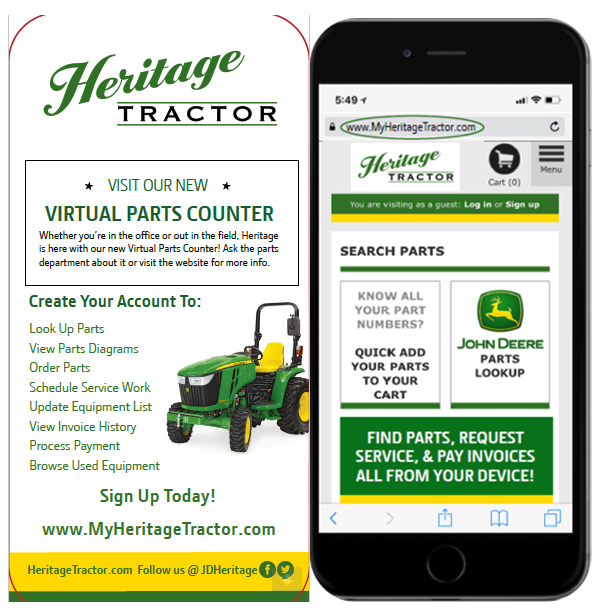 Craig Murray says that this parts bag stuffer on the "Virtual Parts Counter", a two-sided heavy stock piece in the shape of an I-phone, is the most successful advertising promotion he's seen.
Testing the System. Just prior to the COVID-19 outbreak, Heritage had tested the system in February 2020 with dealership's most aggressive programs yet. "We felt we had our feet underneath us and wanted to test our own operations and performance.
And as it turned out, the test couldn't have come at a better time. "When everything hit on COVID-19, filling orders this way was was just a short throw from where we already were. Customers are demanding this option. They want to do business but don't want to come into a store." Heritage soon realized the benefits of putting each location on calling each of the top 100 customers to introduce them to the portal and ask how they best want to be served in this new environment. "Once they knew about the curbside parts pickup, they were very thankful. No, we hadn't thought about a virus outbreak back in January 2018 when we got into this, but we're getting better every day and very thankful that we weren't starting from scratch on this last month."
Heritage Tractor has seen 350 customers sign up in the last 3 weeks alone, a pace never seen before even in the initial promotions. Murray says they were told by John Deere they are among the leaders nationally in attracting registrants to the system.
Fast-Track Parts Cabinets. Heritage also started a FastTrack parts cabinet service, or a cabinet placed just in each store for self-pickup — with no wait. "Our marketing department came up with a slogan of 'Order Online, pay online and don't wait in line.' He credits the marketing people with hitting two home runs that greatly impacted the success the dealership has seen — the bag stuffer promoting the portal ("the best advertising piece I've ever seen") and the efforts to promote the Fasttrack cabinet service.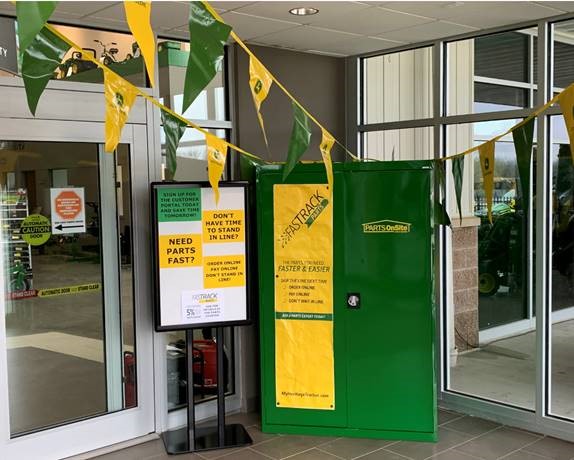 The FastTrack cabinets were successful in getting traction for the "Virtual Parts Counter." Even before the COVID-19 crisis, customers could order and pay online and not have to wait in line for fast in and out service.
Million Dollar Results. Heritage will do $1 million in sales through the portal, double what it did in 2019. "Of course, not all of that is incremental business, but it's business that could have otherwise been at risk, because these are online buyers that could shop any online competitor. And good e-commerce experience increases that stickiness to the customer."