Last updated on 8/30
Farm Equipment sent several staffers to the Farm Progress Show in Decatur, Ill., to cover the latest innovations and trends in the farm equipment market. What follows are noteworthy product launches, industry notes and trending news impacting the industry. 
Unverferth Announces Blu-Jet Acquisition 
At the 2019 Farm Progress show, Unverferth announced the recent acquisition of the Blu-Jet line. The line-up includes anhydrous applicators, liquid applicators, and the TrackMaster and Trenchmaster discs.
"Blu-Jet has a long-standing, great reputation in the industry and Unverferth is pleased to add that to our line-up to continue that tradition that Blu-Jet has developed," says Shawn Gerdeman, Unverferth product manager.
AGCO Displays Latest in Fendt Tractor Line
On display at the show are 10 Fendt tractors, the largest display Fendt has had in the U.S. at a show. Included in the lineup is the new Fendt 900 series which is part of the row crop segment designed for the North American customer base according to Andrew Sunderman, AGCO marketing manager. 
The 900 series features the low engine speed concept and stepless speed control from Fendt's Vario drive CVT transmission. The series also has a range of air suspension options on the cab and seat. It includes the Fendt standard 10.4 inch Vario terminal and multi-function armrests.
"This tractor is designed to be more efficient and more productive, providing our customers with the best profitability any tractor can buy," says Sunderman.
The Fendt 900 series comes with a 3 year, 3,000 hour warranty that includes a maintenance package for the same length of time.
Kuhn 9400NT No-Till Drill
Kuhn debuted its 9400NT no-till drill featuring Helica meter design and smooth drop tubes for a more steady seed flow. The 9400NT also features heavy-duty PRO openers which provide more precise seed flow, consistent depth and even seed spacing. The hopper has a capacity of 3.8 bushels per foot and is customizable in 3 configurations: single seed, split with 2 types of seed, and split with seed and dry fertilizer.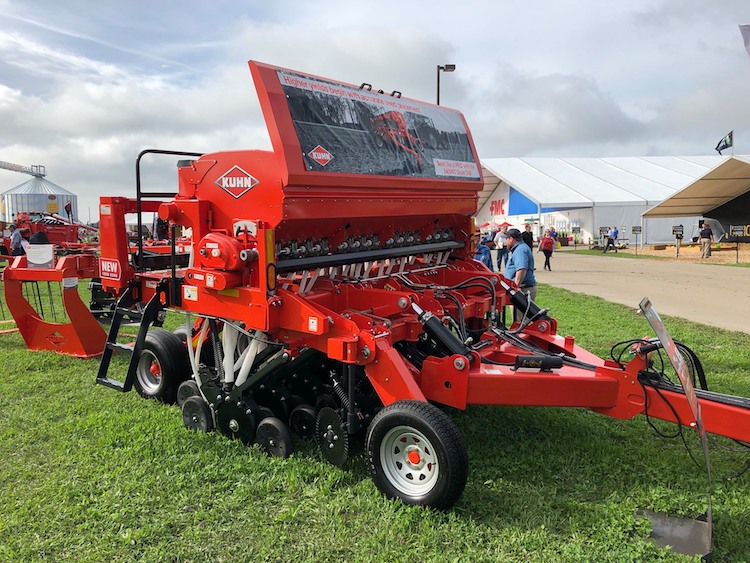 Galileo AgriCup Wheel
Galileo Wheel unveiled the new AgriCup wheel with a larger footprint, less compaction, better traction and enhanced lateral stability. The AgriCup combines the benefits of rubber tracks and radial tires for large tractors and combines. It offers greater flexibility and promotes better soil health.
With its larger footprint, the AgriCup offers better traction and accuracy while minimizing ground pressure. This directly reduces soil compaction, increasing nutrient availability and boosting yields. 
This wheel is inspired by the shape of a cup because of the flexibility and ability to control the shape. The flexibility is controlled by air pressure but the wheel itself maintains the same stiffness at all times.
"As a product it's a tire," says Avishay Novoplanski, Galileo Wheel Co-Founder. "It sits on a standard rim. It's manufactured in a tire factory utilizing the same machinery, same production line yet in properties, it's closer to a track. The simplicity of the wheel with the benefits or properties of a track."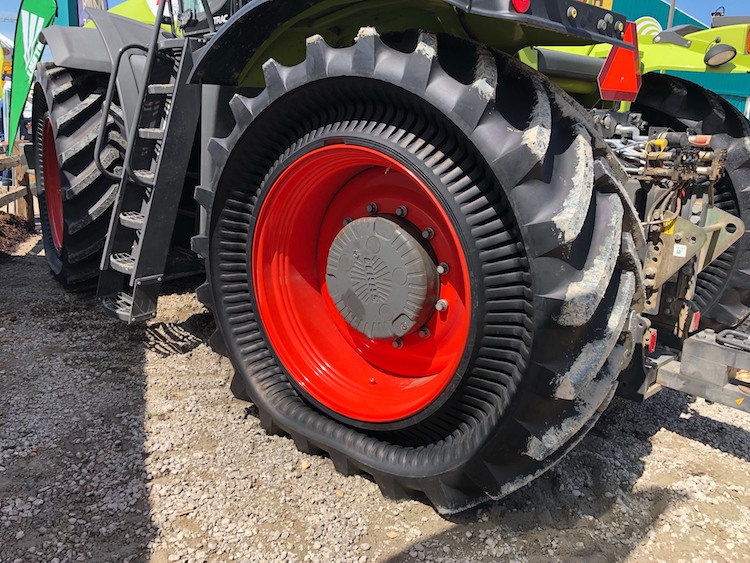 Challenger RoGator C Series AirMax Precision R1/R2 from AGCO
The new Challenger RoGator C Series AirMax Precision R1/R2 application system from AGCO offers two box options. The boom system on this model is 70 feet, a 10 foot increase in width. The new RoGator features an AirMax Precision R1or R2 single or twin bin setup with increased box size.
The R1 is a 235 cubic foot single bin while the R2 is a 215 cubic foot twin bin, which are larger than previous models. "With that increased box capacity, you're going to be able to apply nutrients all fall long," says Dave Fickel, marketing manager for the application equipment division.
According to Fickel, this model is considered an all-season application machine. At the show, the AirMax Precision R2 was attached to a RoGator 1300 C Series chassis with 380 tires which Fickel noted could be swapped out for a larger size.
Unverferth UHarvest Pro
The UHarvest Pro is an ISOBUS grain cart scale and data management system that allows users to log their harvest by grower, farm and field for detailed reporting. It also logs bushels by truck, destination (elevator or bin, for example) and crop variety. The hitch weight management monitors load distribution while the combine loads the grain cart.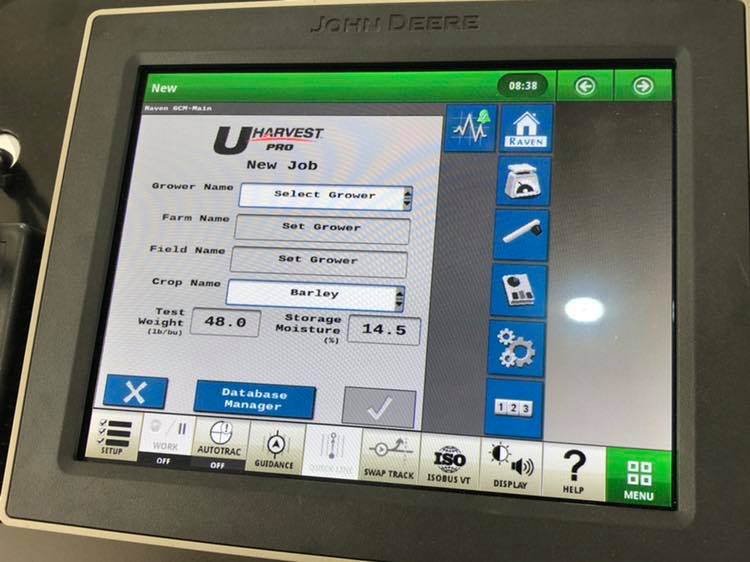 ZML Presents the Hostetler Strip-Tillage Row Unit
New to market is the Hostetler Strip-Till Row Unit, manufactured by ZML Mfg. It features unique swivel row unit configuration for contours and hydroflex technology to maintain constant ground pressure. The open rolling baskets, closers and row cleaners are tied together in one series, allowing for the unit to move in any direction it needs to over the uneven ground.
"We feel we have a pretty unique row unit,' says Raymond Zimmerman, Owner, ZML Mfg. You can be sitting in the cab and indicate where your row unit is at. If you want to run the shank a little deeper or shallower. If you get in too soft, you can pull it up a little. There's lots of features on this row unit that we feel nobody really has."
Although it's still early on the manufacturing side for this unit, Zimmerman says there is a lot of interest in the product. 
ZML Mfg. started in 2013 building manure equipment on Zimmerman's farm. The Hostetler Strip-Till Row Unit came together after 4 farmers out of Iowa and Illinois worked to design it for ZML Mfg. 
Yetter's 2969 IntelliNject Fertilizer Opener
Yetter's new 2969 IntelliNject Fertilizer Opener was unveiled at the show. The IntelliNject Fertilizer Opener places 2 bands of fertilizer behind the closing wheels up to 1.5 inch deep and 2-3 inches off the row. An air cylinder allows in-cab adjustments to downforce or allows unit to raise when not in use.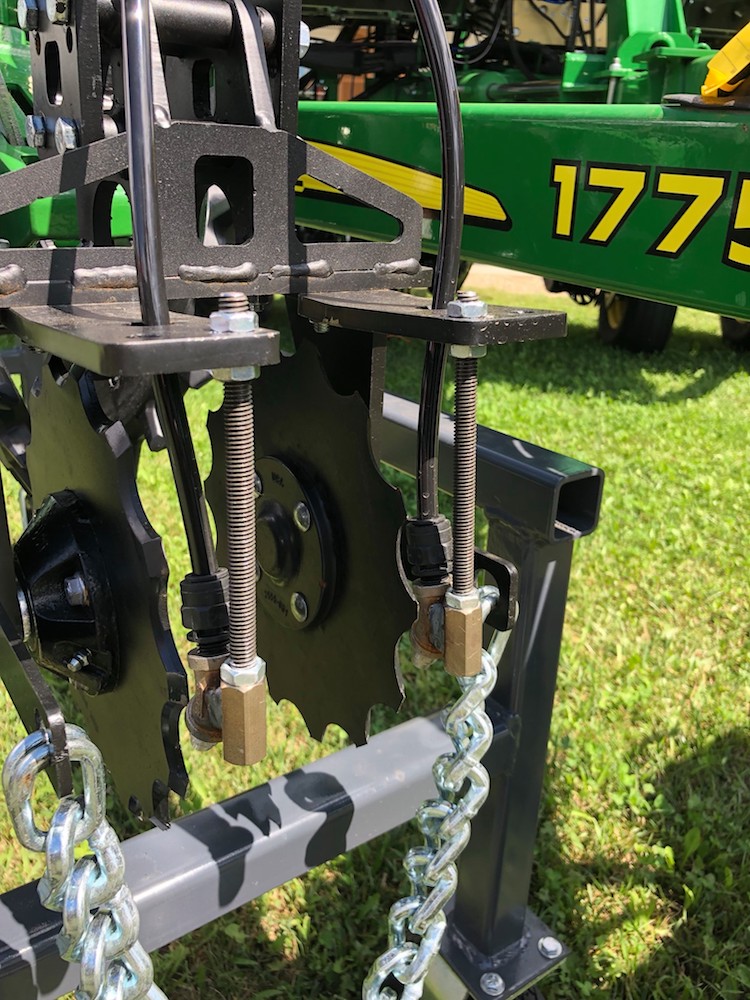 SureFire Ag's QuickDraw 3000
SureFire Ag's 3rd generation QuickDraw 3000 includes carrier blending for 3 products, a 10 inch screen that's 6 times brighter, an iPad app for remote display and remote start batch, and auto batch calculation for easier chemical mixing and loading of the sprayer.
This new generation of the QuickDraw system fully automates the process of calculating what goes into the sprayer and mixes directly into the sprayer. According to Matt Wolters, marketing manager, the system starts with a recipe and the user tells it what products are being used, rates per acre and batch size. This system can completely mix a 1,000 gallon batch in 8-10 minutes.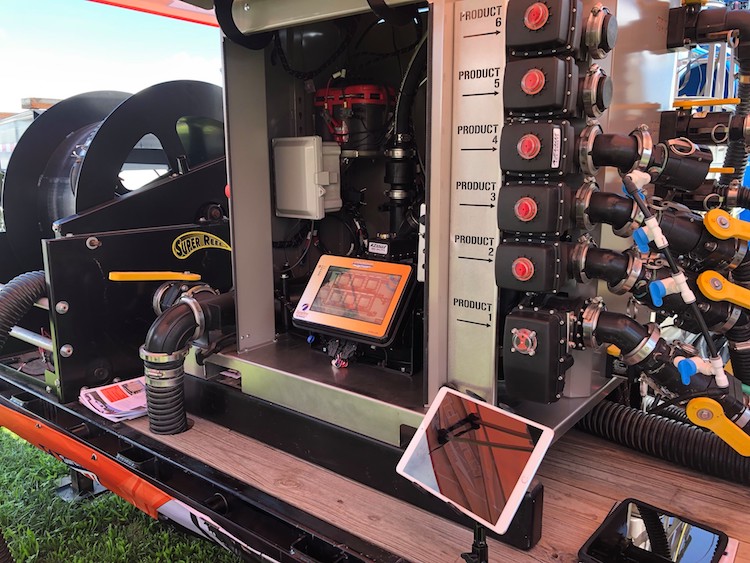 Kubota M8 Series Tractor
Kubota has introduced its new M8 series tractor, which was previously shown to select dealers in the U.S. and Canada in July 2019. This is the largest ag tractor ever built by the company, available in 190 and 210 horsepower, and is part of Kubota's plans to get into the North American large utility tractor market.
"Not only can we expand into different markets but also look into key areas where we need some dealers across the United States," says Kent Brown, senior product manager. "We've commonly been known as a compact tractor company but as we grow into the M8 market, we're able to expand into the Midwest especially into the large row crop and large hay areas."
New Offerings from Claas North America
8600 Lexion from CLAAS North America. Claas North America's new 8600 Lexion combine made its debut and came with new and improved features to better suit the North American market. This includes a new processor called the APS Synflow Hybrid System and an increase in processor size to allow for improved grain quality and grain retention. It also features enlarged grain tanks paired with unload rates of 5.1 bushels per second. The new model is easier to use and more comfortable for the operator. The addition of a touchscreen and the Cemos Automatic systems allows for the operator to do configurations on the fly.
CLAAS North America 990 Jaguar. Also from Claas North America was the 990 Jaguar. The big new feature on this was the inclusion of a track system which, according to Territory Manager Dave Wilbert, helps in creating a smoother ride in the field and is good for compaction. The track system also allows the farmer to continue to travel on the road from one farm to the next. 
Axion 800 & 900 from CLAAS North America. Claas introduced two new tractors, the Axion 800 and 900, during the 2019 Farm Progress Show. The 800 goes from 200-280 horsepower while the 900 goes from 320-440 horsepower. Although the tractors are different in size and application practices, both were designed for improved efficiency, productivity and comfort. 

Related Content:
[Video] Martin Industries' Weight Transfer System
[Video] AgDirect Facing the Challenges and Opportunities of 2019 
[Video] Getting Started with Twin-Row Strip-Till 
[Video] Topcon Set to Launch Its TAP Agronomic Farm Management Platform 
[Video] Montag Mfg. Debuts the New Montag 2208
[Video] Introducing the New 4510 Ultra-Vac from Walinga