Paul Wallem Bio & Observations on the Dealer
Many of the dealers and customers interviewed for this book say they recall their first red tractors between ages five and eight. For me, it was seven, and I remember that because my older brother was just leaving for the U.S. Navy, and our neighbor drove over with his new Farmall M.
Our high school at Streator, Illinois, allowed seniors to leave school at noon if they had an apprentice job. I worked that year as an apprentice mechanic at our local IH dealer, Melvin Sales Company. I learned what cuss words worked best as we assembled the tin work on 2M corn pickers. (I'm lucky I still have all ten fingers.)
During my freshman year at the Univ. of Illinois, Melvin Sales became an IH company store, and I worked there as a salesman part-time when home from college. That opened the door for me to work directly for the IH Broadview, Illinois, District Office one summer as an intern. About this time, I started realizing how important IH had become to me. Could I spend my life with this company?
Broadview District Manager Bill Moulder said if I worked hard enough, I could. So, I spent the next 13 years with IH, in the following jobs:
Broadview District Assistant Zone Manager
Madison District Zone Manager
Madison District Sales Promotion Supervisor, then SPK
Peoria District Sales Manager
National Product Supervisor, 424, Cub Cadet, Ag TD6 crawler
12-month management training program, with time at all divisions
Worldwide Farm Equipment Export Manager
Looking back, I think zone manager was the best of all jobs. Calling on dealers every day was a better education than my Ag degree from the University of Illinois. The dealers pulled no punches, worked six days a week, constantly questioned why IH wasn't field testing more before shipping equipment that needed fixing later. In the meantime, they were fiercely loyal and great competitors.
I had that zone manager job in the late 1950s. The 816 mower conditioner couldn't make it across the field without breaking down. The 560 bearings were calling it quits. Unhappy customers wanted their dealer to let them know when the company rep was coming. (That was me.) These were challenging days.
Throughout my later jobs, the thought stayed with me that the dealer was totally in control of his destiny. No one could fire him. He had no boss looking over his shoulder, unless it was a banker. He either failed or succeeded. He decided who would work for him.
Following that earlier zone manager assignment and my district jobs, my first national responsibility was the sale of 424 tractors, Cub Cadets, and TD6 crawler tractors for ag use.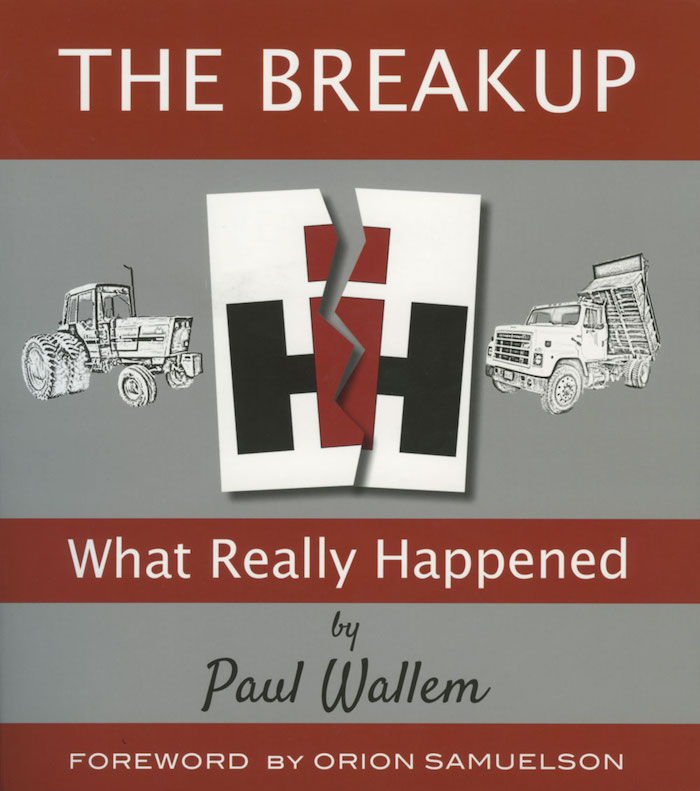 Read the story of how one of the most successful farm equipment and truck manufacturers in history went under after 150 years. Former International Harvester Co. executive and former IH dealer Paul Wallem provides an insider's look at how a perfect storm of problems killed the iconic brand.
To order the book,
click here
.
The TD6 was built by our construction equipment division, and we were a distant second to Cat in that market. (I never stopped wondering why we were even in that market. Finally, by 1983, IH management realized it was a drain on resources and sold that division.)
The next assignment made me realize how big Harvester had become. I was placed in a 12-month general management training program and started spending time at facilities of each division: farm equipment, truck, and construction equipment. Part way through that program, I was offered the position of worldwide farm equipment export manager, for the farm equipment division. This was an exciting and challenging assignment and took me to 52 countries over a two-year period.
We maintained offices in Beirut, Singapore, Brussels and Lima. I spent time with the reps at each office every year, contacting our distributors and establishing new ones.
My family lived in Mount Prospect, a suburb near Harvester's Chicago headquarters. The company occupied 12 floors in the new Equitable Building, located along the Chicago River in downtown Chicago on the site of the McCormick Reaper Plant built in 1849.
These were not easy years for my family, as my wife was alone most of the time, raising our six- and 10-year-old children.
During these years, I was puzzled why we had an Overseas Division when other large companies were eliminating that layer of overhead. Their domestic divisions had taken on the responsibility of worldwide marketing. Also, I started remembering all the freedom that the U.S. dealers had. They were controlling their own destiny, and home every night.
Nearing the end of a five-week stay in Europe, I called home to say I had decided to resign and find a dealership to buy in the States. This was quite a shock to my wife, Joan, as we had been told to move to London in two months, and work with International Harvester Great Britain.
So, I resigned from the company and for 17 years owned and operated our two dealerships. A huge benefit of this was that my children grew up around the dealership, and I saw them every night. My oldest son, Jeff, worked at the store during high school, and IH hired him as a summer intern during college. After graduation, he joined the Quad-Cities region. While he was working as a zone manager in Iowa, we agreed he should help me run the dealership, which he did until we sold it. My daughter, Linda, worked in the parts department during a summer in college, and my youngest, Stephen, spent time in the shop. And because I worked a six-day week for 17 years, my wife, Joan, took care of the house, the kids, and me.
As of the publication date of this book in 2019, Joan and I have been married 62 years.