Shocking News of November 26, 1984
IH dealer Fran Read heard the shocking news on the radio that Tenneco had purchased the International Harvester farm equipment division. His comment to son Bob? "The sleeping giant is dead."
The breakup of International Harvester Company did not happen suddenly, however. Many feel the trouble started long before 1984, as the company over-extended its ability to manage and provide capital for participation in multiple industries.
Significant timelines:
• 1831 -- Cyrus Hall McCormick invented the mechanical reaper. This very basic machine mechanized grain harvesting for the first time and became the origin of International Harvester Company.
• 1902 -- McCormick, Deering Harvester Company, Plano Manufacturing Company, Champion Line and Milwaukee Harvester Company joined forces to create International Harvester Company. The newly-formed conglomerate offered a larger variety of farm machines. During the early 1900s, husker-shredders, beet harvesters and many more new innovations were brought to market. Early tractors, however, were drawing the most attention.
• 1923 -- The First Farmall tractors were built, and in 1924, 205 were sold at a price of $825. By 1932, the number produced had totaled 134,954, as the Farmall series forever changed the way farmers raised row crops. The Farmall continued to be a huge success. Between 1939 and 1953, the company built 391,730 of just one model, the Farmall H. To this day, it is the largest number of any model farm tractor ever built.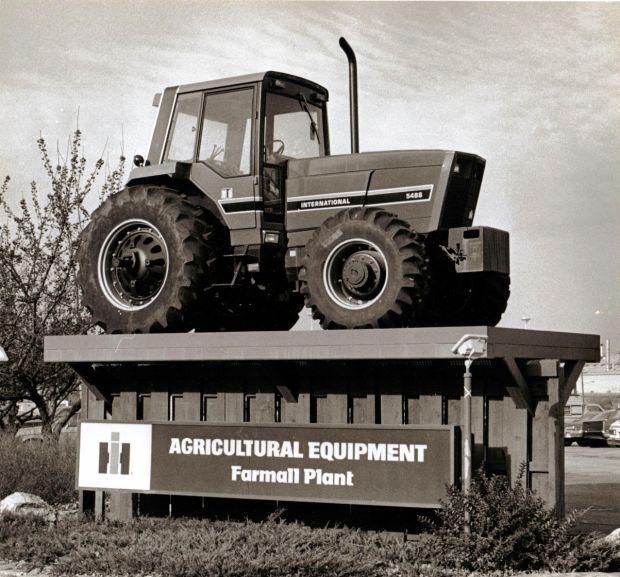 The Farmall Works entrance in 1984 at the time the announcement came that the Rock Island Plant was to be plant was to be closed. (Photo by Harry Boll/Quad-City Times)
Fast forward ... A Corporate Tragedy by Barbara Marsh was published in 1985, the same year the Case IH merger was finalized. It is recognized as an in-depth account of the breakup of International Harvester Co.
Significant parts of the book were derived from a two-part series published by Crain's Chicago Business 3 years earlier. That article was entitled "International Harvester's Story: How a Great Company Lost Its Way."
The following paragraphs are from A Corporate Tragedy:
"Following World War II, the company's arrogant pride in its heritage blinded executives to the challenges of the modern world. An ill-conceived pursuit of a broad array of capital-intensive businesses gradually sapped the company's financial strength. Wallowing in inertia, Harvester couldn't muster the strength to invest sufficiently in its diverse bundle of capital-hungry businesses and lost ground to Midwest competitors of vision, determination, and resources.
Harvester relinquished its ancient leadership in farm equipment to its archrival, Deere & Co. of Moline, Illinois. In construction equipment, Harvester remained a hopelessly distant number two behind the industry's colossus, Caterpillar Tractor Company of Peoria, Illinois.
In the truck business, Harvester fell behind the Detroit automotive giants, who enjoyed economies of scale by using common components across their car and truck lines. At the same time, Harvester's high labor costs — a vestige of the company's long, stormy history of relations with organized labor— exacerbated its competitive disadvantages.
In the early 1970s, Brooks McCormick and his chief lieutenants had set their sights on improved profitability, and by 1976 Harvester had started perking up. Between 1971 and 1976, its earnings grew nearly threefold to $174.1 million. Return on sales more than doubled to 3.2% from 1.5%. Return on assets more than doubled to 4.9% from 2%, and return on equity leaped more than threefold to 12.1% from 3.9%. But Wall Street analysts were not impressed as Harvester still continued to lag behind its competitors on all accounts. Even prospects for a cyclical recovery in Harvester's markets following the mid-1970s recession offered little consolation: The company's profit margins were ultra-thin and its debt burden heavy."
One significant attempt to enlist dealers' opinions was initiated in 1973 by Harvester farm equipment executive Stanley Lancaster. He created the first Dealer Council, to bring dealers together with Harvester management on a regular basis, and exchange views. These group sessions continue today, with varied success.
A long strike lasting from November 1979 to April 1980 further weakened the company. Truck and farm equipment production was continued during the strike regardless of the downturn in both markets. Management erroneously assumed that dealers would be ordering heavily after the strike ended, to replenish inventory.
However, high interest rates and the slowdown in the market had drastically reduced demand in most dealer territories, and they had no need to re-order. Another huge factor entered the picture in January of 1980. President Jimmy Carter imposed a grain embargo on the Soviet Union.
The impact on grain farmers was devastating. The market for farm equipment was drastically diminished. Suddenly the company had yards full of unsold inventory, with large amounts of tied-up capital.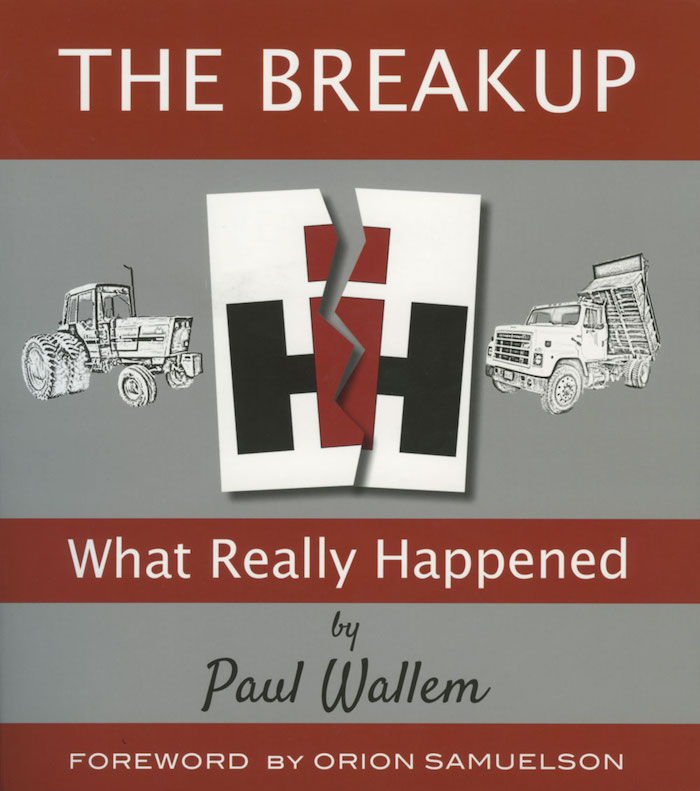 Read the story of how one of the most successful farm equipment and truck manufacturers in history went under after 150 years. Former International Harvester Co. executive and former IH dealer Paul Wallem provides an insider's look at how a perfect storm of problems killed the iconic brand.
To order the book,
click here
.
From page 227 of A Corporate Tragedy:
"If only McCardell and Hayford had been listening to Harvester's dealers during this strike, they would have known that dealers would not require restocking after the strike."
The tied-up capital in unsold inventory further sapped cash reserves and came at a time when the company was already badly needing operating funds and looking for more banks to borrow from. (One of the reasons for writing this book is to again emphasize that dealers were not being consulted, at this or other times. Until a dealer sold a machine, the company had no income. Yet through the years, the dealer's opinions were not requested. I was a dealer during these years, and personally felt that my opinion was not wanted by top management. Most of the dealers interviewed for this book felt the same way.)
Finally, at long last, Harvester's Board of Directors voted to eliminate the company's annual $1.20-a-share common stock dividend. From 1981 until 1984, over 200 banks worldwide were utilized to keep the doors open.
From page 278, A Corporate Tragedy:
"By 1983, a drastically shrunken Harvester had sales of $3.6 billion, placing it 104th on the Fortune 500. It ran up losses of $485 million that year, making a total of nearly $3 billion in losses for 1980-83. It employed 32,000 workers worldwide, including 19,000 in the U.S. It had trimmed its overextended industrial empire back to three businesses: farm equipment, trucks and engines, and it held just 27 plants around the world.
Harvester's massive contraction was the inevitable step for a company that had never come to grips with its own limitations. It had long been a marginally profitable, overly diversified, and thinly capitalized corporate monolith. It had been saddled for decades with a complex of intertwined problems that none of Harvester's post-World War II executives could resolve.
The company's arrogant pursuit of too many capital-intensive markets had slowly sapped its strength while its well-managed corporate rivals had predominated by strategically channeling their resources."
In the fall of 1983, Irv Aal was New Holland's Vice President for North America when he was hired by International Harvester to keep the farm equipment division alive. He was instrumental in bringing Tenneco management together with IH leadership.
By the fall of 1984, all options had run out, and the banks throughout the world had had enough. Harvester management looked for a buyer, and Tenneco, owner of J.I. Case, was the one that stepped forward. On November 23, 1984, the deal was finalized. Almost three months later, during February 1985, the transaction was completed. The IH farm equipment division became part of Case IH. The portion of International Harvester that was the truck division became Navistar.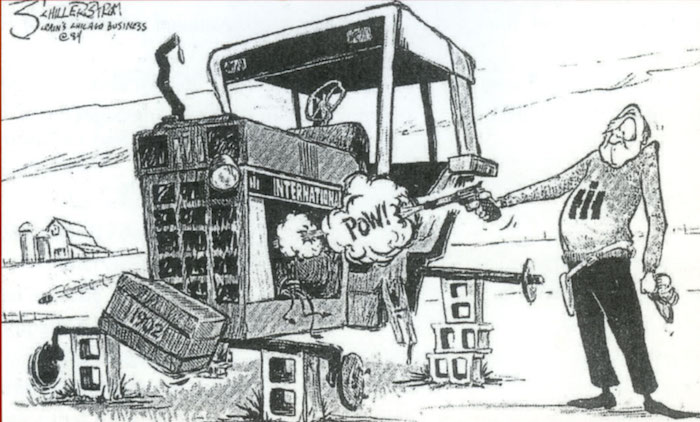 Harvester's gloomy announcement on November 26, 1984 of plans to sell of its loss-ridden farm equipment division after more than 150 years in the industry. (Source: Roger Schillerstrom, Crain's Chicago Business.)
Thirty-three years later, on June 12, 2017, Irv Aal said to me, "The IH dealers were the greatest off-balance sheet asset that Tenneco purchased. Their loyalty to the brand was amazing. They bled red paint."
When I worked directly for IH (1956-1968), one of my first assignments was territory zone manager. I called on 21 dealers in central Wisconsin. They were small businesses, run by self-made individuals with a lot of common sense. They often complained about too many in-field failures (such as the 816 mower conditioner). Another was the final drive failure in the Farmall 560. Dealers often said back then that more testing should have been done on the farms. Some customers were lost permanently after they had suffered downtime from these mistakes.
Another contentious disconnect between International Harvester and its dealers was in facilities. During the 1940s and '50s, dealers were pressured to build a new facility called the prototype building. The company wanted all dealerships to look alike.
Yet the company's facilities were antiquated in some significant areas. Farmall Works, for instance, was a 1926 building, and by the 1970s and '80s, had become inefficient compared to the modern tractor plant of its main competitor, Deere. (My dealership would take busloads of customers to Farmall Works during those years to see tractors being built. Often, I heard comments about how old the building looked.)
During 1966-1968, I was Harvester's farm equipment export manager. What was obvious from trips to the English and French manufacturing plants was the age of these facilities. They were old and outdated. One contrast was the IH engine plant in Düsseldorf, Germany. It was modern and efficient.
The older dealers interviewed for this book expressed their deep disappointment that the breakup happened. Many of these business owners did continue as Case IH dealers, and continue to be dedicated to their employees, customers and communities. New dealers that got into the business following 1984 are enthusiastic about the industry and are showing as much pride in the Case IH brand as did the older generation of IH dealers.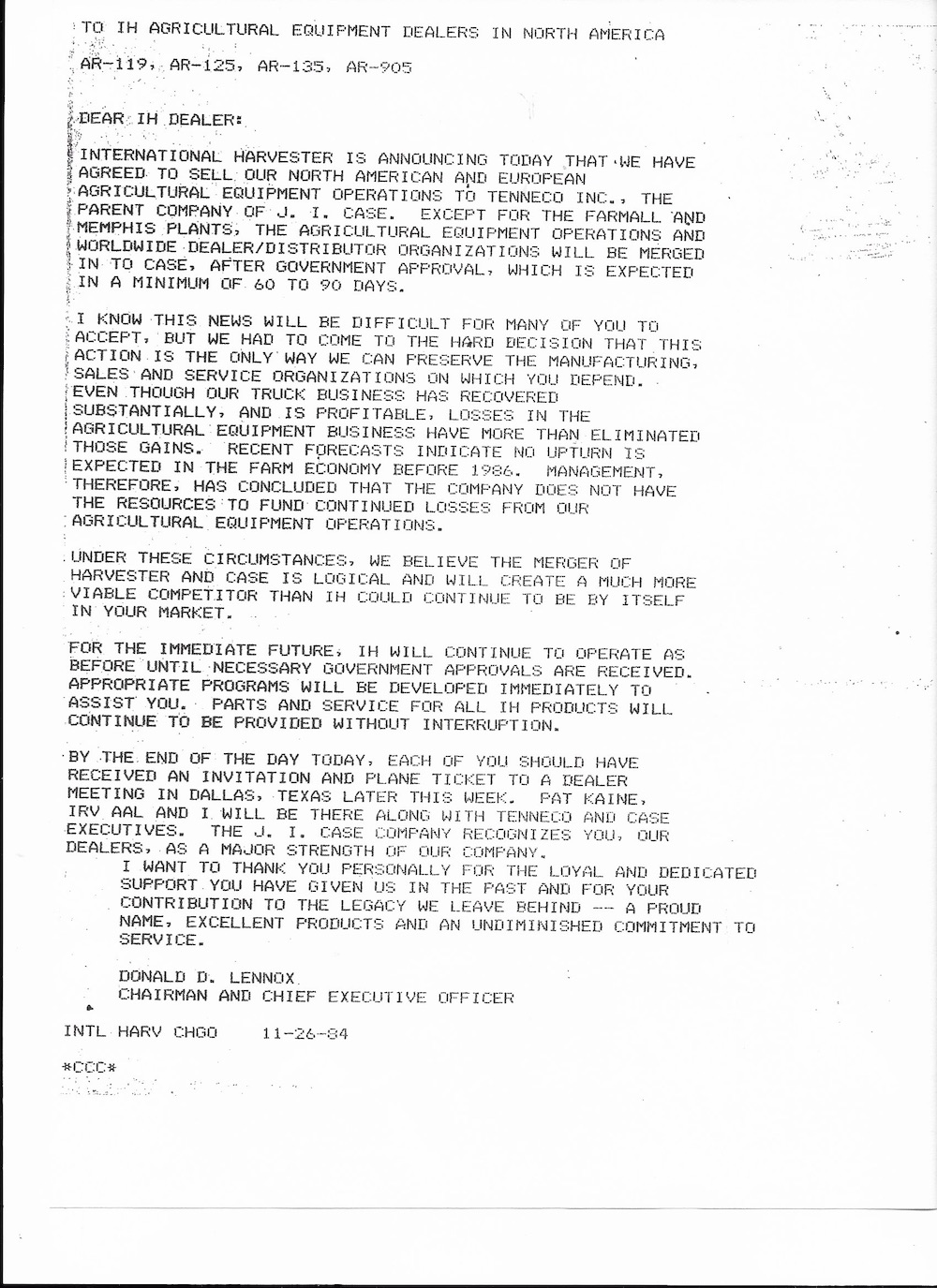 Official correspondence from Don Lennox, International Harvester (IH) Chairman/CEO, on November 26, 1984, announcing the decision to sell to IH to Tenneco Inc., the parent company of J.I. Case.
Up next... "IH Profit Margins ... Going South" »