Ag World and Ag Authority — two dealerships linked together by the same ownership team — are nestled in the heart of big Western Canada producers and big Western Canada dealership groups. But, they're not afraid of a little competition. In fact, competition is the origin of both stores.
Dave Cook and Don Thoreson owned Farm World, a Ford New Holland and AGCO dealership in Kinistino, Sask. In 1995, Ford put the pressure on the brothers-in-law to drop the AGCO line. The pair viewed the challenge as an opportunity and approached their sons — Dave Cook Jr. and Ian Thoreson — about taking over the AGCO business. The two agreed, with their fathers as silent partners, and Ag World opened its doors as an AGCO dealership.
"It was an opportunity for Dave and me to get into the business. So we took the AGCO side and grew it," says Thoreson. In fact they added additional product lines and grew the business enough to establish a second dealership — Ag Authority — in 2015.
Ag World carries AGCO, Bourgault, Honeybee and JCB, while Ag Authority is a shortline-only dealership selling Claas, Versatile, MacDon, Horsch and others. By separating the product lines out, Thoreson says the staffs at each store can focus on specific lines and become experts on what they are selling and servicing. "Our parts guys don't have to know near as much as they used to. Our service guys are more focused on each brand and do a better job. I think that's important with our customers. Today, they know a lot more about what they want, and you have to know your products better if you're going to get that sale," he says.
Ag World & Ag Authority
Founded: 1995 (Ag World) and 2015 (Ag Authority)
Employees: 55
Major Line: AGCO (Ag World)
Shortlines: Ag Authority – Claas, Versatile, MacDon, Parker, Horsch, Farm King, Walker Mowers
Ag World – Bourgault,
Honeybee and JCB
Locations: 2 total
2018 Revenues: $54,000,000
2018 Market Share: 50%
2018 Parts & Service Absorption: 70%
Ownership & Management Group: David Cook, Ian Thoreson, Jonathan Cook, Greg Shabasa, Richard Olson, Mike Wittmeier, James Cook and Louis Quasso
While department managers oversee both stores, separate books are kept for each store and to some extent they compete with each other. "When we first split, to try to keep the competitiveness out of it, we did a lot of sharing. We had meetings together," Cook says. "But today, we're trying to break it apart and focus more on each dealership to see if we can become better at both places."
Running and managing each store as its own entity helps ensure both businesses are performing and succeeding. "You want all cylinders firing. And it's easier to keep track that we're doing the right things in all areas. And even equipment lines …  if one line is not performing, you want to know about that," Thoreson says.
Not only does Ag World and Ag Authority compete with each other, there's some big competition surrounding them on all sides. One of Farm World's 3 locations is next door — and in between — Ag World and Ag Authority. And, within a 65 mile radius, there are 2 Cervus Equipment locations (Deere), 2 Redhead Equipment stores (Case IH), 2 Rocky Mountain Equipment stores (Case IH), Hergott Farm Equipment (single-store Case IH), another Farm World location (New Holland), Pattison Ag (Deere) and KMK Sales, another AGCO dealership.
Ag World & Ag Authority
Video Interviews
Visit www.FarmDealerOfTheYear.com to watch exclusive videos with Ag World and Ag Authority. Filmed on location by Farm Equipment editors, these videos are sponsored by CDK Global Heavy Equipment.

Parts & Service Make the Difference
With so many competitive dealers in the area, Ag World and Ag Authority set themselves apart in the parts and service departments. While some may balk at keeping a large inventory of parts on hand, it's been integral to Ag World's success. With a number of its suppliers based in the U.S., Ag World and Ag Authority have run into problems with parts getting held up in customs in the past. So today, the dealerships keep a large parts inventory for non-Canadian manufacturers.
"A lot of our manufacturers have never had proper inventory in Canada. And I believe that adds to our problems too, because let's say 95% of the time there's no order issue, the 5% that you need it fast it gets hung up in customs," explains Jonathan Cook, general manager for parts and service. "And so we'll carry between one and two times what industry would tell you is the right turns and so on."
And that large parts inventory attracts customers from across Western Canada. "We have a lot of customers driving a long distance to come get parts from us — southern Saskatchewan, Alberta, Manitoba — because we do carry a large inventory and we keep it on hand," says Jonathan Cook.
The service department regularly receives calls from people who are not their customers seeking help. "We'll get calls from someone saying, 'I heard about you from my neighbor, he says you can help me out more. Will you please help me?' I tell him the first call is free, but after that we may need to charge him," says service manager Richard Olson. "We do earn new customers that way. We help them out and they're like, 'wow' and start coming here."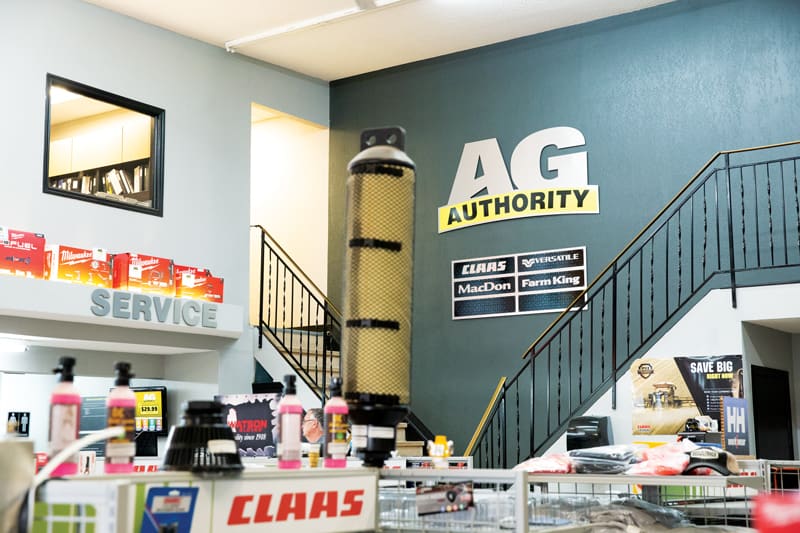 In 2015, Ag World broke off the shortline side of the business and opened Ag Authority. The store focuses on the Claas, Versatile and MacDon line, along with some other shortlines. Operating the two stores separately allows staff to become true experts at the products they sell and service.
Some customers are having combines trucked hundreds of miles to Ag World and Ag Authority for service, often times driving past multiple other dealerships along the way. "The trucking bill can be large. One customer pays $8,000 to bring his combine here and back, and he goes by 3 other dealers to get here," says Olson. "He does hundreds of thousands of dollars in service business here and has never bought a piece of machinery from us."
Whether customers are located near or far, customer up time is what motivates the parts and service departments to deliver for its customers. "There's no room for downtown," says James Cook, shop foreman.
---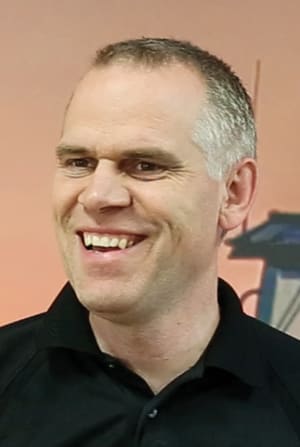 "When you run into problems, you can't give up. You've just got to keep looking for a solution and probing for a solution and exhausting all possibilities to try to get the machine working, performing again. Just keep looking for a solution, whether that's because you don't have the right part off the shelf or whether you don't have the answers to what's going on, you just keep pushing at it..."
— Richard Olson, Service manager
---
Olson adds, "Over the years, we've robbed parts off equipment, we'll fly the company airplane wherever — Calgary or North Dakota — to pick up parts. We've done whatever it took to get the parts to get our customers going." (See "Ag World & Ag Authority Bring On-Farm Service to Far Away Customers" on p. xx)
Part of limiting that downtime is a strong preventative maintenance program. Ag World follows AGCO's PM360 maintenance program, in addition to their own custom harvest inspection checklist.  "We try to market it and encourage customers to book them and take a proactive approach to minimize downtime for the upcoming harvest," Jonathan Cook says. "But it also is a win-win because it keeps our guys busy in the winter time. And then, hopefully, we've got that customer who's satisfied through the harvest time. We have such small windows in seeding and harvest to get the crop in and then getting the crop off. So downtime is not an option, it just isn't. And that's the mindset I think everyone has to have."
Training
Thorough employee training is a big focus for Ag World and Ag Authority. Both dealerships work with apprentices, with two or three usually on staff at each dealership. As shop foreman, James Cook actively works with all the apprentices to train, providing hands-on training from day one. Because training apprentices is a large investment for the dealership, all apprentices are required to sign a 5-year commitment. (A similar 5-year commitment is required of all new hires.)
What the Judges Say
"They produced $98,818 per employee with return on assets of 7% … They demonstrated excellent market penetration in their trade area and had an excellent 3-year growth for their organization."
"Most of the people we hire, we tell them it's 5 years before they're even up to speed, and nobody believes you at the time. Until 5 years, and then they agree with you," says Cook.
Training is important on the sales side too, particularly on product knowledge. Ag Authority sales manager Greg Shabase says, in his view, what is lacking most in salespeople is product knowledge. "They rely on their product specialist or other people, but I believe having product knowledge and being well versed in your product makes you successful in sales," he says. "I decided I want my salespeople to be very knowledgeable. Do they have to know everything? No, but they should be well versed."
This spring, to help the sales team grow, Shabase had the team go to Thoreson and Cook's farm for product training.  "I took them out to the field and said, I want you guys to explain to me how do you this, in this particular instance was a Horsch vertical tillage unit and then how do you level this unit, how do you wing it up? Show me where the grease points are on it. If it's skewing to the right, how do you fix it? If it's skewing to the left, how do you fix it? I think those details help salespeople to be able to help their customer and not have to always rely on somebody else. And that helps you gain their trust and their respect — their confidence," he says.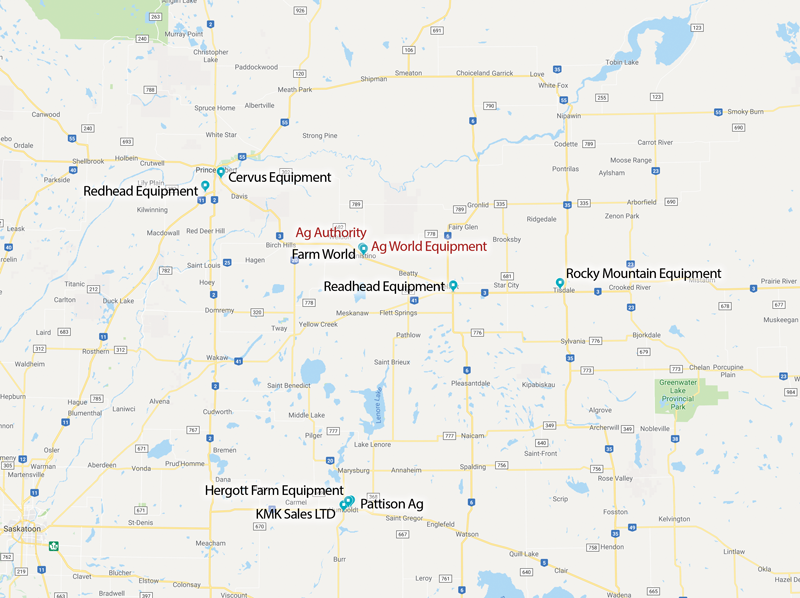 In addition to the competition from each other, Ag World and Ag Authority are surrounded by 11 other dealerships in a 65 mile radius, including Cervus Equipment, Redhead Equipment, Rocky Mountain, Hergott Farm Equipment, Farm World, Pattison Ag and KMK Sales.
In addition to improving the product knowledge, the training also helps teach the sales team how to do good and proper demos. "Taking the time to take the team out and showing them how to do a proper demo and what's required to do a good demo, that's been a big win for us as a sales team," Shabase says.
Shabase has each salesperson walk through all the aspects of the demo. "At the start, they didn't know some things. And I didn't know some things, and I'm supposed to be helping them — but we figured it out together," he explains.
Ag Authority and Ag World do demos as a team and stress that it's better to do no demo at all than to do a poor demo. After the team went through the process, they did the demo for a customer interested in the Horsch unit. "The next day he came into the dealership and he bought the unit. So it was good to see where you do the right things, you do the right steps, you get results. I think that encourages them when they see, OK, that worked. We need to try this more," Shabase says.
Because technology change so fast these days, Thoreson say this type of hands on product training — for the staff and customers — is particularly important. "Even with the manufacturers, it's the same thing. I've had the manufacturer product specialist in the field and even he can't always show me everything because the technology is going so fast. I can't keep up with it," he says. "I've been in this business 24 years and on the farm, I make myself variable rate and seed and run the technology. That's how I learn. But you have to force yourself to do it."
Product Specialist: Liaison Between Sales & Service
At Ag World and Ag Authority the product specialist is a support role and serves as a liaison between the sales and service department. "The product specialists work with the customers to make sure they know how to operate the machine. He can dig into it a lot deeper than the sales guys can," Shabase explains.
Thoreson says the vision is for the product specialists to be an integral part of the sales team. "He assists the sales guys as well as the service department. The product specialists can take care of something for the customer and get him going, rather than having to send it to service," he says. "With the more technology driven equipment the product specialist is able to answer a lot of those questions that are easily fixed over the phone."
The Future
Cook and Thoreson have been building the team to be ready for the future. Ten years ago is when they started building up the management team to what it is today, and 5 years ago they really started focusing on empowering the other managers to be the decision makers for their departments, Cook says.

In 2017, Ag World completed its new 63,000 square foot facility and physically separated the two dealerships. The new building provides an expanded service shop, parts warehouse and enough space for future growth. It also features an expo room that can be used to aid in sales during the cold Saskatchewan winters.
"In sales, I would say we are a little bit behind there, because Ian and I were in the sales management roles. We're trying to get there and what's driven that is finding salespeople, good ones, who are honest, have integrity, who under promise and over deliver. It is the hardest person to find and they have to work very hard," he says. "Adding the product specialists has helped. We have never ever had a full sales team in our lines in 25 years, of what we intended, until maybe a year ago and even then it's not complete, but it was maybe sufficient."
The team is in place for success though, and Cook says they've got the right people in place now. "My honest opinion is, these guys [the management team] all could run their own dealership or they could all manage a number of dealerships. I don't know if they would agree with me, but I believe they are at that point."
As the business has expanded, Cook is putting a larger focus on mastering the business side of running a dealership. "I believe that me getting my nose out of everything and trying to learn the business side and move us forward there is needed. We're about 75% of the way there, but have another 5 years of learning. Once that's done — depending on our age and commitment level — we'll determine what direction we will go" in terms of growth, he says.
The leadership team doesn't see the dealership expanding its locations in the immediate future, but they're not ruling it out completely. "I believe in the 80/20 rule. You've got to be in the top 20% to be moving forward. I think you have to go and be the large dealer. I don't think it will be me, I'm not the 25 store guy, but I think we'll have to get in that picture. That will be my goal, that this place would be in the top 20% of ag dealers," Thoreson says. "I don't know how we're going to get there, but we're going to get there."
Ag World & Ag Authority Bring On-Farm Service to Far Away Customers
Ag World and Ag Authority own a company airplane and have a pilot on staff to help bring service to customers located far from the Kinistino, Sask., stores. The plane dates back to before Ag World split off as a separate business from Farm World in the mid-1990s. While it had been used for sales and travel in the early days, it has largely been used by the service department for the last several years.
When Service Manager Richard Olson was first hired in 1992 it was as a pilot. "I didn't know anything about farming. I didn't grow up in the area," he says. "I was a bush pilot up north and had a buddy who was working for [the dealership]. He called me up and said, 'Why don't you come fly parts and service people around to farms?' I said I didn't know anything about it but I know how to fly so sure."
For 10 years, all Olson did was fly service technicians to customers to fix equipment. He had some experience as a plane mechanic and eventually went through the training to become a journeyman mechanic for ag equipment. This allowed Olson to fly solo and serve as both the pilot and the mechanic. Eventually, the dealership hired another pilot to help out as Olson's role evolved.
In addition to service, the plane is also used to pick up parts to help get them more quickly than shipping would take.