Jennifer Edney, Edney Distributing Co. Inc., Lakeville, Minn., has been elected president of the Equipment Marketing & Distribution Assn. (EMDA) — the international trade association of shortline equipment marketing & distribution firms. She assumed the office during the association's Annual Meeting and Fall Convention in Minneapolis, Minn., Oct. 31-Nov. 2, 2018. Edney is the first woman to serve as president of the association.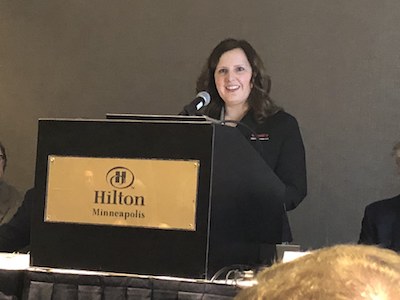 Edney will preside over official EMDA activities for the coming year, including the Association's administrative meetings and the 2019 Fall Convention in St. Louis.
Other newly elected officers and directors of the EMDA for 2018-2019 are: Steve Prouty, McNeil Marketing Co., Albany, Ore., First Vice President; Kent Zimmerman, John Day Co., Omaha, Neb.; Second Vice President; Jerry Nettles, Short Line Sales, Memphis, Tenn., Treasurer and Immediate Past President; Mark Tibbitts, General Implement Distributors, Salt Lake City, Utah, Secretary; Trey Price, Price Bros. Equipment Co., Wichita, Kan., Director; and Ryan Skibo, Pequea Machine Inc., New Holland, Pa., Associate Member Delegate.
EMDA is the international association for wholesaler-distributors and manufacturer's representatives of agricultural and related industry equipment and parts. For generations, EMDA members have served as the vital link between manufacturers and North American retail dealers.
EMDA's member reps and distributors are located throughout the U.S. and Canada. They perform such value-added services as warehousing, in-field sales representation, advertising and promotion, product education, service requirements, warranty representation, physical handling and credit and collections.