"This dynamic business woman has achieved substantial success in her business and community. This woman is a small business owner and has a minimum of 7 years in business; demonstrates outstanding skill, commitment and accomplishment, while successfully navigating obstacles; influences, mentors, and encourages others."
In April, Marvie Tschetter-Grossman was notified that she, along with 13 other business women from across the state of South Dakota had been nominated for the prestigious award of "Enterprising Business Woman" on behalf of SD CEO (Center for Enterprise Opportunity). The SD CEO provides business assistance and training to current and aspiring entrepreneurs, from start-up to expansion, to foster economic development in South Dakota.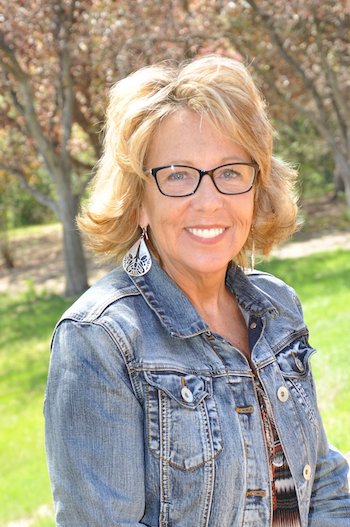 The nominations were submitted by parties unknown to the nominees. The nominations and those that nominated the individuals were then reviewed by a panel of affluent judges across the state of South Dakota. A month later, May 11, at the Celebrating Women in Business luncheon in Spearfish, S.D., Marvie Tschetter-Grossman, president of Lankota, received the award.
"I am extremely grateful for the journey I have been blessed to travel in my life. I know that, at times, my family, especially my parents, wondered about whatever would become of me. I realize now that has all become part of my story and has helped form me into the woman, professionally and personally, I am today," Tschetter-Grossman said.
With a background in Family Therapy and Business Consulting, the past 14 years have been spent in Huron, S.D., as president of Lankota. Starting in the family garage in Yale, S.D., with two products, the company is now international with an 80-page catalog filled with innovative Lankota products, manufacturing and distributing products in a 95,000 square foot facility.
"For many years, I did life, as a business consultant and an entrepreneur, not much grass grew under my feet. In the past 14 years, my sons and work were my priority. Those efforts have had amazing returns, and I am not talking financial. I have the joy of working with my sons, Lance and Dakota, every day, as well as my daughter-in-law. Lankota has survived the initial start-up challenges, the ag economy fall-out, and we are expanding internationally. As such, I have traveled to Australia and most recently, South Africa. The real joy of working at Lankota, however, has been the people. I have enjoyed mentoring and training the upcoming Leadership, including my sons.
"My business experiences have allowed me to coach and mentor others in many ways, from the informal telephone call from a friend asking for advice to Junior Achievement, to the classroom of millennials looking to be strong leaders.
"In the past 3 years, I have become more intentional about life and how I am going to write this next chapter. Over the course of the next few, and I mean few, I will be backing out of Lankota to get out of the way of Lance and Dakota, as well as the Leadership Team. At the same time, I am building my own Executive & Life Coaching Business. I enjoy serving others and helping others reach their potential. That's part of my story and who I am. And I have to say, I have never been happier than I am right now," she said.