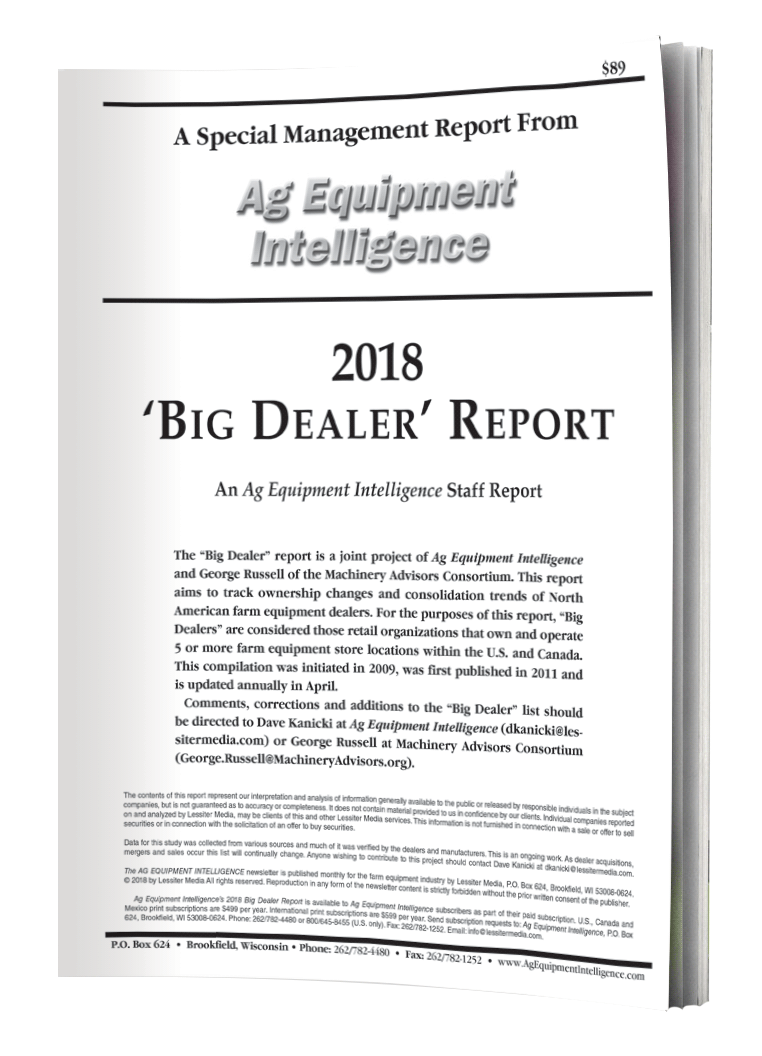 Despite fewer "big dealership" groups today as compared to a year ago, dealer consolidation is not slowing down. In fact, the numbers show that growth of the "biggest" big dealers continues to escalate, while the number of the "smallest" big dealers is where the shrinkage is taking place. That's according to Ag Equipment Intelligence's 2018 Big Dealer Report, which was released last week and is now available for purchase.
 
The annual Big Dealer Report is a joint project of Ag Equipment Intelligence and Machinery Advisory Consortium to track ownership changes and consolidation trends of North American farm equipment dealers. For the purposes of this report, "Big Dealers" are considered those organizations that own and operate 5 or more farm equipment store locations throughout North America.
The Big Dealer Report was initiated in 2009 and is updated annually in April. It is the only report of its kind that provides the ag equipment industry with a thorough, by-the-numbers analysis into the shifts in dealer ownership, along with insight into the implications of these shifts on the industry. The report has become a mainstay on the desks of dealer principals, manufacturers, lenders and other ag equipment decision makers and stakeholders to use it as a guidepost for mapping out how their business will fit into the changing farm equipment dealership landscape in the years ahead.
The result of a yearlong, ongoing examination into the dealer landscape, this report features:
A complete listing of "big dealers" by number of locations and major brand
A look at shortline brands and other equipment carried by these dealers
Details behind the changes among large dealerships
The most up-to-date merger and acquisition news on North American "big dealers"  
In-depth coverage of major dealer M&A events during the prior year
Commentary and perspective on emerging industry trends
Discussing the shifts in dealer ownership during the period of 2011-18, Ag Equipment Intelligence publisher and editor Dave Kanicki says, "Big farm equipment dealerships have grown by more than 11%. But this doesn't totally reflect what's really happening within the farm machinery retail distribution channel. Overall, the percentage of dealers in each of the 4 different size categories — 20-plus stores, 15-19 stores, 10-14 stores and 5-9 stores — held steady during the first 7 years of the study, but significant shifting has taken place particularly in the past year."
During a live webinar event on Thursday, May 24 at 10 CDT, Kanicki will be joined by George Russell, a founding member of the Machinery Advisors Consortium, to offer a first look at the 2018 report and disect the data, offer insights and share commentary. As a result of the support of webinar sponsor Ingersoll Tillage, the presentation will be available at no charge to all advanced registrants, namely farm equipment dealers, farm equipment manufacturers, industry analysts and component suppliers. Webinar registration can be made online here.
If you wish to receive the complete data an analysis of the 2018 "Big Dealer" Report, and have it to study in advance and reference during an interactive Q&A session at the end of the webinar, you can purchase a copy of the full report here.
For the latest news on dealer growth, including acquisitions, consolidations and new locations, visit our
Dealers on the Move feed
.
Dealers on the Move is brought to you by
Yetter Mfg. Co.

With a tradition of providing farmers solutions since 1930, Yetter Mfg Co. is your answer for tools and equipment to face today's production agriculture demands.