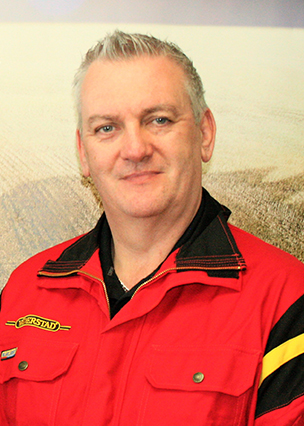 Nigel Jones
Effective Tuesday, Oct. 24, Nigel Jones, Seed Hawk's current vice president of operations and vice president of research & development, was appointed as chief executive officer of Seed Hawk Inc.
Jones has been with Seed Hawk for 3 years as the vice president of operations, and additionally as vice president of R&D since December 2016.
Born and raised in South Wales in the UK, Jones relocated to Canada in 2006 with his wife and two daughters. He is an experienced executive with a career spanning 30 years in the automotive and agricultural manufacturing industries; more than 20 of which have been in management positions covering manufacturing, supply chain, quality and engineering. Having qualified as an apprentice in Toolmaking and Mechanical Engineering, Jones went on to complete a Fellowship in Manufacturing Management at Cranfield University. During his early career, Jones studied all aspects of lean manufacturing when supplying components to Toyota, Nissan and Honda. He has served on various industry panels and is currently a board member with Agricultural Manufacturers of Canada (AMC).
When asked about his vision for Seed Hawk, Jones responds with: "I am optimistic of a bright future as we build on a strong seeding season that has resulted in a full order book for model year 2018 machines. I also look forward to further collaboration with our parent company, Väderstad, as we work more closely on product development and quality improvement, in our pursuit of becoming the leading Air Seeder brand in North America based on quality, innovation and customer focus"