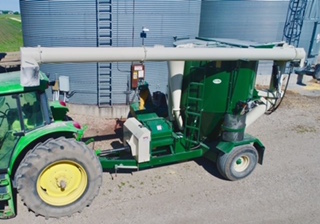 This new 4-ton mixing tank from Art's Way Manufacturing is available with a hammermill or rollermill to provide complete control over your feed processing. Auger extensions allow you to reach your desired height. When choosing self-contained hydraulics, you can operate the discharge auger with a wireless remote. Optional scale indicators allow you to control your pounds accurately on all of our scale-ready sizes. These new features allow you to efficiently grind and mix your rations for different uses.
Hydraulic oil cooler
Beefy drive shaft and bearing
Centralized grease bank
Double flighting in the transition auger
11-gallon hydraulic oil tank
LED transport lights
Nonslip ladder
Plated jack stand
Tube-style auger feeder
Click here for more information.
---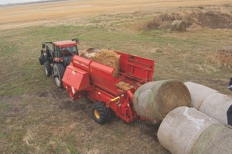 The CFR1251 — TMR that is not a TMR. Highline takes precision ration delivery and flexibility to a higher level with the CFR1251. This model represents the future, utilizing dual chambers and independent settings allowing forage blending for optimal performance and the highest economic benefit. Crop residues and hay are combined, chopped and mixed thoroughly with the grain portion, meeting animal requirements. Whether field or bunk feeding, the CFR1251 puts premium animal care in your hands.
Click here for more information.
---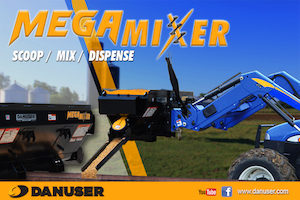 Let your tractor or skid steer do the heavy lifting in the feedlot with the Danuser Mega Mixer! Scoop, mix and dispense a wide variety of materials ranging from livestock feed to concrete. Features include two 2-foot multi-link chutes, dual safety grates with integrated bag busters, easy-to-read yardage markers and a robust 8-inch diameter auger coupled directly to a heavy-duty motor capable of dispensing up to 2-inch materials. The Mega Mixer has adjustable mounting brackets and pallet fork tine slots on both sides for quickly and conveniently dispensing to the left or right side of the host vehicle. Built-in cutting edges and a versatile design make the Mega Mixer well-suited to tackle a wide variety of projects around the farm.
Click here for more information.