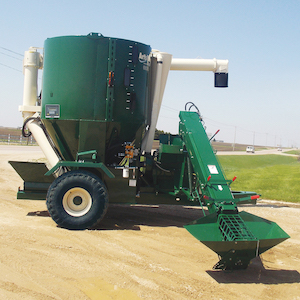 Achieve supreme feed quality with the high performance 6530 Grinder/Mixer from Art's Way Mfg. Take control and improve feed grinding by adjustment of the space between the lower wear plate and the hammers. This allows using a larger screen reducing draw on tractor hp. A larger 36-gallon hydraulic tank dissipates heat, decreasing fluid temperatures, which maximizes tractor hp. Make all hydraulic adjustments from a consolidated valve bank. Move more feed faster with bigger, better discharge capabilities — increased gate opening, longer 12-foot discharge auger tube and additional 60-degree height setting on discharge auger tube cylinder.
Click here for more information.
---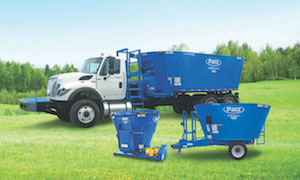 Patz Vertical Feed Mixers are available as pull-behind trailers, stationary units and convenient truck mounts. These proven performer mixers can handle a wider variety of ingredients. Patz' uniquely designed screws (Vortex® and Tru Taper™) mix ingredients quickly without compromising quality—producing a consistent TMR regardless of batch size. Looking for options? Patz 140 to 1,580 cu. ft. mixing capacity units are fully customizable. Choose a mixer screw design, discharge door locations, side extension, patent-pending tub mounted magnet, patented RAPTOR™ knives, scale packages and more! Seeing is believing; contact your local Patz Dealer today for a demonstration.