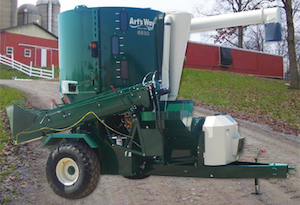 It's not just the largest in the industry, it is also the best and most productive grinder on the market today. The portable 6530 grinder mixer from Art's Way features a gigantic 165-bushel tank with a one-piece 26-inch hammermill. This 4-ton mixer is easily configured to meet the needs of your specific livestock operations, and includes a multitude of new ideas and improvements that originated from the experience of owners of previous models.
Faster unload system
Bigger, better discharge capabilities
High capacity tank
26-inch one-piece hammermill design with 96 four-way reversible knives for a more consistent grind and improved rations
Convenient wireless remote operation
Click here for more information.
---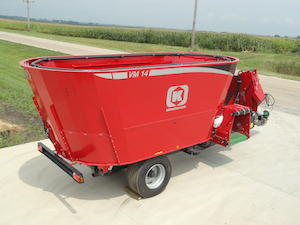 Kongskilde, a leader in TMR Mixer sales in Europe, brings the TMR Mixer line to the U.S. with several options not offered by others.
There are:
19 models from 230 to 1590 cu/ft
Single, double and triple auger models
Several discharge options, modular concepts, and accessories are available
Unique mixing auger with Impulse Mixing and Mix + (stainless steel wear plates increases auger life)
Largest range of multi machines handling both feeding and straw bedding
Single axle, double and triple axles with spring suspension, and steerable axles
Wireless weigh system standard
Proven results for Mix quality and low horsepower requirements
Low, narrow and wide models to fit your particular need