IMPERIAL, Calif. – RDO Equipment Co. announces Ramon Beltran as store manager of its Imperial store. In addition to working with general manager, Joe Castillo, to lead the store's business plan and all operations, Beltran will partner with department managers to ensure proper execution of store activities and an environment that offers the best customer experience.
Beltran joined the RDO Equipment Co. Imperial team in August 2012 as a service manager. In 2015, he transitioned to the role of regional aftermarket manager, where he worked with teams at both the Imperial and Indio stores. During his transition to store manager, Beltran will continue to support the Indio store's parts and service departments.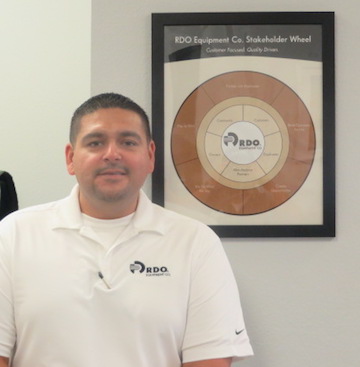 Ramon Beltran
Eager to take on the role of store manager in Imperial, Beltran is especially excited because it's the place he began his career with RDO Equipment Co. He explained, "I feel very fortunate to have this opportunity and continue the growth we've built over the past five years."
He's looking forward to building on that growth, both of the store and its team, with the ultimate goal of improving relationships with Imperial's customers.
"One of my biggest areas of focus is customer trust, something we have worked hard to build since I joined RDO Equipment Co.," he said. "With our team's efforts in both aftermarket and sales, I'm confident our relationships and trust with customers will continue to grow."
Castillo feels Beltran's experience will be of great value to both employees and customers, saying, "I am excited for the leadership Ramon brings to our team, along with his extensive service background."