Deere & Co., best known for its dominance in farm equipment industry, made a big and unexpected move on June 1 when it announced it would be expanding the reach of its Construction & Forestry division by acquiring the German construction equipment maker Wirtgen Group. Most industry analysts covering the heavy equipment market agree that the acquisition represented a major strategic acquisition that will strengthen the company's equipment operations on several fronts.
"In our view, the deal appears to be a strong strategic positive, adding to Deere's global footprint and offering a new product lineup in road construction and mineral technology," Michael Shlisky, industry analyst for Seaport Global Securities, said in a June 1 note to investors. "The deal expands Deere's C&F segment with a high growth rate business (+15% expected in 2017) with lower cyclicality."
Perhaps just as important, this purchase is expected to somewhat reduce the company's heavy reliance on ag equipment revenues.
Big & Bold
Deere is buying the privately held international manufacturer of road construction equipment for $5.2 billion in cash, including assumed debt. The Wirtgen Group had sales of €2.6 billion ($2.9 billion) in 2016.
Ken Golden, director of global public relations for Deere & Co., confirmed to Ag Equipment Intelligence that this is the biggest purchase in Deere's history. "The largest prior to this was the acquisition of Timberjack for $600 million, which was announced in 1999. Timberjack was the world's largest forestry equipment company and became part of the Worldwide Construction & Forestry Division."
It's also a bold move considering the ongoing downturn in construction equipment sales, which matches or surpasses the current ag equipment sales slump. But the company is obviously looking long term with this move.
Max Guinn, president of Deere's Worldwide Construction & Forestry Division, said, "Spending on road construction and transportation projects has grown at a faster rate than the overall construction industry and tends to be less cyclical."
Climbing CE Ladder
Deere also says the acquisition improves its Construction & Forestry division's strategic position to be a global top 3 player, and also enables Deere to serve the entire road construction process and provide the construction division global distribution options and enhance emerging markets capabilities.
According to the KHL 2016 Yellow Table, Deere ranked 7th in revenue among global manufacturers of construction equipment in 2016, but it wasn't far behind number three Terex.
A June 6 report by Bloomberg's Gadfly columnist, Brooke Sutherland ("Deere Puts a $15 Billion Rival in the Headlights") suggests that Deere's acquisition of Wirtgen spells big trouble for the construction equipment segment of CNH Industrial. The company's ag equipment brands, Case IH and New Holland, are a distant second to Deere in that segment, and it's construction business doesn't put it even in the top 10 largest equipment manufacturers.
"Deere's move to get even bigger in construction should make investors more aware of the size and struggles of CNH Industrial's business," writes Sutherland. "It's been cutting costs and has said pricing pressures should mitigate as the year goes on, but it's still a small, sub-scale competitor and that's not the type of thing that's going to magically fix itself."
She goes on to point out that "The [CNHI] unit's performance has been far from spectacular."
In 2015, CNH Industrial's construction unit earned $2 million of operating profit on more than $2 billion of sales last year. In 2015, the unit's most profitable year since its merger with Fiat Industrial, the implied margin was about 3.5%. Deere's net sales from its Construction & Forestry division were nearly $6 billion in 2015 with operating profit of $528 million.
It has been suggested the CNHI should consider selling off or merging its CE business with a mid-range competitor. But as reported earlier (see Ag Equipment Intelligence, March 2017), the company said it is not pursuing the sale of the segment. In a note, Shlisky said, "Overall, CNHI does not seem to have much interest in pursuing an M&A deal in construction, believing that the current footprint can eventually deliver adequate returns once volumes ramp back up."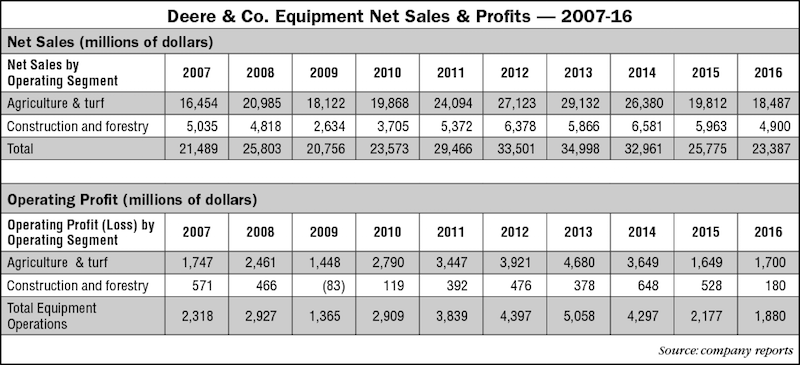 Less Ag?
In addition to beefing up its CE segment, the purchase of Wirtgen also helps to reduce Deere's heavy dependence on farm machinery sales, which has hovered in the 75-80% range of total net sales for the past decade.
A Reuters report cites comments by William Blair analyst Lawrence De Maria, who said, "The acquisition will help Deere diversify its business which has been heavily reliant on agriculture while improving the distribution of its North American centric construction business. While there are growth opportunities, this allows for greater scale in construction markets and extends the equipment portfolio."
According to a presentation to investors, Deere said its 2016 Ag and Turf operations accounted for 79% of net sales, while Construction and Forestry equipment brought in 21% of equipment revenues. The company is projecting net sales from construction and forestry will increase to 30%, while ag and turf's share will fall to 70%.
— Ag Equipment Intelligence, June 2017