There is no change in agricultural producers' sentiments since April, according to the Purdue-CME Group Ag Economy Barometer released on June 6. 400 producers surveyed across the country revealed a 130 index. The authors of the report explained, "The producer sentiment index has hovered near 130 for 5 of the last 6 months and remains considerably stronger than both last fall and a year ago."
While the broad measure of producers' sentiment remained steady, two sub-indices showed a marked divergence.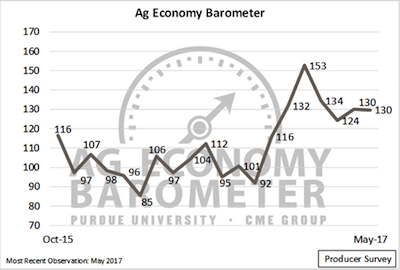 The producers' Future Expectations showed a slight improvement to 136, up from 132 in April. This was the second month in a row that this index increased. At the same time, the index of Current Conditions experienced a 10-point decline since April, resulting in a drop to 117.
The authors report, "Both sub-indices are substantially higher than a year ago, indicating that producers are more optimistic about current conditions and in their expectations for the future."
Optimism about the future is also reflected in prod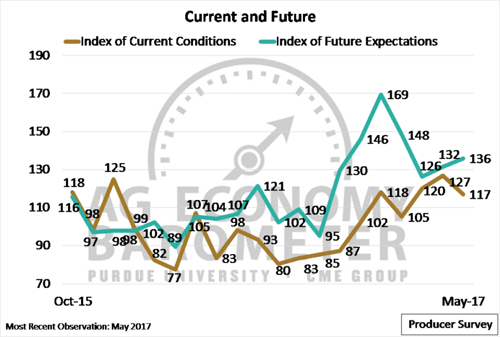 ucers' perspectives regarding future farmland values, as more than 80% of producers surveyed expect farmland values in their area to be unchanged or higher five years from now.
Data from a quarterly survey about expectations for farmland values indicates that 40% of respondents expect farmland values in their area will be higher in 5 years than they are today. This, according to the authors, is more than double the percentage of producers expecting higher prices one year out.
To view the full report, visit ag.purdue.edu.