As a group, more North American farm equipment dealers appear hopeful about their prospects for increasing revenues going into 2017 than they did going into 2016.
Based on the results of Farm Equipment's 2017 Dealer Business Outlook & Trends survey vs. those of a year ago, the difference in dealers' outlook for the year ahead is that only a net 10.3% expect 2017 revenues from new equipment sales to decline vs. 2016. A year ago, a net 26% of dealers projected declining revenues during 2016 compared to 2015.
Overall, 22.4% of dealers see 2017 revenues from the sale of new equipment increasing, with 4.2% expecting an improvement of 8% or more and 18.2% forecasting revenues to be up in the range of 2-7% for the year. Last year at this time, only 17.2% were projecting higher revenues for the year; 3% projected improved revenues of 8% or more and 14.2% expected revenues for 2016 to increase by 2-7%.
On the opposite side of the ledger, it seems dealers, overall, do not expect slumping sales of new units to be as severe next year as they were in the past few years. Nearly one-third of dealers expect their revenue from new equipment to be down during the coming year, as 18.7% see sales dipping by 2-7% and 14% anticipate sales falling by 8% or more. A year ago, 43.1% of dealers expected declining revenues during 2016; 20.6% foresaw revenues dropping 2-7% and 22.5% anticipated a fall off of 8% or more.
A few more dealers (45%) are forecasting little or no change in revenues in the year ahead vs. a year ago, when 40% projected flat new equipment revenues.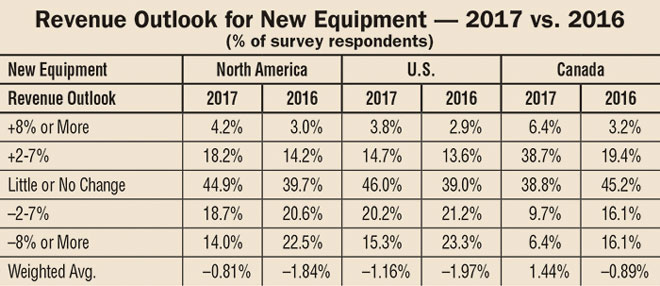 On a weighted average basis, more ag equipment dealers expect 2017 to be a better year than 2016. Overall, more than 22% expect new equipment sales to improve in the year ahead compared to only 17% who were projecting improved sales a year ago.
In all likelihood, the slightly more optimistic results from Farm Equipment's 2017 survey vs. those of a year earlier shouldn't be construed as a sign that dealers expect a near-term turnaround in the ongoing sales slump. On the other hand, it may be an indication they believe sales of production ag-type equipment are finally hitting bottom.
There has also been some speculation that many farmers are reverting back to their traditional equipment replacement cycle of 3-5 years, and away from flipping machines on an annual basis that had become so prevalent prior to the sales downturn. With the sales slump in farm equipment entering its fourth year, perhaps the timing is right for some necessary replacement purchasing by farmers, which could produce a pick up in sales dealers have been looking for.
How Did North American Dealers Fare in 2016 vs. 2015?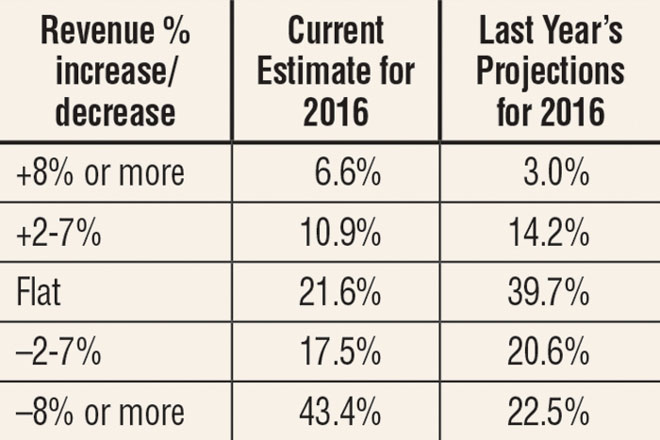 Dealers didn't fare as well in the past year as they expected they would when they offered their forecast a year ago. Asked for their "best estimate" of how 2016 revenues would finish up the year vs. their 2015 results, 17.5% said sales revenues would be up for all of 2016 (6.8% are projecting sales will be up 8% or more; 10.7% are projecting up 2-7%). This is almost exactly the percentage of dealers who predicted their sales would be up last year at this time. Twelve months ago, overall 17.2% of dealers were forecasting revenues would increase for the year (3% expected an increase of 8% or more; 14.2% expected increases to range from 2-7%).
The big difference was the percentage of dealers who forecast a drop off in new equipment sales last year vs. this year. When the survey was taken in September 2015, 43% of U.S. and Canadian dealers were projecting declining revenues (20.6% down 2-7%, 22.5% down 8% or more).
In actuality, more than 60% of dealers are now estimating their 2016 sales revenues will be lower than they were in 2015. Of these dealers, 17.5% say that revenues will have fallen by 2-7%. Nearly 44% are reporting sales for the current year will be off by more than 8% for the full year.
If, in fact, equipment sales do pick up in 2017, it will go against the current macro-economic signals, which indicate lower crop cash receipts and net farm incomes for 2016 and carrying through into 2017.
Another Down Year for HHP Tractor & Combine Sales
Struggling year-over-year and year-to-date North American sales of high horsepower tractors and combines through the first 8 months of 2016 continues the trend the industry has experienced since the second half of 2014. Dealers responding to this year's survey aren't looking for much improvement in sales of row-crop or 4WD tractors in 2017, but appear more optimistic than they were a year ago when it comes to sales of compact and utility tractors and combines.
Through August of 2016, the Assn. of Equipment Manufacturers reports that North American unit sales of mid-range, high horsepower and 4WD tractors, as well as combines remained in the doldrums. The only bright spot is the continued strong showing of compact units (under 40 horsepower).
From January through August 2016, U.S. and Canada sales of compact tractors were up by 8.5% year-to-date to nearly 101,000 units. Year-to-date, sales of mid-range/utility tractors are down by nearly 6% to about 41,000 units for the first 8 months of the year.
Row-crop tractor sales during the January-through-August period of 2016 in North America were down to about 14,700 units, or 24%. Year-to-date unit sales of all 4WD tractors through August 2016 were down 28% to 1,800 units.
Unit sales of combines through the first 8 months of the year were down by more than 19%.
Nearly Half of Kubota Dealers Expect Higher New Equipment Sales in 2017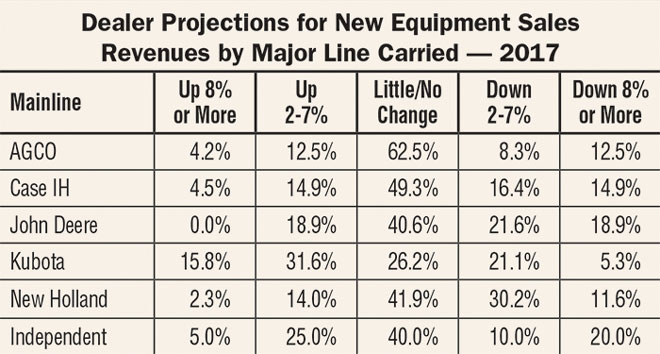 Compared to dealers carrying other major brands of equipment, and even the indpependents specializing in shortline products, Kubota dealers are easily the most optimistic going into 2017 — by a long shot.
More than 47% of dealers handling Kubota-branded ag machinery are projecitng increased revenues for the new selling season. A healthy 32% expect their revenues to pick up by 2-7% and about 16% see them increasing 8% or more. A little over one-quarter (26.2%) project flat sales. That leaves only 26% who are anticipating a drop off in overall revenues in 2017.
It's a split for the independent dealers, with 30% expecting revenues to increase and 30% especting revenues to decrease.
Otherwise, it appears dealers handling the other brands of farm equipment are hoping for "little or no change" from the revenue levels they saw a year earlier.
During the past few years, Case IH dealers have typically been the most dour in their outlook. This year, they just might be the more optimistic of the four other major brands. On the positive side, more than 19% of Case IH dealers anticipate improved revenues for 2017. Close behind are the John Deere dealers, 18.9% of which see increase revenues in the year ahead. Nearly 17% of AGCO dealers and 16.3% of those handling New Holland products are projecting higher revenues for the year ahead.
On the other hand, more than half (50.5%) of John Deere dealers are forecasting declining revenues. They're followed by New Holland (42%), Case IH (31%) and AGCO (21%) dealers who are expecting a lower new equipment revenues in 2017.
A little over one-third (33.5%) of dealers expect the unit sales of compact tractors to increase in 2017, which is an improvement over their projections from a year ago when about 29% projected increased sales. Only 8% of dealers are calling for a decline in compact sales during the coming year vs. 14% who forecast a fall off in sales.
48 Page 2017 Dealer Business Outlook & Trends Report
The complete 48 page 2017 Dealer Business Outlook & Trends report — Farm Equipment Forecast will be sent to Ag Equipment Intelligence subscribers and dealers who participated in the survey in mid-October. It is also available for sale for $299. You can order by going to www.Farm-Equipment.com/forecast2017.
For mid-range tractors, 27% of dealers are looking for increased sales in the year ahead. This is up only slightly from 26% who forecast growth in the sales of these tractors for 2016. A little over 15% of dealers expect sales of these tractors to decrease in 2017 compared to nearly 18.5% who anticipated lower sales of utility tractors last year at this time.
Fewer dealers this year (17%) expect unit sales of row-crop tractors to improve in 2017 than who forecast an increase in sales of this category of tractors last year (20%). At the same time, a smaller percentage (25%) are anticipating lower sales of high horsepower tractor in the year ahead than called for a decrease last year when 37% projected lower sales.
The same outlook holds for 4WD equipment. Slightly over 16% expect sales to increase in 2017 vs. 20% looking for declining sales a year ago. Last year, nearly 43% of dealers forecasted a fall off in sales of 4WD tractors vs. 33% for the new sales year.
A larger percentage (15%) of dealers also have a more optimistic outlook for combine sales for 2017 compared with 12 months ago, when only 7% of dealers expected combine sales to improve. Also, last year, one-half (50%) of North American dealers projected declining unit sales of combines compared to only 30% who see sales dropping during 2017.
Early Orders a Tough Sell
Although a few more dealers say their early equipment orders are up compared to this time last year, overall, new farm machinery order books continue on a downward slide that began 3 years ago.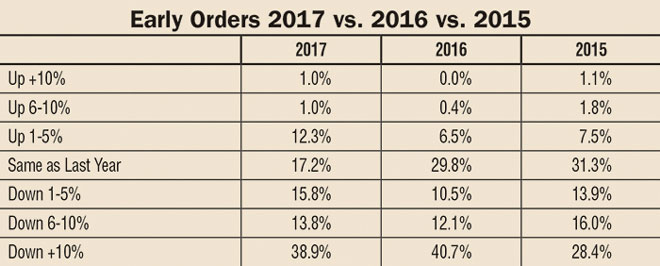 Slightly more than 14% of North American ag equipment dealers are reporting early orders are in better shape than they were when Farm Equipment conducted its 2016 Dealer Business Outlook & Trends survey last September. This compares with 7% of dealers who reported an increase in early orders 12 months ago and about 10.5% the year before for 2015. These percentages are way down from the more than 27% of dealers who reported in 2014 that their early orders had increased from the previous year.
The small increase in dealers reporting higher early orders for new 2016 equipment is pretty much offset with a larger percentage of dealers reporting decreases in their order books for 2017. This year nearly 70% of dealers say their early orders, or presells, for new 2017 equipment are lower than they were last year, which continues a 3 year run of significant declines.
In 2014, only 28% reported lower order levels than the previous year. This percentage grew to 53% in 2015 and 63% in 2016.
In this year's survey, which looks ahead to 2017 new equipment sales, nearly 39% of the 225 responding dealers report that their early order levels are down 10% or more vs. 12 months earlier. Another 14% says they have fallen off between 6-10%, and 16% are reporting their order books are off 1-5% vs. the previous year.
Overall, a net 54% of dealers are reporting a lower level of early orders for 2017. This compares with a net 56% for the previous year and 42% 2 years ago in 2015.
Equipment Lead Times. In his analysis of 2017 early orders, Michael Shlisky, analyst with Seaport Global Securities, noted "that early-order programs are less important in recent years, as much less lead time is needed for delivery given the reduced production levels across most heavy ag categories."
In fact, when Ag Equipment Intelligence and Cleveland Research Co. initiated the monthly Dealer Sentiments & Business Conditions Update survey in April 2011, equipment delivery times were a major issue. In early 2012, dealers were reporting that the average time between when an order was placed and the equipment delivered was over 6 months. In February and March 2012, on average combine lead times were 7.6 months, 4WD tractors were 6.2 months, row-crop tractors 6.5 months and tractors under 100 horsepower 5.1 months.
By the first quarter of 2015, long lead times for equipment deliveries had greatly diminished. With broad availability of all types of large ag equipment, Ag Equipment Intelligence ceased surveying dealers about lead times in April 2015.
Early Orders vs. Peak Sales. In this year's survey, dealers were also asked how the level of this year's early orders compares with 5 years ago when the sales of farm machinery hit its peak.
Overall, 78% of dealers report their early orders were less than they were in 2012 and 2013. Of this, nearly 38% say they were down by 30% or more, and 21% say early orders for 2017 were down by 21-30%.
Less than 7% reported that early orders for new equipment next year were higher for the year ahead than they were 5 years ago.
Used Equipment Still a Drag
While more dealers are reporting that their backlog of used machines seemed more manageable this year, most also acknowledge that, overall, inventory of previously used equipment is still too large. And until dealers believe they can make some money by taking trades on new equipment deals, they will remain overly cautious.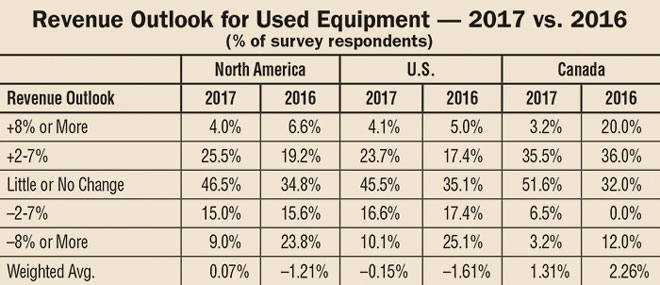 While the percentage of dealers projecting improved used equipment revenues for 2017 increased from 25.8% for 2016 to 29.5% for 2017, the biggest shift came in dealers expecting a fall off in revenues, from 39.4% a year ago to 23% this year.
Results of the latest Dealer Sentiments & Business Conditions Update survey indicate that 40% of dealers reported their used equipment inventory as "too high." A year earlier, 42% of dealers rated used backlogs as "too high."
Dealer comments like the following appear to reflect overall industry sentiment. "It is hard to sell new equipment when the manufacturer is dumping low hour lease returns in your market. Why should I take a trade to sell a new machine at low or no margin if there is no place to sell it?" "There is too much used inventory, so we are decreasing new equipment until used levels are manageable."
Nearly half (47.6%) of all dealers who responded to the 2017 Dealer Business Outlook & Trends survey say they used an auction or auction service (on-site or online) to help move their used equipment during 2016. Two years, the last time we asked the same question, 43% said they utilized an auction to help reduce their inventories of used. Of course, using auctions for used equipment is often synonymous with lower margins.
Currently, 45.2% of dealers describe their used equipment inventories as "too high" (35.5%) or "way too high" (9.7%). This is down somewhat from a year ago when 49.5% of dealers said their used backlogs were "too high" (38.9%) or "way too high" (10.6%).
In terms of revenue from the sale of used machines, 29.5% of North American dealers expect revenues to increase in 2017, with 25.5% looking for improvements in the 2-7% range and 4% expect gains of 8% or more. This compares with 25.8% of dealers who were looking for a bump in used machinery revenues last year. Broken out, 6.6% were anticipating gains of 8% or more and 19.2% projecting increases of 2-7%.
The major swing came in the percentage of dealers forecasting a decline in used equipment revenues between this past year and the year ahead. For 2016, nearly 40% of dealers said they expect declining revenues from the used equipment segment of their business. Nearly 16% projected a fall off of 2-7% and 24% were calling for a decline of 8% or more. For 2017, less than one-quarter (24%) of dealers are forecasting less revenue from their used machinery, with 15% anticipating a drop off of 2-7% and only 9% forecasting a decrease of 8% or more.
Shuffling of 2017 'Best Bets'
There were some changes in the list of "best bet" products for growing dealer revenues in the year ahead.
Still ranked at the top of dealers' list is lawn and garden equipment with nearly half of dealers projecting measurable growth during 2017, a reflection of the ongoing strength of the consumer segment. That was followed by compact tractors, with 34% of dealers expecting this equipment to produce an increase in revenues.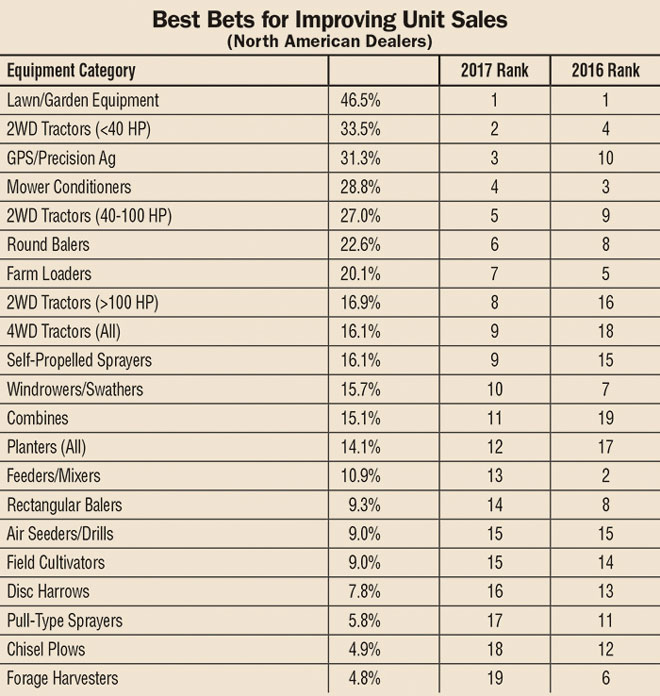 Rankings for "Best Bets" products for 2017 were calculated by combining the percentages of dealers who projected either an 8% or more increase and those forecasting a 2-7% increase in unit sales.
GPS/precision farming products, which had earned the dealers' #1 ranking from 2006 to 2015 made a combeback for 2017, jumping from #10 on the list last year to #3 for the year ahead. A little over 30% of dealers believe these products will produce increased sales in 2017. Rounding out the top 5 are mower/conditoners and utility tractors.
Few Changes in Dealers' List of Concerns
Dealers major concerns going into the new sales year have not changed substantially from their listing of major worries from a year ago.
Like last year, ongoing low commodity prices tops the dealers' list of concerns. The most recent USDA estimate for corn is $2.90-$3.50 per bushel. For soybeans, the forecasted price range is $8.30-$9.80, and wheat is expected to come in at $3.30-$3.90 per bushel. All are considered "bearish" for sales of farm equipment for the remainder of 2016 and into 2017.
Farm input costs and increasing cost of new equipment swapped places in the #2 and #3 slots on dealers list of concerns for 2017.
Health care affordability moved up from the #7 spot in 2016 to #4 and shrinking farm customer base rose to #5 for 2017, pushing technician availability and used equipment inventory down to #6 and #7 respectively.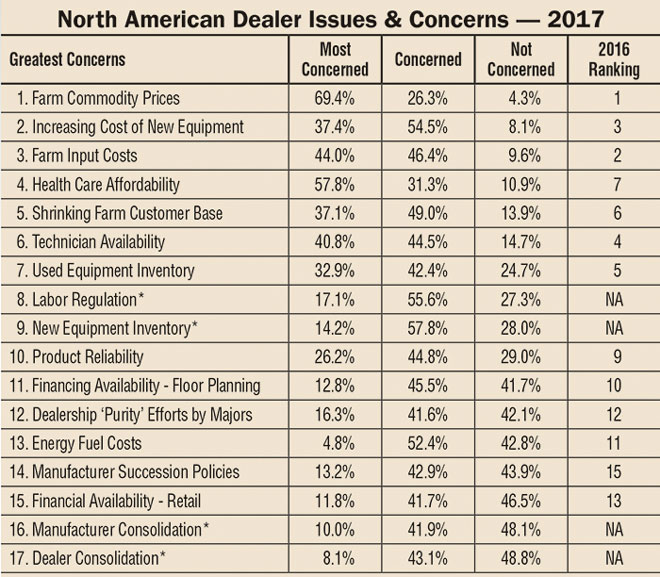 Dealers' issues and concerns are ranked by combining the percentage of "most concerned" and "concerned" responses. *Note: #8, #9, #16 and #17 were not included in the list last year. As a result, they were not ranked in 2016.