Tracking employee ROI, measuring the value of agronomic service offerings and strategizing on how to attract the next generation of precision specialists were conversational threads woven into the discussion at the first-ever Precision Farming Dealer Summit.
The event, held at the Marriott Downtown Hotel in Indianapolis, Ind., on Jan. 5-6, drew a sold out crowd of 197 precision farming professionals from more than 50 different dealerships throughout North America.
Emphasizing the theme Profitable Precision Strategies, Precision Farming Dealer managing editor Jack Zemlicka noted during opening remarks that many farm equipment dealers have the same questions when it comes to making money with their precision business:
How can we get our customers to consistently pay for precision service?
Where do we find talented, reliable precision specialists to grow our staff?
What role should our dealership be playing in the "Big Data" revolution?
While there is no "silver bullet" solution to building and maintaining a profitable precision business, the 15 speakers, 2 sets of informal roundtable discussions and intense networking opportunities at the 2-day conference sought to deliver actionable answers for attendees.
Informal Peer-to-Peer Roundtable Coverage
Among the highlights of the 2016 Precision Farming Dealer Summit were 10 dealer roundtable sessions that offered face-to-face opportunities to ask questions, discuss challenges and share solutions to pressing precision problems.
Conversations spanned the spectrum of the practical (profitability starts with the plant) to the debatable (should dealerships partner up or fly solo with data management service options?), and attendees cited immediate takeaways and newfound precision allies before heading home.
From the single-location independent dealer to the multi-store farm equipment retailer, from the veteran precision ag manager to the newly hired specialist, the passion for precision farming was palpable.
The articles that follow offer in-depth summaries of the Summit's top learning-intensive sessions.
The knowledge sharing and networking opportunities for dealers were made possible by the support of 12 Summit Title Sponsors who were recognized during the dinner program.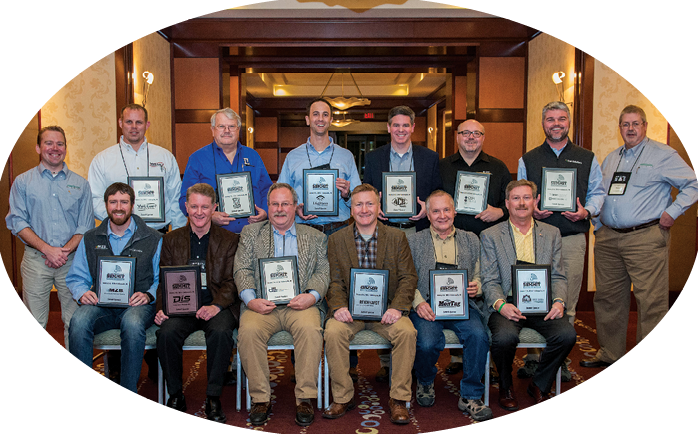 Top Row: (l to r) Jack Zemlicka, Precision Farming Dealer; Derek Allensworth, Yetter Farm Equipment; Lars Paulsson, Laforge Systems; David Dusanek, DigiFarm; Andy Randle, Ace Pumps; John Bolling, CDK Global; Jason Burchett, Iron Solutions; Dave Kanicki, Farm Equipment
Front Row: (l to r) Jordan Tackett, MZB Technologies; Randy McIntyre, Dealer Information Systems (DIS); John Pritchard, DLL Financial Solutions; Jayme Paquin, Reichhardt Electronic Innovations; Roger Montag, Montag Manufacturing; John Schmeiser, Western Equipment Dealers Assn.

Top Roundtable Takeaways from the 2016 Precision Farming Dealer Summit