---
ABOVE: Kubota senior managers and local dignitaries attend to the Kagamiwari ceremony during an event celebrating the company's opening of its new tractor factory in Dunkirk, France.
A traditional Kagamiwari ceremony, in which senior managers of Kubota Corp. and local dignitaries use wooden hammers to open Sake barrels, marked the official opening of Kubota's first European production plant.
It was a significant event for the Japanese company — and for the ag machinery industry as a whole — as it heralds a new competitor in mainstream tractor markets.
Kubota has started building tractors of 130-170 engine horsepower in its new plant, located in Bierne close to the port town of Dunkirk on the northern coast of France, which beat candidate sites in The Netherlands and Germany for the factory prize.
Some 75 years ago, Dunkirk became infamous — in England especially — for the successful evacuation of British and Allied forces from the European mainland. Today, it provides ready access for tractor shipments to Kubota's key markets and, in 75 years' time, there is every chance it will be known in worldwide agricultural circles for the source of ripples that are set to pass through tractor distribution networks in the months to come.
Kubota employees test the tractors' hydraulic linkage lift capacity and control, and check for leak-down.
Kubota managers recognize that it will not be easy. But they are playing the long-game and know that a reputation for quality and durability among compact and small tractor users will be worth nothing to buyers of bigger ticket tractors with a lot more technology on board if the products do not cut the mustard.
To that end, Kubota has turned to acknowledge blue chip component suppliers for its first foray into "dry crop" tractor markets and is giving quality control on the assembly line the highest of high priorities.
Germany's ZF provides the transmissions; Dana's Italian unit supplies powered front axles; Bosch, Hella and Grammer deliver electronics, lights and seats; the hoods, fenders and other bodywork items that give the tractors their identity are molded in Austria.
In all, 89% of the M7001 series tractor comes from European sources. Kubota DNA is evident in the cab frames shipped from Japan and also, of course, the 6.1-liter 4 cylinder engine that goes into these first models — as well as the attention to detail that is a key part of the assembly process.
Farm Equipmentand Ag Equipment Intelligence were exclusively represented among the media at the official opening, when Kubota President, Masatoshi Kimata said: "We want to surprise customers with the performance of the M7001 series tractors, meet their expectations for a product able to handle a wide range of jobs on their farm.
"Thanks to the help of our suppliers, we are bringing Kubota manufacturing and quality control to this project, to build products that meet our exacting standards."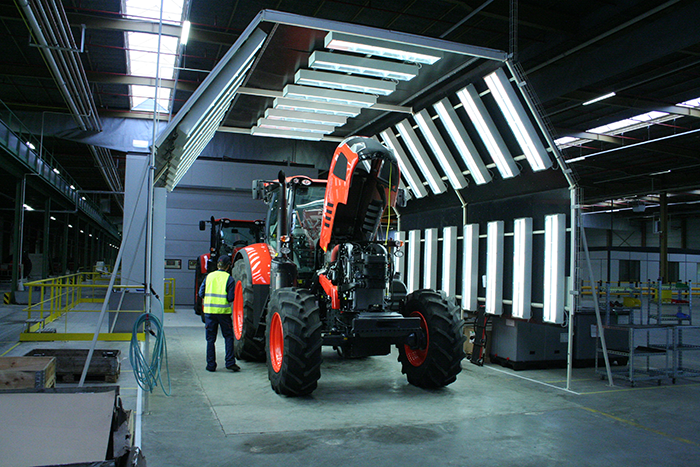 Bright-light inspection booth where checks are made for any imperfections.
Kubota has recruited and trained almost 150 workers for its new plant, none of them having built tractors before. From among them, 25 key workers have spent time at Kubota factories in Japan, learning the company's Kaizen methods and becoming more familiar with the production equipment mirrored at the French plant. Kubota support staff currently supervises each assembly line group at Bierne.
Uncharacteristically for a tractor factory, the assembly department and other areas of the 322,000 square foot converted factory are quiet and empty. But things are only just getting underway.
For now, it takes 2 hours to assemble a Kubota M7001 tractor so there's not a huge call for components. But that will change as the production line progressively speeds up toward the goal of building a tractor every 21 minutes.
In their quest to get things right the first time, assembly teams check every torque twice; completed cabs undergo the usual checks on their electrical systems but also pass through a pressure wash booth to detect any leaks.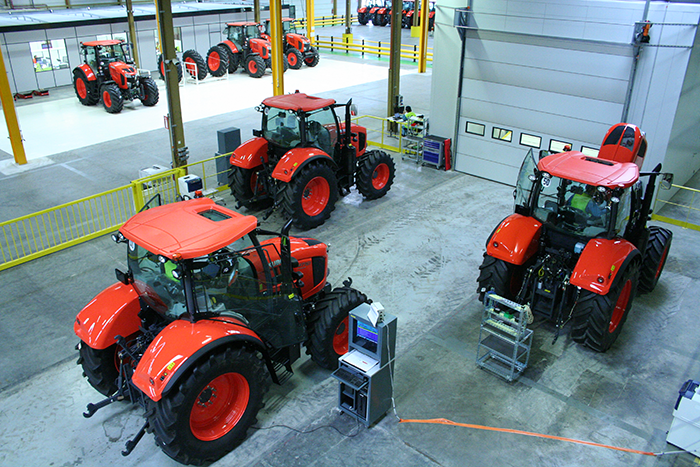 Lined up and ready to ship, barely 10% of the M7001 series tractor originates from Japan, just the engine and cab frame. The rest is sourced from European suppliers.
Further electronic and hydraulic diagnostic checks are carried out, a sustained lift and leak-down check is performed on the 3-point linkage and a detailed inspection in a bright light booth aim to keep post-factory issues to a minimum.
First tractors off the line are headed to Kubota-owned and independent sales and distribution companies for staff and dealer training in Europe, where Kubota expects to sell 50% of production, amounting to 1,500 units a year, and then to North America (1,000 units a year ultimately), and to Asia and Australia, which collectively will account for another 500 units.
Technology-wise, Kubota is pitching in at a high point, certainly for European customers, with a choice of semi-powershift or CVT transmissions; open-center gear pump or load-sensing piston pump hydraulics; and rubber block, mechanical or air cab suspension.
Rigid or cradle-type front axle suspension will also be on the options list, along with side console or seat-mounted controls. A large touch screen terminal from Kubota's Kverneland Mechatronics division has twin display, Isobus, guidance and other software capabilities.
Kubota has secured its first customer, a French farmer, who received a ceremonial key and an enthusiastic reception from company staff.
 For Masatoshi Kimata and his colleagues it was another symbolic step toward the goal of expanding Kubota's presence beyond its traditional markets and, over the next 3 years, lifting revenues from today's $13 billion toward a target of more than $16.8 billion.  
---
You May Also Be Interested In...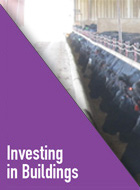 Case Study: When is Investing in a New Structure the Right Decision?
In this year's SOURCEBOOK Special Report, we go in-depth with 5 different scenarios examined in a format similar to Harvard Business Review case studies. In one case study, we explore how a consultant might approach a farmer questioning whether they should invest in a new building. 
---