---
ABOVE: (l-r) Wally Scott, Chris Scott, Bob Scott and John Scott
On Oct. 22, Wallace Andrew "Wally" Scott would have turned 100 years old, which means he would have celebrated his centennial year at the same time that the farm equipment dealership he helped grow, Scott Supply Co. in Mitchell, S.D., also turned 100 years old.
Wally was on hand in 2007 when Scott Supply received Farm Equipment's Dealership of the Year award. He along with his sons Bob and John, the third generation owners of the dealership at the time, and grandson Chris the fourth generation of Scotts to own the dealership, accepted the award.
The family reports that Wally died peacefully at home on September 12, 2015. His wife, Gladys, (Schlund) preceded him in death in 2012. They were married in 1942.
While he "officially" retired in 1980, Wally remained a presence at the dealership that his parents, Lewis Emmanuel and Clara (Emerson) Scott founded in 1915.
Through the summer of 2014, he was a familiar figure on his Cub Cadet rider lawnmower maintaining the Scott Supply grounds.
The day before the Farm Equipment editor showed up to present the Dealership of the Year award in the summer of 2007, in 90-plus temperatures, Wally mowed the lawn around the dealership. He said, "I wanted the dealership to look its best for when Farm Equipment showed up."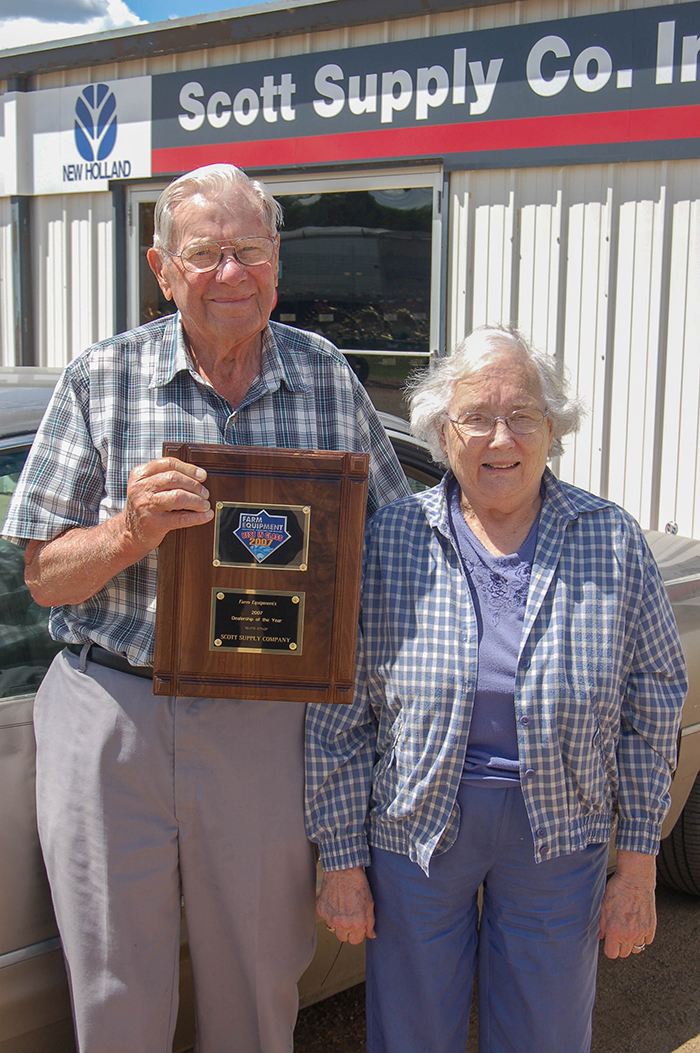 Wally Scott and his wife, Gladys, in 2007 showing off Farm Equipment's Dealership of the Year award.
The staff of Farm Equipment offers its sincerest condolences to the Scott family for the loss of its patriarch and wonderful friend.
Visitation is planned for Friday, Sept. 18, 6:00-8:00 pm at the First Lutheran Church in Mitchell, S.D., with a memorial service on Saturday, Sept. 19 at 11:00 am at the same church.
More details are available at: http://www.bittnerfuneralchapel.net/index.php?pageID=1231_2&personID=1272&