DULUTH, Ga. — AGCO Corporation has announced the launch of Fuse Connected Services, a new customer offering through AGCO dealers.
Fuse Connected Services combines the iron, technology, parts, service and support to help customers optimize their operation and maximize uptime through preventative maintenance, machine condition monitoring and year-round consultation. The services will launch at select AGCO dealers in North America and Western Europe in the third and fourth quarters of 2015.
Supported by AGCO Parts, AGCO Service and AGCO Advanced Technology Solutions (ATS), Fuse Connected Services is designed to help growers improve overall farm efficiency by reducing maintenance and input costs, improving yields and enabling more informed business decisions.
At launch, two to three service packages will be available, varying by region, with different degrees of hands-on dealer support. Level one enables customers to conduct self-monitoring, data transfer and management plus set-up, calibration and operation support from the global Fuse Contact Center via phone, live chat and email.
Higher level packages offer proactive, remote condition monitoring by dealer experts, off-season inspections and reviews, operational consultation and training. Specific service packages and pricing will vary based on individual customer needs and dealer capabilities.
---
You May Also Be Interested In...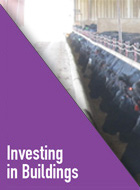 Case Study: When is Investing in a New Structure the Right Decision?
In this year's SOURCEBOOK Special Report, we went in-depth with 5 different scenarios examined in a format similar to Harvard Business Review case studies. In one case study, we explored how a consultant might approach a farmer questioning whether they should invest in a new building. 
---
Many of the services will be enabled by a new release of AGCO's AgCommand telemetry product. A redesigned user interface and several new features give monitoring specialists the information they need to address and avoid costly machine downtime. Future releases of AgCommand will further enhance AGCO dealers' customer support and remote monitoring capabilities.
"We at AGCO believe successful farming isn't just about the best machines or the most expensive seeds. It's about smart management practices that help you get the most out of your land and resources," said Eric Hansotia, senior vice president, Global Crop Cycle, ATS and Dealer Tech Support at AGCO. "Fuse Connected Services will more fully leverage the expertise of our dealers to help our customers do just that, with the right combination of equipment, technology and service to achieve the truly optimized farm."
"Our dealer network is excited to introduce these new capabilities. We will onboard our dealers in phases over the next two to three years, with the full support of AGCO," said Boris Schoepplein, vice president, AGCO Parts and global Fuse Connected Services lead.
Services will be phased in gradually this year and next, starting with Challenger and Gleaner dealers in North America, followed by Challenger and Fendt dealers in Western Europe in the first half of 2016. Other markets are expected to begin piloting and offering Fuse Connected Services in 2016 and 2017.
Fuse Connected Services and Fuse Technologies are the key offerings of AGCO's overarching Fuse precision agriculture and precision machine management initiative, supporting AGCO's core brands in all regions. AGCO is the first agriculture equipment manufacturer to embrace the open approach to precision farming, respecting grower data privacy choices and facilitating customer connections with third party service providers through an increasing list of strategic partners.
For more information about Fuse Connected Services and AGCO's precision farming technologies, visit:  www.AGCOtechnologies.com.