Finding good, quality employees is a challenge for all dealerships, especially for management level positions. Professional and prepared managers can come from a variety of sources, whether groomed internally, recruited from the corporate world or from the people you know in your local community.
During a panel of 45 quick-hitting ideas on where to find managers who are the right fit for your dealership at the Dealership Minds Summit, three dealer executives provided a wide range of ideas that have worked for them and the traits they look for in potential managers. Below are 14 ideas of what to look for in professional and prepared managers.
1. Individuals Involved in Their Community
Josh Provost, vice president of Champlain Valley Equipment in Derby, Vt., (2006 Dealership of the Year), says he always keeps an eye out for potential hires when he is out in his community. "I've got young children — they're 14, 12 and 7 — and when we're going around to their sporting events and other activities, I'm always looking at who's out there. Who are the parents that are leading the community? Who are the coaches? I'll ask my wife if she knows who someone is and what their background is. We're a small store and it's hard to have the internal talent to develop, so I'm always looking within the community," he says.
2. Can They Keep Up the Pace?
Jeremy Ostrander, CEO of AgriVision Group, Pacific Junction, Iowa, (2013 Dealership of the Year) looks for candidates who can keep up with the quick pace of the dealership. "The agriculture business has some pretty rapid-fire seasons that we go through, and we try to make sure that we hire people who can run at our pace," he says. When taking potential hires on a tour of the facility during their interview, he puts them through a little test. "I try to walk at a pretty brisk pace and if they hang right by my side and keep the conversation going, that's usually a good sign. If they fall 3-5 steps behind or lose it a little bit, it always makes me question whether they can run at the pace that we're going to run at," he says.
---
"For me, It comes down to, If our personalities don't jive, it's harder to work with each other..."
---
3. Personality & Values Matter
Miles Mackow, general store manager of Webb's Machinery, Lamont, Alberta, says personality is becoming more and more important. As an owner you are going to be working very close with this person and their personality plays a big role in how you work with them. "For me, it comes down to, if our personalities don't jive, it's more difficult to develop a higher level of trust because it's harder to work with each other," Mackow says. "Now, maybe you can get over that over time, but I think if you're looking at bringing somebody in initially, this is something that you have to consider."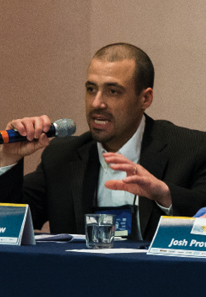 Miles Mackow, Webb's Machinery
Similarly, you want to find people who have proactive, positive attitudes to fill management roles — or any role for that matter. Culture is a big part of any dealership, Provost says. "You want customers to walk in and be met by someone with a proactive, positive attitude. For example, if a customer is having a bad day because he's broken down and you don't have the parts on the shelf, you can't have a negative person as your service manager."
Provost stresses that you need to look for a manager who wants to make the situation better and is looking for the answer. "Basically, you want someone who has a happy-go-lucky personality and can kind of shift problematic situations to create a more positive outcome," he says.
4. Good Managers are Engaged Workers
When hiring a manager, you want someone who is going to work with the staff. "Like many other dealers, we have an organizational chart and it's definitely top down. When there's a crisis you have to manage, you go to that chart, but for day-to-day operations the manager needs to work," Provost says. "If it's a service manager he works with his techs — he's the boss; but it's a lateral relationship as well. I find that the managers who can develop that are far more successful than those who always have a top-down type relationship."
5. Look for Leaders, Not Just Managers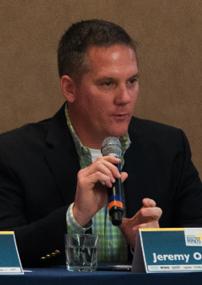 Jeremy Ostrander, AgriVision
Ostrander says when hiring managers AgriVision looks for individuals who can capture the heart of the employees, people who employees will want to work for. During his presentation, he shared a text message an employee sent to a manager to highlight how this manager attracts people and has a heart: "He said, 'Never got the chance to tell you thank you for the Christmas party and specifically your words to everyone before and during. Full of pride and heart, it reminded me why I would follow you and a few others into any situation without question. True heart to me is a quality often taken for granted or forgotten about. I truly believe everyone there felt some of that as did I.'"
Along with capturing the support of the team, Ostrander looks for people who share the fruits of their success to build momentum. "During the interview, I'll ask them about examples where they used their fruits to take the team with them, where it wasn't just about them but the whole team," he says. "Whether I'm looking in our community or actively searching outside the area, I look for those examples."
6. Good Managers Look for Long-Term Compensation
If you are looking to hire managers that might have over 10 years of experience and have had a successful career thus far, you'll need to offer them competitive compensation. It's a good sign if they are interested in a longer-term compensation strategy, Ostrander says. "That tells me they're planning on staying here long term vs. somebody who is only interested in being here short term," he says. "For those individuals who are at a fork in the road — they've gotten married and maybe started having kids — and ready to make a commitment somewhere and are committed to taking caring of their family. One thing we've thought about a lot is we're making a commitment to them as well, there's responsibility in both directions."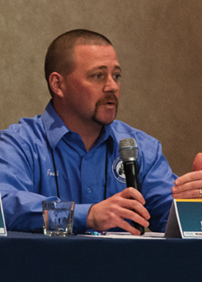 Josh Provost, Champlain Valley Equipment
7. Must Understand the Tasks at Hand
Provost doesn't think you can take someone from outside the industry and throw him or her into a management position at a dealership. "I think the person has to have some understanding of the urgency in the dealership, how things function and they can learn that," he says. "I don't think they can come in and be a manager without some background. They have to understand why the shop support and the parts on the shelf are important, why the customer is important. If they don't understand, they can't be an effective manager because they can't portray that to their staff."
An effective manager needs to understand all the departments and what motivates them, Mackow says. "This allows him to mediate between the departments with a sense of diplomacy and accommodate all the different agendas, he says. "An outside manager can have a good sense of dealer operations, but you still have that unique aspect of your own dealership that they'll have to get up to speed on and that will take a little bit of time."
8. Not Focused on Protecting 'Domain'
Ostrander stresses it's important to look for people who want to share with others, who aren't trying to protect their domain. "As an example, do they want to come to seminars like this and share their best practices in order to get ideas from others? Do they network well?"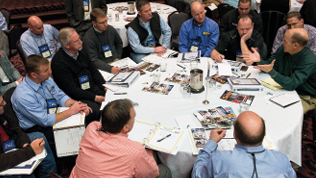 Web Exclusives
Informal Peer-to-Peer Roundtables
A highlight of the events were the 10 roundtable sessions that drew dealer-to-dealer questions, feedback and solutions. Moderated by the group of attendees pictured below, the topics covered included: Specific Challenges for Small-Store Dealerships • Trouble Areas Exchanged ... What's Your Mulligan ('Do-Over')? • Org Structures for Precision Farming Departments • Change Management & Team Buy-In • Third-Party Guidance: What, Why & When • Millennials: Motivations & Methods • Talent Inventory: Is the Time Right to Grow? • Owner(s) Hit by Bus: What's Your Plan? • Pros/Cons of a Board of Directors • Strategies for Retaining & Rewarding Key Personnel
To read the key takeaways that moderators shared from the podium, click here.
Ask yourself — are they sharing their experiences to brag or to stimulate conversation with others? "So with the customers we find that if we share something about our business, customers tend to share a lot back with us about their own business and it's a give and take. You should certainly look for people who are willing to share their best practices with others," he says.
9. Leading by Example
"I wouldn't want anyone on my staff doing anything that I wouldn't do, and I expect our managers to be the same way," says Provost. When Champlain Valley purchases or acquires another dealership it gets the top-level managers — whether the service manager, parts manager or one of the partners — involved in the transition. "We go in there, we're cleaning the shelves, we're side by side, we're getting things organized and done. We lead by example. If your managers aren't willing to do that, they're really not part of the team," he says.
10. Eager to Learn & Teach
While hiring college graduates for every position within the dealership sounds wonderful, Provost says it's not reality. With many in the next generation coming up not getting 4- or even 2-year degrees, Champlain Valley looks for candidates who are willing to continue their education. "We pay for training and we'll pay for college classes if it pertains to our business," he says. "To me, that's more important than having that certificate on the wall. It's definitely different when you get to the larger dealerships when you're running 9 or 23 stores. Upper level management obviously has to have that education, but for the entry-level managers it's not as important."
Ostrander looks for people who ask questions. "People who ask questions want to learn and want to get better. And if they respect the input of others, they tend to transfer that onto their own people. We've found that people who ask questions and are inquisitive often are able to share that with their team and get good results," he says.
Dealers to Watch — Operations Investing
in Their Future at 2015 Summit
Below is a list of the companies (hailing from 22 states and 4 provinces) that came to the 2015 Dealership Minds Summit in Cincinnati. List includes organizations that had one or more representatives at the event.
Ag Info Tech LLC, Mt, Vernon, Ohio • AgPro Equipment Services Inc., Hettinger, N.D. • Agri-Service LLC, Twin Falls, Idaho • Agriterra Equipment, Calgary, Alb. • AgriVision Group LLC, Pacific Junction, Iowa • Apple Farm Service, Covington, Ohio • Archbold Equipment Co, Archbold, Ohio • Arthur Farm Power, Arcola, Ill. • Bane-Welker Equipment, Ladoga, Ind. • Baxla Tractor Sales Inc., Seaman, Ohio • Big Equipment Co., Havre, Mont. • Bingham Equipment Co., Mesa, Ariz. • Birkey's Farm Store Inc., Attica, Ind. • Birkey's Farm Store Inc., Champaign, Ill. • Bob Mark New Holland Sales Ltd, Lindsay, Ont. • Border Plains Equipment, Williston, N.D. • Brandt Holdings, Fargo, N.D. • Castongia's Inc., Rensselaer, Ind. • Central Equipment, Versailles, Ky. • Champlain Valley Equipment, Derby, Vt. • Chattanooga Tractor, Chattanooga, Tenn. • Coastal Tractor, Salinas, Calif. • Coleman Tractor, Paris, Tenn. • Cumberland Tractor & Equipment LLC, Nashville, Tenn. • Ernie Williams Ltd., Algona, Iowa • Farmers Equipment, Urbana, Ohio • Fennig Equipment, Coldwater, Ohio • Forrester Farm Equipment, Chambersburg, Pa. • Frontier Equipment LLC, Williston, N.D. • Green Line Equipment Inc., Grand Island, Neb. • H&R Agri-Power, Hopkinsville, Ky. • Heart Mountain Farm Supply, Powell, Wy. • Hlavinka Equipment Co., East Bernard, Texas • Holgate Implement Sales Inc., Holgate, Ohio • Hoober Inc., Intercourse, Pa. • Houston County Equipment, Crockett, Texas • Johnson Tractor, Janesville, Wis. • Koenig Equipment Inc., Botkins, Ohio • Legacy Farm and Lawn, Lamar, Mo. • Livingston Machinery Co., Chickasha, Okla. • MacAllister Machinery, Greenfield, Ind. • Markusson New Holland, Emerald Park, Sask. • Matejcek Implement Co., Faribault, Minn. • McDowell Implement Co., Grove City, Pa. • McFarlane's, Sauk City, Wis. • Middletown Tractor Sales, Fairmont, W. Va. • Moody's Equipment, Saskatoon, Sask. • New Holland – Rochester, Rochester, Ind. • Northeast Farm Sales & Service, Irasburg, Vt. • O'Brien County Implement Inc., Sheldon, Iowa • Ohio Ag Equipment, Broadview Heights, Ohio • PrairieLand Partners Inc., Emporia, Kan. • PrairieLand Partners Inc., Hutchison, Kan. • RDO Equipment Co., Fargo, N.D • Richards Equipment Inc., Barrie, Ont. • Ritchie Implement, Inc., Cobb, Wis. • Sinclair Tractor, Sigourney, Iowa • Smith Implements, Rushville, Ind. • Stoller International, Pontiac, Ill. • Stoltz Sales & Service, Elmira, Ont. • Stotz Equipment, Avondale, Ariz. • Swartzrock Implement, Charles City, Iowa • Swiderski Power Inc., Appleton, Wis. • Titan Machinery, West Fargo, N.D. • Titan Outlet Store, Moorhead, Minn. • Torgerson's LLC, Ethridge, Mont. • Torgerson's LLC, Great Falls, Mont. • Value Implement, Eau Claire, Wis. • Vernon Dell Tractor, East Liverpool, Ohio • Webb's Machinery, Lamont, Alb. • Wellington Implement, Wellington, Ohio • WG Dairy Supply Inc., Creston, Ohio • Wm. Nobbe & Co. Inc., Waterloo, Ill.
Mackow agrees and says the opportunities to keep learning are endless in this industry. "A good prospective manager will always have that drive to further the learning opportunity. Our industry and businesses are changing, so it's constant learning," he says.
"Managers who enjoy learning go looking for other people who want to learn, and they naturally mentor people and bring the best out of the group around them," Ostrander says.
11. Good Managers Understand the Numbers
Managers need a strong financial acumen. Mackow says it's important that they are meticulous like an accountant and understand the income statement and balance sheet. "It's absolutely required in order to protect the cash of the business," he says.
Provost agrees and says his dealership works with Dr. Jim Weber on training all upper-level management, service managers, parts managers, sales managers and store managers on different business metrics so they can look at their budgets and the financial statement and understand it. "We do it about every 3 years and the results are huge. We see it almost immediately after the guys get back to the store. It's 2 or 3 weeks later and they're fully engaged again in the entire business," he says.
12. Time Management Skills Are a Must
Provost struggled with time management himself before coming to Champlain Valley Equipment, but now that he's mastered it — thanks to his partner Brian Carpenter — it's a skill he looks for in his managers. He admits it can be hard to know how well someone manages their time when hiring on the outside, but it should be fairly clear when you hire someone internally. "It's a huge thing. They know how much time they need to get something done, they're effective with their time. They're not just putting the hours in; they're effective when they're there. They're not rolling in 5 minutes late every day and they're not out of there right at the crack of 5 in the afternoon," he says. "They're using the time they have effectively, they're not chasing things. It's a huge asset and you find that people are happier when they manage their time."
13. Challenge People to Think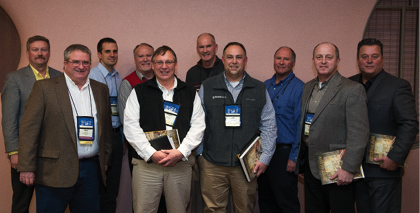 Pictured from l to r were the moderators of the 10 Dealer-to-Dealer Roundtable Discussions: John Schmeiser, Western Equipment Dealers Assn.; Mark Foster, Birkey's Farm Store; Jared Nobbe, Wm. Nobbe & Co. Inc.; Gary Schumacher, Apple Farm Service; Chuck Hoober, Jr., Hoober Inc.; Leo Johnson, Johnson Tractor; Jim Muhlstadt, Stoller International; Todd Channell, Farmers Equipment; Craig Harthoorn, Sinclair Tractor and Floyd Jerkins, Jerkins Creative Consulting.
Ostrander says AgriVision has found challenging people to think instead of giving them the answers right away, makes them think through their options, and they develop a lot more. "Looking back on my career, I worked for John Deere for about 8 years and replaced a manager who'd had a reputation for dictating everything. When I went to work for him, he had had a life-changing event evidently right before that, and he would not give me the answer to anything," he says. "He would make me think through what the options were and he might coach, but he would always challenge me to think about the different avenues we could go to solve a problem. That was probably one of the most rapid development times that I've had."
14. Managers with Sports Backgrounds
Ostrander has also found that good managers often come from a sports background. "One day I was sitting with my sales management team and had heard about a recruiting outfit out of Kansas City that focuses predominantly on former college athletes." He looked around the room and realized 5 of his 6 sales managers had all been involved in college athletics. "When you look at their work ethic, their ability to endure tough times and operate as a team, they're part of a bigger plan, bigger picture," he says. The traits and skills developed playing on a team transfer well to the work environment.
Ostrander sums up the whole process by saying, "One thing that's helped us in the interview process is just being more diligent about truly understanding who the person is and how they make decisions. We want to make sure it's a good fit for them and us both."
---
Related Content