Celebrating equipment industry innovators and leaders; a legacy for continued industry growth & achievement.
The Assn. of Equipment Manufacturers (AEM) announces the 2014 inductees into the AEM Hall of Fame, which recognizes and celebrates outstanding individuals in the off-road equipment industry, and their legacy of innovation, service and leadership.
Their vision and hard work have been critical to advancing global economic and social prosperity; their legacy strengthens continued industry contributions to improving our quality of life, and serves as an inspiration for tomorrow's leaders.
The 2014 inductees into the AEM Hall of Fame are:
E.G. Melroe & the Melroe Family, Melroe Manufacturing & Bobcat Co.
Agustin 'Gus' Ramirez, HUSCO International
Robert J. Ratliff, AGCO Corp.
John D. West, The Manitowoc Co.
Rollin Henry White, Cleveland Tractor Co. (Cletrac)
AEM Hall of Fame inductees have been evaluated by an independent panel of industry experts on five criteria that are vital to the health of the off-road equipment manufacturing industry: 1) innovation, 2) industry contributions, 3) leadership, 4) corporate citizenship/social responsibility and 5) sustainability.
For more information on the AEM Hall of Fame and all its inductees, go online to the AEM Hall of Fame section of the AEM website - www.aem.org/HallofFame.
About the 2014 Hall of Fame inductees
Below are summaries for each of the 2014 honorees with some of the reasons they were selected for induction.
E.G. Melroe & the Melroe Family (Melroe Manufacturing & Bobcat Co.)
The Melroe family story is one of innovation and industry firsts in product design, technology and safety. Patriarch E.G. Melroe designed (and patented in 1940) a windrow pickup that lifted windrowed grain into the combine. He also invented a spring tooth harrow for seedbed preparation and weeding row crops.
This can-do spirit extended to E.G.'s family and the Melroe Manufacturing Co. and led to what is today the world's most popular compact loader. Despite performance and durability issues, customer demand kept the Melroes from stopping production of their first skid-steer loader. They refined it, with the Bobcat brand introduced in 1962. The four-wheel-drive skid-steer concept became a model for other brands.
Introduction of a hydrostatic drive system increased skid steer pushing power and became the industry standard in just over a decade. Introduction of a lever-actuated attachment mounting system — in place of pin-on mounting — allowed operators to easily switch attachments throughout the workday for greater efficiency and was adopted as the worldwide ISO standard. The company pioneered use of an overhead guard (ROPS), now standard equipment on all compact loaders.
Compact loaders (four-wheel-drive skid steer and compact track) now represent the largest volume category in the mobile, off-road equipment industry.
The company that now employs 2,000 people has always called Gwinner home, exerting a huge positive economic impact on the entire state of North Dakota. In 2014 Bobcat built its one-millionth loader.
Inducted with E.G. Melroe are his sons: Les, Cliff, Roger, and Irving; nephew Sylvan; and son-in-law Eugene Dahl.
Agustin 'Gus' Ramirez (HUSCO International)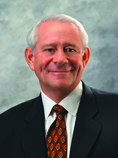 Agustin 'Gus' Ramirez has a deep conviction that technical innovation must enable significant value to the ultimate end-user. HUSCO has been granted 107 U.S. patents since Ramirez took the helm in 1983, with his conviction leading the company to develop advanced hydraulic systems that enable superior safety, controllability and fuel efficiency for equipment operators. Often, these technical advances were implemented without adding significant cost to the machine thanks to more cost-effective system designs.
Ramirez's technical vision deployed at HUSCO also contributed to the wave of hydraulically enabled innovation that is sweeping the mobile equipment market. But perhaps his most lasting legacy is advancing hydraulics system research and development in the United States: he funded the HUSCO Chair of Fluid Power at Georgia State Tech, establishing hydraulics as a key research priority at one of America's top engineering schools. The foundation provides approximately 120 university scholarships each year, many to minority students, for pursuit of engineering degrees.
Ramirez has also invested millions of dollars to reform urban K-12 education in his hometown of Milwaukee. He became so passionate about urban education that he helped found Schools That Can Milwaukee, an organization focused on transforming outcomes in urban education.
Ramirez has received many honors and awards including the Georgia Tech Distinguished Alumni award, Entrepreneur of the Year, Hispanic Business Leader of the Year, and the Friedlander/Ladky Award for Philanthropic Leadership. Ramirez serves as a director for numerous organizations, including past chair of the National Fluid Power Association.
Robert J. Ratliff (AGCO Corp.)
Robert J. Ratliff turned a struggling $200-million farm equipment business into a major, global manufacturer of some of the most innovative and productive agricultural equipment. With a vision to provide a world of solutions for growing needs of the farm industry worldwide,  between 1990 and 2005 Ratliff brought more than 20 agricultural machinery companies under the AGCO umbrella. Today, the company, headquartered in Duluth, Ga., sells its products in more than 140 countries.
 
Under Ratliff's leadership, the company blended various business practices and cultures. He created an atmosphere that motivated employees to achieve a mutually desirable goal - the vision of multiple brands operating under the AGCO umbrella. Employees recount it was not uncommon for Bob to visit departments, chatting with employees and making it known he was interested in them and their work. His hands-on leadership style extended to company dealers. Recognizing their strategic importance, Ratliff institutionalized the practice of soliciting feedback, and that senior management was only a phone call away.   
Ratliff has given back to the industry: he is a Life Honorary Director of the Assn. of Equipment Manufacturers (AEM) and he fulfilled numerous leadership roles for the National Assn.of Manufacturers (NAM), including chair of NAM's Manufacturing Institute, which focuses on manufacturing revival and education.
To advance education, the Robert J. Ratliff Baltimore Polytechnic Institute Incentive Awards Fund was established to fund annual student scholarships through the University of Maryland Incentive Awards Program. Bob is among a select group recognized as program "visionaries."
John D. West (The Manitowoc Co.)
With John D. West's leadership and push for innovation, The Manitowoc Co. brought many technological advancements to market that set new lifting industry standards.
Under West, Manitowoc was the first to use T-1 high-strength steel in booms, design a controlled torque converter for various crane uses, and patent the RINGER concept which doubled crane capacity. These improvements made cranes easier to control, saved time and money for construction companies, and led to a safer job site.
West worked his way up the organization from shop floor to boardroom and was known for his common-touch management style. He foresaw market globalization and expanded the company overseas (today more than half of corporate revenue comes from non-U.S. markets), enabling Manitowoc to expand into a multi-brand operation and diversify offerings.
   
West was a man of particularly strong ethics who told his employees, "There is never a right way to do the wrong thing." He implemented the company's first profit-sharing program for employees. He was a quiet philanthropist who had a positive and lasting effect on his community, including establishment of a philanthropic organization for Manitowoc County, a botanical garden, and support for the arts. Among his honors are a Distinguished Service Citation from the University of Wisconsin College of Engineering.
Efficiency and sustainability became key priorities for Manitowoc during West's time at the helm. He led a push to conserve water, lessen pollution, improve air quality, and cut production overruns that led to material waste.
Rollin Henry White (Cleveland Tractor Co. (Cletrac))
Although Rollin Henry White's inventions in crawler tractor design date back to the beginning of the 20th century, his contributions are still widely used by manufacturers today. Of White's 100 patents, his invention of controlled differential steering was the most significant, making tractors stronger, safer, and more maneuverable. This invention was adopted by the U.S. Army for use in all its tanks during WWII , making them more agile and easier to operate than those from other countries.
A mechanical and electrical engineering graduate of Cornell University, White established the Cleveland Tractor Co. (Cletrac) in 1916, which grew to become one of the largest crawler tractor manufacturers in the 1920s and 30s. The company led the industry in number of new products and sales volume during much of this time. Cletrac and its successor the Oliver Corp. manufactured crawler tractors until 1965.
Although Cletrac and Oliver are no longer in business, concepts developed by White are still in use. In addition to controlled differential steering, these include high-speed rubber tracks, continuous undercarriage lubrication, and streamlined crawler tractor styling. Under White, Cletrac was one of the first U.S. tractor manufacturers to market overseas (in the 1920s).
White fostered a company atmosphere of mutual respect and support to help employees improve their livelihoods. For example, White would underwrite loans for those wishing to establish Cletrac dealerships. White was also a recognized civic and industry leader in Cleveland.
For more information, contact AEM's Jordanne Waldschmidt (jwaldschmidt@aem.org;tel: 414-298-4152).