While strict EPA Tier 4 emission standards for small off-road diesel engines have been in effect since January 1, 2013, many customers for new small tractors have been buying "built ahead" Tier 3-compliant models — but the inventory of those machines is rapidly dwindling.
Most OEMs say there are still less-complex and less-expensive Tier 3 machines available, but everything produced and imported today for the U.S. market will be carrying Tier 4 Final technology, which significantly reduces NOx in the exhaust stream, and provides for a 90% reduction in particulate matter emissions over similar Tier 3-rated engines.
But clean air costs money, and engine builders across the globe have spent millions of dollars upgrading, or completely redesigning engines to meet the environmental laws in effect in the U.S., Europe and Japan. 
Some have adopted technology developed for their larger (over 175 horsepower) off-road engines, while others have started with completely new designs.
Mahindra
Mahindra took the "new engine" approach for a renovation of its power plants in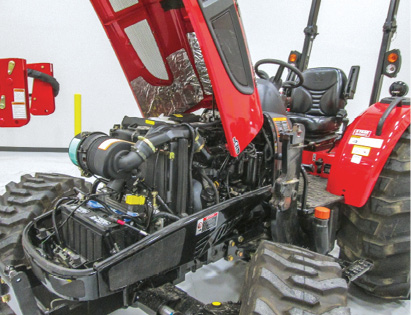 Mahindra took a new engine approach for its power plants in the 33-83 horsepower range
the 33-83 horsepower range. They report that project carried a $30 million price tag.
"Our engineers started fresh to meet the clean air standards with engines that would fit in existing tractor engine bays," explains Mac Payne, Mahindra's director of new business and dealer development. "We changed the bore and stroke, the design of the combustion chamber and the top of the piston and made changes in the cylinder head, manifolds, engine gear train and flywheel, and added a high-pressure common rail fuel injection system."
The new Mahindra Common Rail Diesel (mCRD) features a 23,000 psi fuel injection system that boasts multiple injections per stroke depending upon cues from the engine control unit. The ECU reacts to barometric pressure, engine temperature and load, engine speed (measured at the flywheel and the cam drive gear) and turbocharger boost (above 50 horsepower) and recirculated exhaust gas from the closed crankcase ventilation system.
"The design allows us to meet the stringent Tier 4 standards in this engine power range without the complexity of selective catalytic reduction (SCR) which uses ammonia injection in the exhaust stream, or a diesel particulate filter (DPF) which requires periodic maintenance and extra fuel to maintain," Payne says, noting the mCRD engines are equipped with only a diesel oxidation catalyst (DOC) component.
DOC technology provides for unburned hydrocarbons, carbon monoxide and some particulate matter to be broken down thermally — without flame — by passing them through platinum and palladium catalyst beds in the presence of exhaust heat and what oxygen is left in the exhaust stream after combustion.
Daedong/KIOTI
Daedong Industrial Co. Ltd., also has a new engine design, introduced in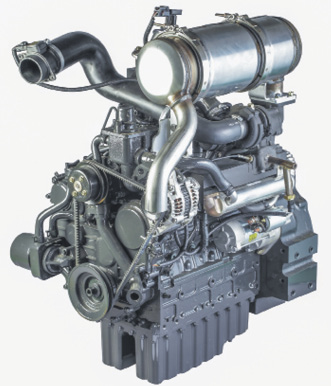 New KIOTI engines feature cooled exhaust gas recirculation (CEGR) and a DPF to meet Tier 4 standards.
its 2013 KIOTI tractor lineup. These new Daedong Tier 4 ECO engines are available in 3 cylinder, rated at 45-60 horsepower, and 4 cylinder, turbo charged versions rated at 66-73 horsepower. The engines are outfitted with common rail direct fuel injection technology with injection pressures up to nearly 26,000 psi. The electronically controlled power plants feature a clean burning combustion chamber design and the use of cooled exhaust gas recirculation (CEGR) and a DPF to meet and exceed Tier 4 standards. 
"We are committed to continuing the legacy of the Daedong engine line with innovative technologies that achieve high environmental standards," says J.S. Kim, chairman of KIOTI Tractor Div. and vice chairman of Daedong Industrial Co. Ltd. "The Tier 4 ECO engines reflect how we are serving the needs of the international community."
In preparation for the launch, the engines were tested for performance and reliability under extreme hot and cold conditions and in European high altitude tests in the Alps. The results from these tests revealed reliable starting with optimal injection pressure, injection timing and fuel pressure, according to the company. 
Doosan
Another South Korean engine builder whose power plants are found in small tractors sold in the U.S. is Doosan InfracoreEngine Business Group, which introduced three new engines (a 3 cylinder and two 4 cylinder models) for off-road use in early 2014.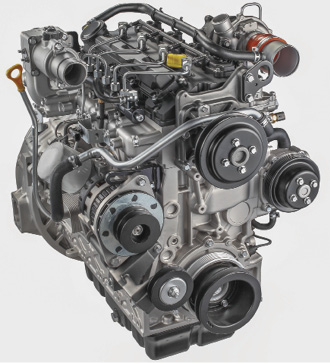 Smaller Doosan engines utilize an ultra-low particulate combustion chamber design.
Doosan's D18, D24 and D34 engines range from 1.8 to 3.4 liter displacement and 50-110 horsepower and are aimed at the OEM market. 
The engines, along with a redesigned version of the company's 5.8L model introduced in 2005, feature Tier 4 emission compliance without the need for a DPF. The 5.8L model, currently available to OEMs, does use SCR technology, however, to bring it into compliance with clean air regulations.
The company's engineers met the U.S. and European emission standard in its smaller engines with a new ultra-low particulate combustion (ULPC) chamber design that eliminates a significant amount of particulate matter during the combustion process. The company says eliminating the DPF allows its engines to be used in smaller engine compartments than similar power plants using DPF. 
All three of the Doosan engines are turbocharged and intercooled and feature common rail fuel injection technology.
John Deere
John Deere is poised to introduce Final Tier 4 solutions in the 75-175 horsepower class by leveraging the technology from the Tier 3 and Interim Tier 4 era, says Andrew Kahler, engine and driveline product marketing manager for John Deere's Construction and Forestry division.
Exhaust gas recirculation, a combined diesel oxidation catalyst and diesel particulate filter (DPF), and a selective catalytic reduction system are key components in the company's Final Tier 4 emissions solution. Deere says that it reduces output emissions of nitrogen oxides by over 85% compared with Tier 4 Interim engines. 
For select applications, John Deere will be using the PowerTech PWL 4.5L engine. Due to combustion system optimization and after-treatment development, the PWL engine is able to achieve near zero levels of particulate matter without the use of a DPF, Kahler explains.
"The total fluid economy — diesel fuel and diesel exhaust fluid (DEF) — of the Final Tier 4 engines is expected to meet or exceed that of our Interim Tier 4 engines with cooled EGR and exhaust filters operated on diesel fuel only," he says.
Kubota
Kubota's 25-50 horsepower engines were certified Tier 4 compliant in late 2012 and include the company's Super Mini Series, 05 Series, 03 Series, 07 Series and V3 Series.
To meet the latest air quality standards in the U.S., Europe and Japan, Kubota's designers created a new engine that uses the company's proprietary Three Vortex Combustion System (TVCS) and a unique DPF regeneration system to reduce operator involvement in maintaining a clean-breathing DPF/muffler combination.
The L3301 and L3901 Tier 4 Kubotas use a common rail, electronic fuel injection system capable of multiple injections per power stroke based on ECU commands, and an improved exhaust gas recirculation (EGR) system. The 2650HSD is equipped with a mechanical fuel injection system.
At the upper end of the "smaller tractor" category, Kubota's 75-100 horsepower non-road diesel engines were certified in September 2014 as Tier 4 compliant — with the use of SCR, DOC and DPF. 
CNH
Tier 4 compliance for CNH tractors under 120 horsepower comes from design work by Fiat Power Train (FPT) which helped develop the CNH common rail F5C engine. The 3.4L power plant uses CEGR and a DPF to ensure a clean exhaust stream, along with electronic engine controls and a clean-burning combustion chamber design.
LS Tractor
The Tier 4 Final-compliant tractors from LS Tractors for 2015 include a 100 horsepower model powered with an FPT engine (formerly Iveco) equipped with common rail fuel injection and DOC components, says Harvey Brock, head of service for the company.
The new models (arriving in early October) in the 50-60 horsepower range are equipped with Mitsubishi common rail, DOC engines Brock explains. "None of our engines require diesel exhaust fluid (DEF) to meet EPA standards, but some models will be equipped with DPF," he adds.
The LS Tractor line below 50 horsepower to 32 horsepower is powered with a mix of Mitsubishi engines or those built by LS Tractor in South Korea under a license with Mitsubishi, he said. They will all be common rail and DOC equipped. "Below 32 horsepower, our engines meet the standards without DOC or DPF," he adds