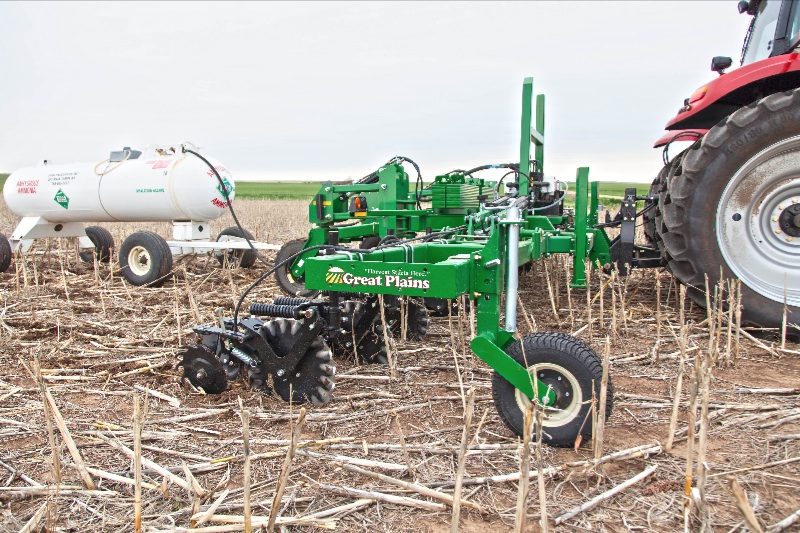 With the introduction of an anhydrous coulter machine, Great Plains adds efficiency, accuracy and versatility to its line of Nutri-Pro Precision nutrient applicators, offering operators a multi-functional machine.
The new Nutri-Pro3000-12C30 features a 22-inch anhydrous coulter blade for precise, high-speed anhydrous ammonia placement with minimal ground disturbance. With 1,540 pound pre-load, followed by the optional "spider" closing wheels, the Nutri-Pro3000-12C30 seals anhydrous fertilizer tightly in the ground with minimal loss and maximized efficiency.
After the coulter blade opens the soil, a rigid tine deposits fertilizer up to 6 inches deep into the trench. Spider sealers follow to tightly seal nutrients in the ground, allowing virtually no gas to escape.
Additionally, the Nutri-Pro3000-12C30 increases productivity with its high-speed capabilities and precise application. Operators can quickly apply and seal anhydrous ammonia at a speed of 8 mph. RTK and GPS guidance capabilities allow for exact, consistent fertilizer placement in proximity to the row.
In contrast to rigid shank machines, the anhydrous coulter is designed to endure high-residue conditions. A hydraulic system transfers weight to the wings, maintaining equal weight on all row units, yet closely follows ground contours for even nutrient application. Rear castering wheels provide excellent stability and maneuverability in the field.
Equipped with various options, the Nutri-Pro 3000/4000 product line offers operators a multi-functional applicator, available in three-section (3000 series) and five-section (4000 series) frames. Anhydrous application is offered in 30-inch and 20-inch row spacings. The anhydrous tine can also be easily changed to a liquid tine for liquid application. The Raven AccuFlow system is available for single- or dual-cooler configuration. As a dual-purpose machine, the Nutri-Pro 3000/4000 can be equipped with an even number of rows for pre-apply, then quickly converted to an odd number of rows for sidedress, offering valuable versatility to any farming operation.
For more information on the Nutri-Pro3000-12C30 and other Great Plains products, visit the company's website at www.greatplainsag.com.