With agriculture-related degree programs already among its most popular offerings, Ellsworth Community College in Iowa Falls is adding a new Mobile Service Technician program to its list of degrees available. Beginning this fall, the new Mobile Service Technician program will train students to diagnose, repair and service agricultural equipment in rural locations using a specially-equipped service truck. According to ECC Agriculture Professor Kevin Butt, the program is the first of its kind in the nation.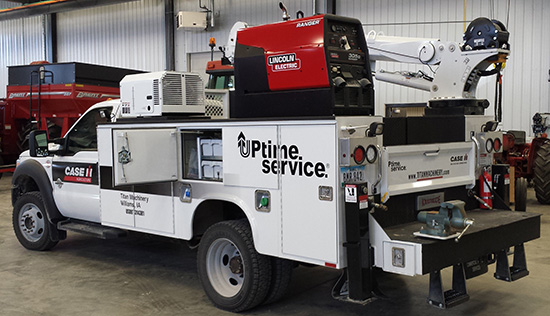 This Titan Machinery mobile service truck is like those that will be used for training students in Ellsworth Community College's new Mobile Service Technician program. The truck includes a crane that can lift up to 7,000 pounds, as well as all the tools and equipment needed to service virtually any agricultural machinery that needs to be diagnosed and repaired in the field. Photo courtesy of Ellsworth Community College
---
"This is a relatively new but fast-growing sector in modern agriculture," explains Kevin Butt, ECC agriculture professor. "As the size of ag equipment continues to increase, it has become harder to load and transport the equipment to a dealer's location for repairs. Today, more than ever, dealers need to provide services at the customers' location. ECC's new Mobile Service Technician degree program will assist agricultural implement dealers and service organizations in providing quality service to ag producers in the field."
Butt says he has a long list of Iowa and Midwest ag equipment dealers who are anxious to have the ECC students as interns and then as qualified graduates who will apply for their job openings.
"We have several outstanding area ag dealerships represented on the Advisory Council for this new program, including Casady Bros. Equipment, Central Iowa Farm Store, Phelps Implement, and Titan Machinery," says Butt. "These professionals have been involved in the development of our new curriculum and in our marketing efforts, and they are looking forward to helping us provide the kind of hands-on, on-the-job training that they and other employers value so highly. With job prospects always a concern for college graduates, we believe this kind of industry involvement and support will go a long way in solidifying our recruitment efforts for the Mobile Service Technician program."
ECC credits Dale Stockdale, store manager at Titan Machinery in Williams, with having the vision for the new degree program. "This new program at Ellsworth is right on the leading edge, and it's going to be a big deal in the industry," says Stockdale. "These professionals will do repairs or pull and replace parts out in the field and get the owners going very quickly. More of our work is leaning this way, and it's resulted in mobile service technicians with literally hundreds of specialized skills. We just don't have enough people with these skills. Some of these professionals love the variety and the challenge that comes with being a mobile service technician, while others can choose to develop a niche and become product specialists. With all of the proprietary product information and programming that's involved, the opportunities are almost endless."
ECC's Mobile Service Technician program differs from other ag machinery technician or diesel mechanic programs, says Butt, because ECC students will spend considerable time on various components that are not typically covered elsewhere. For example, ECC students may fix a sprayer, then calibrate a monitor and advise the owner about a potential equipment upgrade, then service a skid steer loader. The ECC students will not only learn to repair units, but will also be capable of operating and training others on the operation of various units. In essence, they'll be product specialists in the field.
"Basically, they are trained to repair or diagnose everything in the field except the internals of the diesel engine, transmissions, and hydrostats, which are usually done in the sanitary environment at the dealership or the specialized remanufacture center," says Butt.
The two-year Mobile Service Technician program core curriculum includes Spring Field Operations, Agricultural Selling, Computers in Agriculture, Career Seminar, Ag Machinery Safety & Operations, Hydraulics I, Machine Repair & Maintenance, Harvesting Operations & Servicing, Tractor Operations & Servicing, Planting and Seeding Operations & Servicing, Application Operations & Servicing, Hay and Forage Operations & Servicing, Service Truck Operations, Basic Problem-Solving Skills, Fundamentals of Electricity, Agriculture Electronic Devices & Systems, Fundamentals of Air Conditioning, Advanced Precision Farming Hardware, Commercial Driver's License & Tools, First Aid, and 12 credits of on-the-job (Cooperative Field Experience) training. The curriculum also includes a choice of four general education courses and an elective. Graduates will be awarded an Associate in Applied Science degree.
"The students who will excel in this career field will be effective communicators who can combine efficient customer service with problem-solving skills," says Butt. "They'll learn high-tech skills to be able to manage wireless computers and communications systems, download apps in the field, upgrade software in the field, and provide clear, real-time communications with the company. What those currently employed as Mobile Service Technicians love about their jobs are the challenges and the fact that no two days are ever alike!"
According to the U.S. Bureau of Labor Statistics' Occupational Outlook Handbook, the 2012 median pay for mobile service technicians was $43,820, with 176,300 jobs currently in the workforce. Job growth for mobile service technicians is expected to increase by 9 percent annually through 2022, which is as fast as average for all occupations. The Occupational Outlook Handbook reports that those with two-year degrees should have very good job opportunities, while those without formal training will have difficulty finding jobs.
For more information about Ellsworth Community College's new Mobile Service Technician degree, call the ECC Admissions Office at 800-322-9235 or visit the website at www.EllsworthCollege.com; click on Degree Programs, then Mobile Service Technician. Fall term classes begin Aug. 20.