If 2014 sees a softening in ag equipment sales like many are predicting, the need to focus on aftermarket sales will be stronger than ever. "The work is out there and the job is to go find it," says George Russell, executive partner with Currie Management Consultants.
Because dealers have had a string of good years for wholegoods sales, a large portion of their service work has been on new equipment, from set ups to warranty to work to turning over trade ins. With that focus on new equipment, the repair business for equipment that is 5-15 years old has fallen by the wayside, Russell says. "There's repair business out there and when you do more repair work, you sell more parts," he says.
Russell says dealers should be aiming for parts sales to be at best 20-30% of their total revenue and service to be, at best, 10-15%. He suggests that many dealers are currently below those ratios because their focus has been on new equipment.
"It's natural when you're selling a lot of new wholegoods to focus there, but if you have a good balance in your approach to the business about parts, service and sales, then it's not hard to say, 'Alright, the focus has been on equipment sales, that's where the business has been, let's devote our resources, time and attention to make sure that the parts and service business is supporting this,'" Russell says.
High volumes of wholegoods sales can create, and sometimes hide, bad habits in other areas of the business, says Stan Jackson of Jackson Consulting. "Audit departments to find out what areas are being neglected, especially if the shop has not done its part in billable hours. The old standard marketing techniques always work in our industry when it comes to the shop. You put the service manager in a pick up and he goes out in the field, calls on customers and solicits their work," he says. This in addition to all modern technology contacts with customers is essential. The point is the personal contact.
While dealers should be soliciting work from customers when times are good, too, it's even more important when business slows. "They are not going to be as willing to bring their machines into you, so that's a good time to run some specials on transportation or some consolidated specials. That means don't just bring it in because it needs some transmission work. Bring it in and let us do your transmission, let us check all the other stuff, update all your filters and all the maintenance points farmers sometimes don't do because it's more difficult to do in the field than it is in the shop. You've got to look for all of those areas that are often neglected," Jackson says.
Perform a Shop Audit
When business softens, it's crucial that dealers make sure their shops are performing at 100%. Jackson compares it to the old radio saying, "If you're a disc jockey on the radio the last thing you want is dead air. You cannot tolerate dead air," he says.
Jackson recommends performing a shop audit to identify where any dead time exists. "If there are 10 work bays and only 8 of those are filled at any one time, then you've got 20% growth available to you, which means that's the only place in the whole business where you can expect a 20% growth in a one-day period," he says.
According to Jackson, keeping the shop busy is key to making money when wholegoods sales soften. "In down times, the only way to make money while you're waiting for the next upturn in the agricultural market is to keep the shop 100% full and that's the only way you can sell more parts is to make sure you're shop is running at capacity," he says. Jackson adds: "This is all so obvious it may sound trite, which is the very reason this marketing effort is done inconsistently or not at all. Don't let the old fashioned simplicity of personally soliciting the customers service work cast doubt on its effectiveness."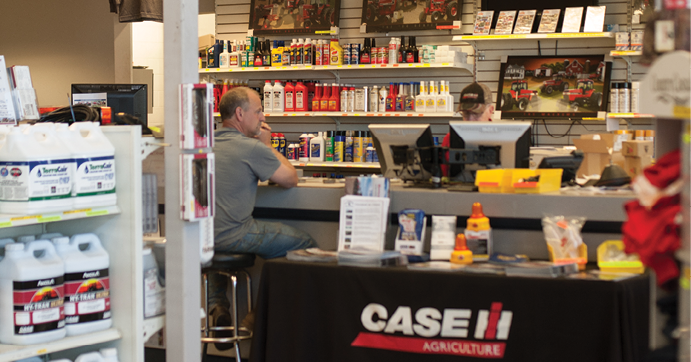 Make sure promotions are prominently displayed at the parts counter and train your staff to pitch the promotion to every customer that walks in the door. Small item sales add up over a year's time.
The limiting factor for many dealers is the number of productive technicians they have, Russell says. "If they have the capacity and the people to do the work, the emphasis is on marketing the business. No one is entitled to that business, you have to compete for it. You can use the same type of marketing tools that you use on wholegoods and apply them to parts and service. Prospecting, qualifying customers, overcoming objections, marketing, either push or pull — those same marketing tools can be applied to parts and service," he says.
Proactive Marketing
Now is the time to take on a proactive approach to marketing if you aren't already doing it. "A lot of times we allow marketing to happen as it happens and when you get into a downturn like this, you must become proactive in your marketing approach," says Dave Teigen, a specialist with Jerkins Creative Consulting. "The big thing is for the management team to be proactive and drill down to the departmental team to adopt a proactive approach to growing the business."
Teigen says the first thing dealers need to do is make sure management is in sync with their service manager and parts manager in terms of marketing because parts sales is a direct function of labor sales. "Studies have shown that for every dollar of labor sales sold, you'll sell anywhere from $0.75 to $1.20 in parts sales. So, you want the service department to sell as much as you can because they are your number one customer," he says.
One proactive approach to marketing is offering inspection programs, Russell says. "Good dealers proactively go out and offer to inspect farmers' equipment and give them a quote for what it would cost to repair their equipment. Hopefully, that business will then come to their shop, but at a minimum it should generate some parts business, even if a farmer does some of the work himself," he says. "For the customer the benefit is to fix it before it fails. In other words, let's get your machine in tiptop shape before its next season of use, and for the dealer it means keeping their shops full in the slow times."
Inspection programs are best timed right at the end of a season, Russell says. Get customers to bring in their planter and tillage equipment at the end of the spring season and their harvesting equipment at the end of fall before they are put away for the winter. This way, you are still keeping the shop busy during the more traditionally slow periods of summer and winter. "The dealers that do that the best say they have such a backlog of equipment to work on and that there's no slow periods anymore. They're the best dealers," Russell says.
Pump Up Promotional Sales
In addition to going out and building business for the service department, the parts counter should be doing its part to pump up sales as well. "When you see a decline in the industry, promotional selling becomes paramount because it is suggestive selling," Teigen explains.
When things slow down, customers likely won't be making impulse buys. That's when the parts department needs to create promotions that are prominently displayed upfront with pricing included. Displays aren't enough, though. You also need to make sure your parts sales staff knows how to actively promote the sale to every customer that walks in the door.
Teigen did this with his staff when he was working at a dealership in Idaho Falls, Idaho. "We did promotions every month, and our staff were so in tuned that when we ran a promotion on starter fluid in January no customers left that store without a can of it in their hands. That's because we had the internal promotions and competition within the company, and our staff was on board and made sure every customer was aware of the promotional item," he says.
For example, if a customer comes in to buy an oil filter, the parts people ask, "Oh by the way, did you know we've got starting fluid on sale for x-amount of dollars?" Teigen says you should always put the item into the customer's hand so they assume ownership. "My philosophy is by putting it in their hand, they assume ownership and then it's very hard to put it back."
This tactic works best with smaller items like bolt kits, starting fluid and gloves — items that pertain to everyone. "It's not the one sale, it's a numbers game. Every customer comes in and gets asked and maybe one out of 10 buys. All of a sudden you've increased revenue by $1,000-$1,500 more a month. Over a year's time, that's another $12,000-$15,000," Teigen says.
Work With Suppliers
When it comes to promoting bigger ticket items, Teigen says the parts and service departments need to work together by combining parts and labor specials for overhauls. Dealers should also get their suppliers involved in these types of promotions. Rather than discounting the parts or labor, Teigen suggests dealers work with their suppliers to develop a funding or financing program for the total package.
"You maintain your margins, maintain your revenue, you don't want to give that away. But use your suppliers' programs as the main attraction of the package," he says. "It's amazing what can be done if you just sit down and communicate with the supplier, especially in times when business levels start turn down because they're just as eager to maintain their dealers' level of parts purchases."
Simply put, if a dealer's parts sales drop, the supplier's parts sales drop. Suppliers don't want to see that drop, so they are generally willing to do whatever they can to help dealers maintain parts purchases, Teigen says.
When wholegoods sales start to soften, it's time to get back to the basics of business, Russell says. The key is to know your customers and actively call on them for their parts and service business. It takes a combination of pull and push marketing. "You need to use a combination of pull marketing — bringing people in through promotions — and push marketing — going out and actively contacting people. It's back to blocking and tackling, nuts and bolts," he says.