Soil moisture probes may soon be taking on an additional chore as a new Israeli company develops real-time nitrate monitoring technology. In addition to measuring available soil moisture at various depths, it's likely today's familiar field moisture monitors will ultimately be capable of real-time measurements of nitrates available at various soil depths.
Initially aimed at irrigation applications, the technology is capable of detecting nitrate concentrations of  "tens to hundreds" of parts per million, which is the range relevant for growing agricultural crops, say officials with Data Of The Soil (DOTS). The advancement promises to become a major player in reducing over-fertilization in global agriculture.
DOTS was conceived at Ben-Gurion University after a 7-year research project spawned a first-of-its-kind system based on spectral analysis of water found in the pores of the soil. The system provides a highly detailed, dynamic picture of nitrate concentrations in the root zone, which the company says is the basis of its fledgling system to guide farmer's fertilization and irrigation controllers.
Rafi Levi, co-founder and CEO of DOTS, says the lack of technology to continually monitor fertilizer levels in the soil has caused the agricultural industry to adopt a "better safe than sorry" policy on nitrogen application to prevent nutrient deficiencies and crop losses. (See Fig. 1)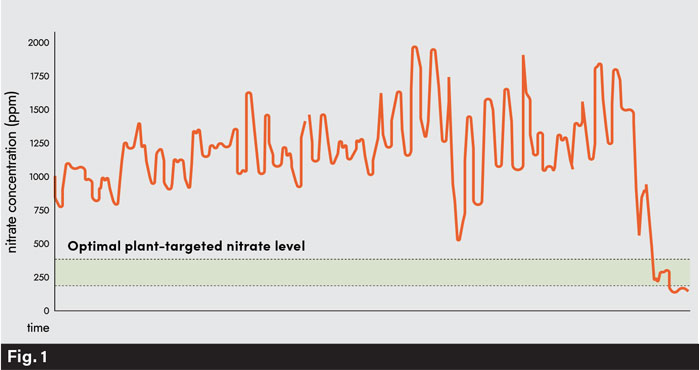 This graphic from the DOTS website illustrates a typical over-application scenario with higher-than-necessary nitrate levels recorded through much of a growing cycle and then the subsequent inadequate nutrition condition when fertilizer is withheld. Charted soil-moisture nitrate levels offer growers and irrigators data to make more precise nitrogen applications. Illustration courtesy of DOTS
"This process translates into heavy capital losses for farmers as well as major environmental problems, such as groundwater contamination and considerable nutrient losses into the atmosphere," he explains. "Globally, agriculture consumes 210 million tons of fertilizers a year, with a value of more than $200 billion, but studies show more than 40% of applied fertilizers don't reach the plants.
"The practical result is these fertilizers are wasted and roughly 84 million tons per year are 'over fertilized.' Our technology will help growers better use their crop nutrients and thereby boost profits."
Comparing the company's sensor data to standard laboratory soil nutrient analysis shows correlation of more than 92%, he explains. In a series of experiments in tomato greenhouses, DOTS electro-optical sensors demonstrated a 30% fertilizer savings throughout the growing season with no yield drag.
---
"Our technology enables optimization of fertilizer application by preventing over-application and can significantly reduce groundwater pollution…"
---
The patented hardware and proprietary algorithms enabling it can be used to collect soil nitrate data 24/7 and provide real-time information to soil monitoring maps or to automatic irrigation controllers linked to the cloud. 
"Current methods for measuring soil nitrate levels are cumbersome estimations, highly expensive or labor-intensive and do not provide affordable real-time indication of actual concentrations of nutrients in the soil," Levi says. "Our technology enables optimization of fertilizer application by preventing over-application and can significantly reduce groundwater pollution."
The research-project-turned-high-tech-startup has received seed funding from OurCrowd and Labs/02,  part of Israel's largest investment platform, along with Reliance Industries, an Indian multinational conglomerate, and the Israeli Innovation Authority.