Autonomous Mower is a Well-Choreographed Solution to Lawn Care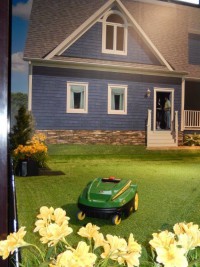 The John Deere Pavilion, Deere & Company's visitor center in downtown Moline, Ill., today unveiled a new exhibit showcasing the company's innovation in lawn care equipment. The new Tango E5 autonomous mower exhibit treats Pavilion visitors to a real-time demonstration of this hands-free machine and its mowing abilities on a residential lawn setting. The Tango E5 mower is only available in select European countries, so the Pavilion is likely the only place many will see this innovation at work.

"We are very excited about our newest exhibit as it is the first time in the Pavilion's history we are offering a live product demonstration to our guests," said Brigitte Tapscott, manager of the John Deere Pavilion. "Beyond that, the Tango E5 is unique, and lawn care is something just about everyone has in common. We think most homeowners will find Tango fascinating whether they see lawn care as a hobby or a chore." 

The Tango E5 demonstration is presented inside the John Deere Pavilion in a realistic residential setting complete with landscaping. Through an innovative application of video, the exhibit features a family as they go about their daily routine, while an actual Tango handles the lawn care. Numerous demonstrations throughout the day enable guests to see the action almost anytime as they tour the facility. Informative and entertaining videos give guests a preview of what's in store while Tango takes a short 5-minute time-out in its charging station between performances. To view a time-lapse video of the exhibit installation, visit: http://www.JohnDeereAttractions.com/Tango.

First introduced in 2012, the Tango E5 is energy efficient, environmentally friendly, and is designed to get the job done so homeowners don't have to. The compact, lightweight, battery-powered Tango is built tough and requires low maintenance. 

The Tango E5 is the first of several new exhibits in the John Deere Pavilion's line-up of new features. Additional exhibits will be unveiled in the coming months as part of the Pavilion's commitment to feature fresh and fun exhibits for new and returning guests. 

The John Deere Pavilion offers free admission, is open to the public year-round, and welcomes group tours.