According to the Global Alliance for Agriculture Equipment Manufacturing Assns., ag machinery makers continue to express a high level of confidence in their prospects for increasing their ag machinery business.
Results of the latest Agritech Business Barometer Survey show that, in general, the perspectives on the agricultural machinery markets remain positive. Sales went up during the past 3 months in most markets compared to a rather flat development during the first half of this year.
On a global average, 45% of the manufacturers expect further growth of their turnover for the coming 6 months, while 37% anticipate their turnover to remain on the current level and only 18% expect decreasing sales. According to the survey, above average growth will occur in China, Brazil and Turkey for the next months, based on a higher order stock level.
Other findings of the October 2013 survey include: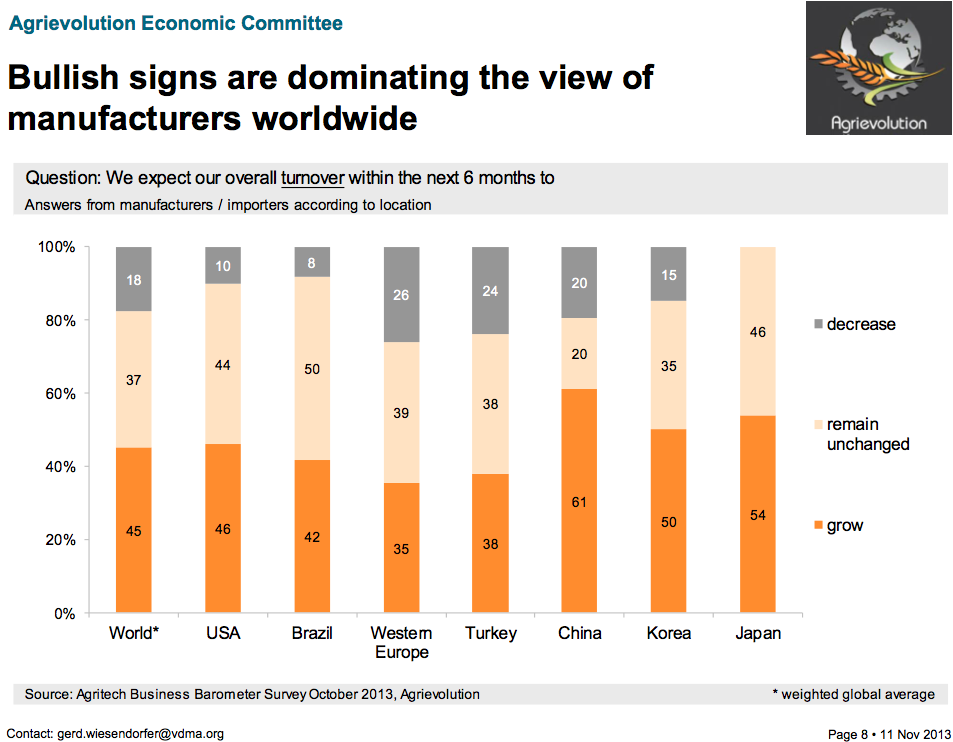 Click graphic to enlarge.
Favorable situation of farmers around the globe – both for dairy and arable crops

As a conclusion, profitability of the sector is high, but in some regions competitiveness on global market has still to be improved (e.g. Turkey, Korea)

Government programs are considered a remarkable support for machinery sales, especially in Japan, Brazil and China

Financing restraints for farmers are a major topic in Turkey, Brazil and parts of Europe (e.g. Italy and Netherlands)

Manufacturers Ì? business climate index increases slightly due to better evaluation of the current situation – 50% regard their business to be "good" or "very good"

Outlook remains expansive, based on higher order levels over the past 3 months (above average increase: Brazil, China)

Stagnant trends in Europe, with certain regional differences (France and Poland decreasing; UK, Spain, Germany and Italy rather "flat")

Manufacturers are looking for new staff (with regular contracts); temporary workers are set off in Western Europe
The Global Alliance for Agriculture Equipment Manufacturing Assns. was established in April of 2012 to facilitate collaboration within the agriculture equipment manufacturing industry among important agricultural regions of the world. It was launched on the shared belief that in today's global agricultural economy, it is crucial that current issues and future challenges be viewed from a global perspective and be addressed on a global basis.
The Alliance has three areas of focus:
Industry issues

Information exchange

Political activities
The Assn. of Equipment Manufacturers represents the U.S.