Hoober Inc., an agricultural equipment dealer with 9 locations in Virginia, Maryland, Delaware and Pennsylvania, recently named Will Brown store manager of the dealership's Ashland, Va., location and Bill Cridlin store manager at Hoober's Wakefield, Va., location.
Brown is originally from Hanover County, Va. and is a Lee Davis graduate. Brown has 27 years of experience in the agricultural industry, most recently serving as Hoober's service manager at Ashland, a role he will retain in addition to his responsibilities as store manager.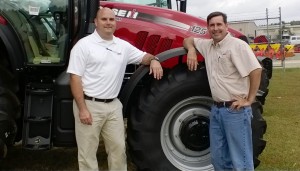 (l-r) Newly named Hoober Inc.'s Virginia Store Managers, Will Brown,
heading the Ashland location and Bill Cridlin, heading the Wakefield
location.
"In both roles I think I have a responsibility to ensure that our customers experience first-rate customer service with every interaction with Hoober and our store's team," said Brown. "I'm looking forward to helping our customers succeed through the service, parts and equipment we provide. To me, parts and service are the foundation of our dealership."
Cridlin is a native of the Tidewater, Va., area, where he grew up and worked on his family's farm before earning a degree in Agricultural Management from the Univ. of Nebraska. Prior to being named store manager at Wakefield, Cridlin was the sales manager for both the Ashland and Wakefield stores. In addition to being store manager at Wakefield, Cridlin will continue to operate as Wakefield's sales manager.
"In my new role I'm really excited about the opportunity to build upon an already solid foundation," said Cridlin. "Customer service is our key calling card and it's important to create positive customer experiences every day because at the end of the day we're in a service-based industry. I'm really looking forward to being more involved in the parts and service side of the business."
"With the experience, knowledge, and strong commitment to doing what's right for our customers that Will and Bill bring to their roles as Store Managers I believe their leadership is going to have a positive impact on both locations," said Scott Hoober of Hoober Inc. "They're familiar with the region and have worked with farmers in the area for many, many years. We see that as a positive for both of them as they take on their respective store manager responsibilities."
About Hoober
Founded in 1941, Hoober Inc. has 9 locations (Intercourse, Pa., McAlisterville, Pa., Chambersburg, Pa., Middletown, Del., Seaford, Del., Pocomoke, Md., Frederick, Md., Ashland, Va., and Wakefield, Va.) and serves agricultural customers throughout the Mid-Atlantic region.