A show and tell approach offers progressive dealers face-to-face opportunities to showcaseand sell technology to customers.
Precision ag field days are a way for dealers to keep customers informed and educated on the latest technology, but also offer valuable sales opportunities. One substantial sale can make the event worthwhile for a dealership.
Giving customers a hands-on experience with precision farming products can increase the odds of a sale, but finding the time to do a demonstration during peak seasons is all but impossible for dealers.
This is something Jacob Louth, AMS specialist with Precision Equipment in Houghton, Iowa, knows well, and one of the reasons he helps coordinate a series of annual precision farming field days each summer for the John Deere dealership's 8-store network.
"In the heat of the moment in fall and spring, customers don't want to ask questions. They just want to get going in the field," Louth says. "But they do have questions, so if we can put on a good demonstration and make ourselves available, there's no way a sale is not coming. If we can promote a piece of technology and show how it will optimize a grower's operation, we're going to move product."
This proved to be the case for Precision Equipment's field day at its Muscatine, Iowa, location this summer. The dealership featured a variety of precision products, including Deere's Machine Sync software, a fleet management tool that allows users to monitor and control up to 10 machines, including tractors, combines and grain carts.
A large co-op customer saw the technology in action for the first time at the event and signed a purchase agreement the same day to connect 3 machines at a cost of about $5,000 per machine. The ability of the precision specialists to effectively demonstrate and explain the system's value to the customer, gave him enough confidence in the product's performance to make the on-site investment.
"With a system like that, it's not as easy as auto-steer to pencil in those cost savings," Louth says. "But because this customer was able to see the system, how it allows the combine to unload on the go and reduce fatigue on the operator, it was a no-brainer for him."
Targeting an Audience
Precision Equipment has been holding field days for 4 years and sponsored 3 events this past July at different store locations in Iowa — Muscatine, Fairfield and Mediapolis. Historically, the events attract a variety of customers, from high-end precision users to those purchasing their first lightbar for guidance.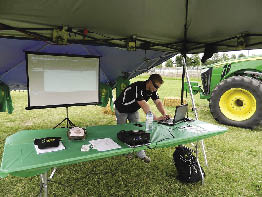 Precision Equipment, an 8-store John Deere dealership network in Iowa, takes a "free form" approach to field days, setting up several stations that attendees can visit and talk with technicians, salespeople or manufacturer representatives.
PHOTO COURTESY OF PRECISION EQUIPMENT
When planning the field days, Louth says it's important to make sure every attendee feels comfortable and isn't overwhelmed. Precision Equipment structures its field days according to customers' familiarity and investment in precision farming.
It's useful to research customer demographics and target invitees to attract the right farmers to each event, he says. Precision Equipment has an internal event planning team that sends out invitations, prints fliers and produces local radio spots. But the dealership also relies on word of mouth and a personal touch to generate interest.
"If we didn't get it out there for everyone, it's not going to happen," Louth says of the events. "We've got customers who always have an excuse like they are spraying soybeans or hauling corn, so the night before I text them with a reminder and it's a very effective and personal reminder that gets them to attend."
It also doesn't hurt to offer an incentive for customers to show up. This year, Brokaw Supply Co., a 2-store shortline and precision dealer based in Fort Dodge, Iowa, promoted a drawing for four Raven Cruizer II GPS field mapping lightbars at each of its field days this July.
The promotion paid off not only as a way to attract attendees, but also as a sales tool, says Phil Draude, Brokaw's precision ag sales manager.
"On two of the four systems we gave away, the customers already owned one, so we allowed them to trade it in and upgraded their existing system," Draude says. "We worked with them because we want to be their first option when they decide to buy something brand new and they'll remember our service commitment."
Brokaw averaged about 50 attendees at their field events — three in Iowa and one near the dealership's newest store in Redwood Falls, Minn.
Holding field days mid- to late summer tends to draw the most interest from farmers, who are in between planting and harvest, as does selecting a convenient location or locations.
Ag Technologies, a precision dealership in Rochester, Ind., holds its field day in mid-August. The dealership opened in 2011 as a standalone precision store, but is rooted in a 5-store New Holland dealership network in north central Indiana.
Lanty "Spud" Armstrong, store manager at Ag Technologies, says the one-day event — held at a central, open field location — features both precision technology and farm equipment and draws about 500 attendees.
"In the past, we've struggled with holding winter events because they conflict with the timing of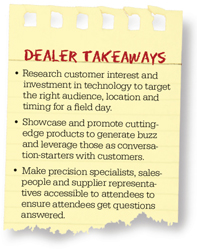 farm shows, guys planning for the new year and crop getting hauled to the elevator, which farmers also need to get done during that time," he says. "What has really helped us is the timing in early August because customers aren't as busy and they have time to come out."
Armstrong, his staff and the New Holland dealership personnel begin planning for the event in April or May and start publicizing the field day to focus on a specific precision product that will draw the most attention.
Last year, the dealership promoted Trimble's Vehicle Sync wireless data transfer system, and then demonstrated the product on three New Holland Rustler UTVs at the field day. But the demonstration wouldn't have happened had Armstrong and his staff not taken the time to learn the new technology in advance.
"It wasn't something we had tried or sold, so I wanted to learn it and teach the other guys how to run it before we showed it to customers," Armstrong says. "So a couple weeks out, we set up the monitors with the system and played with it to make sure it would work.
"It's a lot harder to sell something you've never tried, so getting to work with products in
---

"We're trying to primecustomers by putting something they've  never seen in front of them and  show the benefits…"
— Lanty "Spud" Armstrong
---
advance gives us a boost as well as the customer who gets to see it and try it before they buy it."
Valuable Face Time
More progressive products like Vehicle Sync don't always translate into immediate sales, but serve as valuable conversation starters with customers, Armstrong says. By previewing something new, attendees are more likely to ask questions about it and other products at the event.
"We're trying to prime customers by putting something they've never seen in front of them and show the benefits," Armstrong says. "I can put a lightbar on golf cart and show anyone how to do that, but that's not that exciting."
While the latest technology is sure to generate buzz, dealers shouldn't downplay older precision products that may be new to some attendees, he says. Odds are people will have inquiries about basic auto-guidance and GPS systems, so dealers should be prepared to answer them.
"A lot of people have simple questions that they are probably too embarrassed to ask over the phone," Armstrong says. "Does this button on this handle engage auto-steer, or do I have to tap the screen? Those are things customers would never call about, but it's an easier question to ask in person."
The two most common questions Louth hears at field days are, "What does it cost?" and, "How do you use it?" Those are the "meat and potatoes" of precision farming for customers and field days provide an opportunity for dealers to provide in-person answers, regardless of a farmer's comfort level with technology.
This year, Precision Equipment featured more entry-level products at its Fairfield location, while the Muscatine and Mediapolis events highlighted more advanced technology like implement guidance and cellular RTK.
"Fairfield is one of our slower areas to catch on and this year it was the first field day we did, so we knew that we wanted to do more demonstrations with some of the older combine equipment like RowSense and AutoTrac," Louth says. "We did ride and drives so that for some customers, they could absorb the technology and for others, it was a refresher for what they'll see this fall."
Having a wide array of technology on display is critical, as is making sure that attendees have access to precision specialists, salespeople and manufacturer representatives.
Brokaw typically has 2-4 precision specialists on hand at each field day event, along with salespeople and representatives from their largest equipment and precision suppliers.
"The vendors are there to educate and having that support says a lot, because our customers can see those brand names on their shirts and know they're backing us," Draude says. "A lot of our customers don't know what we do for precision because we've just been coming into our own the last few years. Getting that face time and showing them the support we have behind us opens doors for us."
Making manufacturers available to customers at field days is an asset, and for precision dealers, that one-on-one situation to answer a question or demonstrate a product can be a golden sales opportunity.
At one of Precision Equipment's field days this year, Louth set up a Deere 1025R sub-compact utility tractor with the company's AutoTrac Universal steering kit to demonstrate its versatility for a reluctant customer.
"He had told me in the past that he didn't want it on his sprayer, which happened to be made by a competitor," Louth says. "Once he saw it operate and how compact it was, I knew he was sold right then and there. A week later he called one of our salespeople and ordered one, so experiences like that are pretty awesome."
But not every field day experience is as satisfying and with the rapid evolution of precision technology, dealers' problem solving skills can be put to the test. Last year, Armstrong had a customer ask about the compatibility of a New Holland tractor with a different brand corn planter to run the row clutches through an ISOBUS connection.
Rather than offer an off-the-cuff answer at the field day, Armstrong opted to take the customer's information down, do some research and call back with a solution.
"You can get put on the spot once in awhile," he says. "Sometimes, it's better to wait, because you don't want to get yourself in trouble by giving a customer bad information."
Spreading Out
Dealers also don't want to confine attendees to a conference room or force them to sit through PowerPoint presentations. The purpose of a precision field day is to let customers test and learn about the technology through experience.
"We don't use field days specifically as a sales tactic and we're not making customers sit through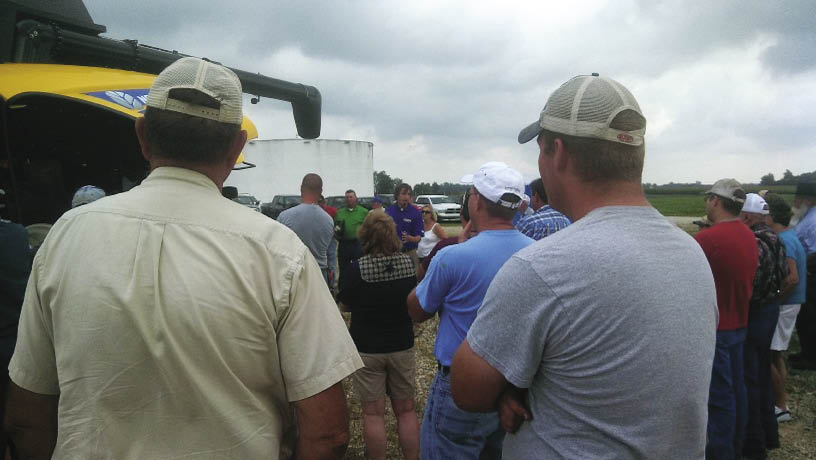 Getting face time with customers is a big benefit of precision ag field days and Ag Technologies, in Rochester, Ind., works with a New Holland dealership network to draw nearly 500 attendees to its summer event, held in a central location.
PHOTO COURTESY OF AG TECHNOLOGIES
meetings explaining all the products," Armstrong says. "A lot of guys tell me if they only have a lightbar and we did a class on RTK guidance, it's not something they'd show up for. So we don't have a rigid structure to our days because we want people to ride around and explore."
Typically, Ag Technologies will coordinate several field stations with the New Holland dealerships to feature different equipment including tractors, sprayers, haying equipment and precision equipment. Stations are manned by dealership staff — primarily parts and sales managers along with precision farming specialists.
Suppliers also have a presence, but it's important to take a strategic approach when showcasing and demonstrating precision products, Draude says.
"It's hard to put 2 vendors side by side because I'm not going to push one product over another with vendors there," he says. "It comes down to the customer looking at something that one vendor doesn't offer, or the Cadillac of product lines, and everyone understanding their niche."
Last year at its Fort Dodge store, Brokaw set up multiple stations with supplier representatives at each one. The event drew about 100 attendees and the dealership signed orders for 2 new Apache sprayers and priced out 3 Thurston Blu-Jet strip-till rigs, in addition to numerous quotes on precision kits for spraying and planting, and auto-steer systems.
While the event was a success, Draude says customers had to cover a lot of area to get from one end of the grounds to the other and it was also a warm day. This year, with multiple event locations, Brokaw rented pavilion space to house their precision stations and kept the larger equipment outside for ride and drives.
"It was a casual, quieter atmosphere inside and we didn't have to worry about tents, or long extension cords running across the fields," Draude says. "It was very successful because customers could easily jump from one side of the room to the other, and there was more foot traffic for the vendors at the event."
Precision Equipment also utilized a "free form" format for its field days, setting up demonstration areas and booths for attendees to browse. Technology like auto-steer and row clutches are easy enough to demonstrate on equipment, but more abstract products require a little ingenuity to attract attention, Louth says.
To promote JDLink, Deere's machine monitoring software, the dealership positioned a tractor inside a booth and then set up 2 tents, one shaded and another with an open front, to project a software demonstration onto a 60 inch screen.
"With a laptop, we logged into JDLink through the tractor terminal and we could show customers on the screen the features like field alerts and mapping," Louth says. "What it did was show the value to customers in way they could easily understand."
Planning Ahead
All of Precision Equipment's machines come equipped with 3 years of JDLink, so immediate sales of the technology wasn't the motivation for the demonstrations, Louth says. The goal was to proactively promote the product to customers so in the future they subscribe to the service through the dealership.
"This presents a lot of revenue opportunity for our service department as well, because they can
---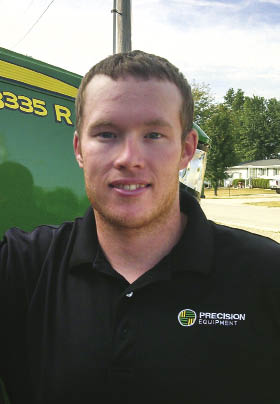 "If we can promote a piece of technology and show how it will optimize a grower's operation, we're going to move product…"
— Jacob Louth
---
check smaller issues like fuel water separator sensors or fuel filters to see if they need to be replaced through the technology," Louth says. "Keeping things like this in mind now make the dealership much stronger as a team down the road."
With precision farming, it's a challenge to predict the next cutting-edge product, but it's important to embrace new technology and make sure customers have a chance to see it in action. Next year, Armstrong plans to incorporate water management technology into the field days, based on growing customer interest.
"We've been talking about it for a couple of years and I'd like to have a machine equipped with a monitor to do a tiling demo and also have a static display," he says. "Another thing we'll probably have to start looking at are drones and how we'll approach that technology." (see more on "drones in agriculture" on p. 43)
In addition to keeping customers updated on the newest innovations, evolving the events to attract more attendees is an annual goal for dealerships. Brokaw plans to focus on customer appreciation with their field days next year to draw in new customers.
"We don't want people just to show up, we want them to get something out of the day," Draude says. "We're starting to look at locations for next year and I know there are still large pockets that we're missing out on to grow our business."
Expanding the reach of dealerships into uncharted territory is one of the benefits of holding precision field events, but at the end of the day, turning a hands-on experience with a customer into a sale is the ultimate reward.
"It's a lot of planning and hard work to put on these events," Draude says. "If you can get one amazing sale, that makes the day worth it."