Laird Munro, Director of Marketing Communications, Rocky Mountain Equipment (2008 Dealership of the Year)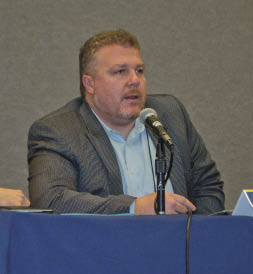 Laird Munro brought an outsider's view to the meeting. The director of marketing communications for Calgary-based Rocky Mountain Equipment (RME) is a city boy who joined the dealership after 10 years working at Canada's WestJet airline. There, he witnessed first-hand the success that a culture-focus — in a commodity-based industry no less — could have on success.
Explaining another misconstrued word — branding — he urged dealers not to limit the term to cool logos and a tagline. "Branding comes from the bottom up. With all the slides I'm going to run through, there are 2 things you need to worry about inside your business: people and data. And it's not just who your company is, but what it believes."
After rapid consolidation, he found RME was known by dozens of different names. "Everybody knew we sold Case IH, but they weren't necessarily aware of who we were as a company or that we stood for."
What Matters & Brand's Role In It
Like Young's Equipment, RME embarked on a process to establish a tagline, which resulted in the words "Dependable Is What We Do" accompanying RME at every turn.
The path to those words started with intentional, deliberate dialog with the customer. "We did customer-facing tests where we asked 'what's important to you?' It was apparent that people simply wanted assurance that you'd be there for them."
And when RME cross-referenced customer data with surveys of employees on what motivates (and frustrates them), he says, "We figured out quickly that people feel good when they get to help their customers." Thus the "Dependable Is What We Do" tagline.
In discussing that dependability aspect of the dealer, he shared that technology is becoming ubiquitous. "We're all going to chase technology, but between brands, there's no technology edge that'll last long. Deere will copy great ideas from Case, Case from Deere and so on, so eventually the machinery will level out. And customers want the lowest price and we, as the dealer, always want a higher price."
What dealers ultimately sell, says Munro, is confidence. "To achieve that, you must present it as a value proposition, and you do that through branding."
Because every dealer sells equipment, only the "how" and "why" really matter, he says. That's what branding is about — and must be reflected at every point in the dealership.
Dealers need to ask if the brand is reflected in a customer's conversation with any employee. He cited the example of a parts tech who answers a question with, 'Yeah, don't got it.' "Then take the parts tech who says, 'Hang on a sec, let me make some calls; let me hunt this down for you. Oh, I see you're in a hurry, I'll call you back on your cell.' So when you're talking about your brand proposition, make sure it's actually reflective of things you hold dear — and that your people will follow."
The brand statement is important, but only in so far as we try and carry it through the entire company," says Munro. Today, RME has a "Dependable is What You Did" employee recognition program, in which branch staff submits stories of great effort, whether it's a tech going out at 2 a.m. to fix a combine, or just somebody dealing with an irate customer in a great way. We try and leverage the whole convention around 'Dependable is What you Do' as a cultural thing that we all hold onto. We push that through to where it's not marketing as much as it is employee engagement. Then, it becomes marketing."
Munro notes that dealers can create a brand and ethos around who they are, but it can't be faked or the role of marketing is relegated to lipstick on a pig. "When you're actually working toward that branded core value every day, that's real power."
It's Not Me, It's You
Where the magic exists, says Munro, is when you've got a strong brand, everyone knows what you stand for and you're marketing to customers in a way that makes sense for them personally.
"You can't just be saying 'we're this,' so deal with us. Instead, it should be that we understand 'this' about you, and that's why you should do business with us."
In his opinion, the industry still spends too much time talking about the equipment and not enough time talking about the customers who buy it.
"Think about the relationships this industry was built on, when your salespeople knew everyone in their territory. But as we've expanded, distances get greater and more challenges come in, and you can't expect sales to cover an entire territory every four days. But technology can help you replicate some of that data, and if you're smart about capturing and holding it, then you actually have an angle in which you can market to people in an efficient and effective way."