The world's largest farm equipment maker, Deere & Co., reported last week that its first-quarter net income grew by 22% as the strong upward trend in ag machinery sales continued to demonstrate that ag fundamentals remain strong going into the 2013 planting season. The company says that total revenue rose nearly 10% in the quarter.
With that strong showing to kick off its current fiscal year, Deere also raised its earnings outlook for the year to $3.3 billion, and it forecasted that overall sales would grow 4% in the second quarter and 6% for the full fiscal year.
For North American ag and turf segment sales, the company raised its outlook to "flat to up 5%" from "flat" in its previous forecast.
Of its total first-quarter net sales of $6.8 billion (vs. $6.1 billion in 1Q12), worldwide sales of ag and turf equipment accounted for $5.5 billion of it (vs. $4.7 billion in 1Q12).
Deere dropped its U.S. commodity price estimates (per bushel) for corn from $6 to $5.25, and for soybeans from $13 to $12.50 from its previous forecast. It raised its per-bushel estimates for wheat to $8 from $7.25.
For overall farm cash receipts, Deere lowered its 2013 crop forecast from $223.3 billion to $210.7 billion. It raised its outlook for livestock receipts from $167.9 billion to $171.2 billion. The company expects total cash receipts for 2013 to decline to $393.2 billion compared to $402.5 billion from its previous forecast.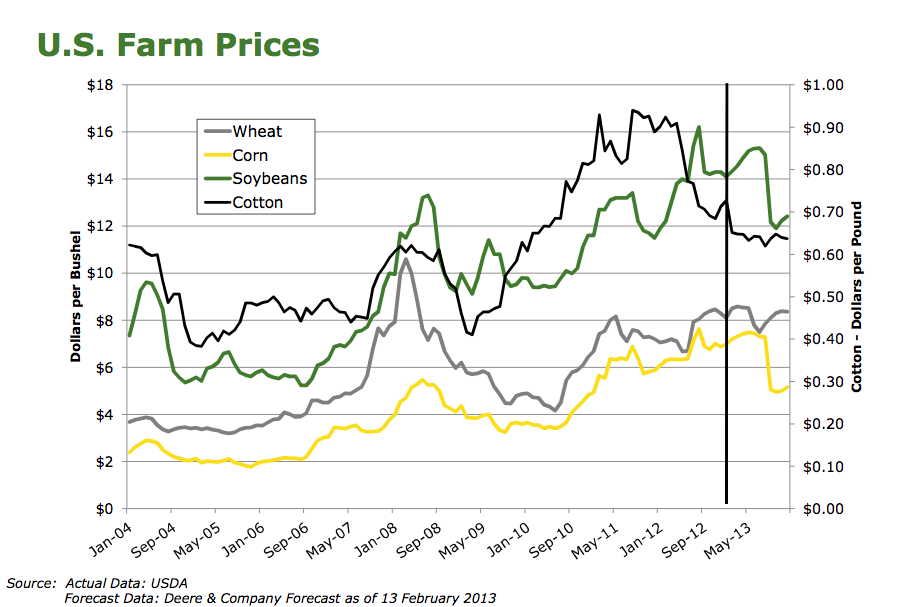 Drought Impacts
In a February 13 conference call with analysts, Susan Karlix, Deere's manager of investor communications said, "At this time of the year, it is hard to determine what that 2013-14 crop year will bring. Clearly the upcoming growing season has a lot of questions around it.
"Among other things, it should be noted that existing moisture conditions show the U.S. drought continues to be of significance. Research, however, shows that the moisture situation going into the growing season has virtually no impact on the final outcome. The primary point is that temperature and moisture levels experienced during the key growing season are the most important factors in determining yield. As is our custom at this time of year, our estimates for the 2013-2014 crop year assume normal weather and trend yields."
She says Deere predicts corn yields will rise 3% while soybean yields will be up 12% this year. Karlix added, "Current and prior year cash receipts are the primary driver of equipment purchases in the U.S. market. With cash receipts at record levels, this bodes well for future farm prospects."