56.6 million farmland acres were irrigated across the United States. About 16.6 percent of U.S. harvested cropland acres were irrigated, while only 1.2 percent of pastureland acres were irrigated. Nearly three-quarters of U.S. irrigated agriculture occurred in the 17 contiguous Western States, including 73 percent of harvested irrigated cropland and 94 percent of irrigated pastureland
For 2007, 12 leading irrigation States accounted for 77.3 percent of all irrigated acres, including harvested cropland, pasture, and other lands. Nebraska's 8.6 million irrigated acres led all other States (15.1 percent of the U.S. total), followed by California with 8.0 million acres (14.2 percent), and Texas with 5 million acres (8.9 percent). Two Eastern States-Arkansas and Florida-were among the 12 leading irrigation States.
Arkansas accounted for 4.5 million acres (7.9 percent) and Florida for 1.6 million acres (2.7 percent) of total U.S. irrigated acres. This chart comes from Water Conservation in Irrigated Agriculture: Trends and Challenges in the Face of Emerging Demand, EIB-99, September 2012.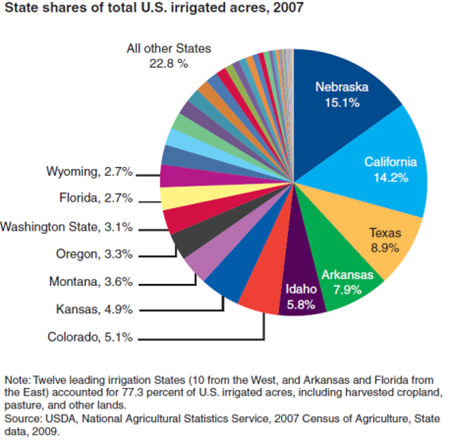 See the ERS Charts of Note