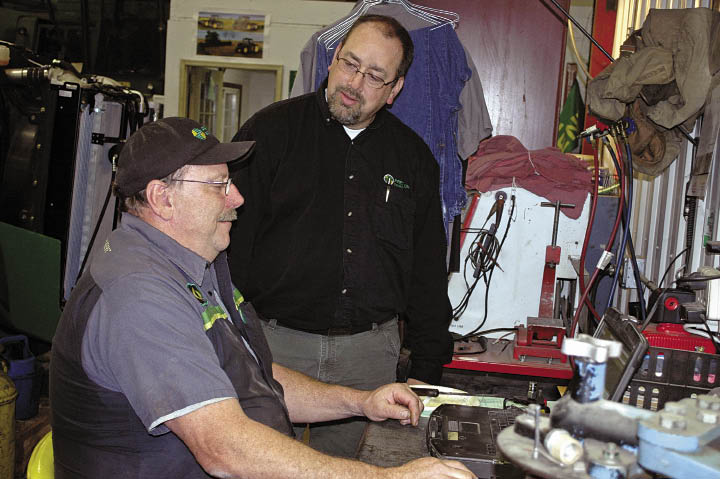 Vice President of Operations: Pat McCrabb
"We're fortunate that each of our locations have people who've been around a long time," says McCrabb, Precision Equipment's vice president of operations. "Many of them have built great relationships."
McCrabb grew up in the farm equipment business. His earlier positions put him in daily contact with customers, which meant he had a direct impact in shaping the customer's experience at the dealership. "In my role now, I'm not dealing with customers every day, so I'm working with employees at each location to ensure they're creating a high level of customer satisfaction."
Grading on the Metrics
Each location has a series of metrics that they're graded on, as does the company as a whole. The scorecard starts with the senior leadership team where it takes a high-level look at the entire company. Location managers are graded on similar metrics. Care is given to ensure each store isn't competing or working against its other locations. "They need to work together to achieve corporate goals," says McCrabb.
Each location's departments are graded on sales and inventory control," he says. "Everything comes back to gross margin for all the departments, and then expense-to-sales ratios and inventory turns are examined for the entire company. In the service department, we deal with productivity and recovery among our technicians because we're selling labor, which is the service department's inventory.
McCrabb's office is in the administrative office in downtown Muscatine. But getting out of the office and visiting each location is a big part of his job. He's usually at his desk only a couple days a week. "Monday is our meeting day so we can compare notes and keep ahead of things going on that week. Then I drive to the locations. With the merger, I've spent a lot of time getting the locations working together.
While he is in charge of the parts, service and sales departments at each of the locations, McCrabb says much of his day is actually spent supporting the sales effort. "The location managers can make a deal with a customer — to a certain level. If they need to go beyond the guidelines we've provided, they run it by me for approval. We're in business to make a profit, but there are times we need to look at a deal from a broader view than that of the sales department.
Still, the parts and service departments at each location understand that they're the ones who help keep people coming back. "Salesmen can jump through hoops all day and get the sale, but if parts and service don't take care of that customer after the fact, it's a moot point. The teams must work together. We've got to have all eight pistons firing because it takes everybody to make this business work.
Bigger Team Equals More Ideas
The company's growth, especially through the recent merger, has increased the resources McCrabb's team has to work with. "As our footprint grows, we've brought more people on board, which enables us to learn and adapt to some of the best practices each location has developed.
But ensuring each department works as a team within the location — and within the company — means keeping the lines of communication open. "If someone comes across a problem with what we call a 'one-off situation,' staff members compare notes for the best way to solve it.
That program can only be successful if each person knows the other's strengths. With managers spread across a fairly broad geographical region, McCrabb sees great value in team-building exercises. "With our location managers in particular, each one brings a different talent to the table. Some grew up on the service side, others in the sales. Some are new to the business but have an extensive amount of management experience. It's fun pulling those guys together because they each bring a different view to the table, and we have some great discussions.
McCrabb says he's already seen that approach come to the rescue in the service department. "We don't see the same failures over and over again. The guys work on a wide variety of equipment and they may not work on that same problem for several months. Now, when somebody sees a problem for the first time, we can pass that information to the other locations.
All Hands on Deck
At no time is the larger pool of experience more valuable than during harvest season when each location puts in long hours in order to keep customers in the field. "Our employees have been around long enough to know what the ag business is all about, so I get very little push back when it comes to putting in late nights and weekends. They get so focused on the customer they know we've got to keep farmers happy.
McCrabb says achieving that with each location needs a little bit of luck and a lot of training. "I think it's hiring the right people and giving them the proper training. I look for people who understand the ag business. To those people, this job means more than a paycheck, it's about building relationships. I work to ensure employees understand they're the ones that build those with customers. We've had some people who didn't survive because working here was just a job to them. They didn't understand the relationship side of it.
When asked for the common denominator he sees in the company's team today, he says they're all problem solvers. "Whether they're a salesman, parts person, technician, they like dealing with customers and solving problems. They're successful because this what this business is about.