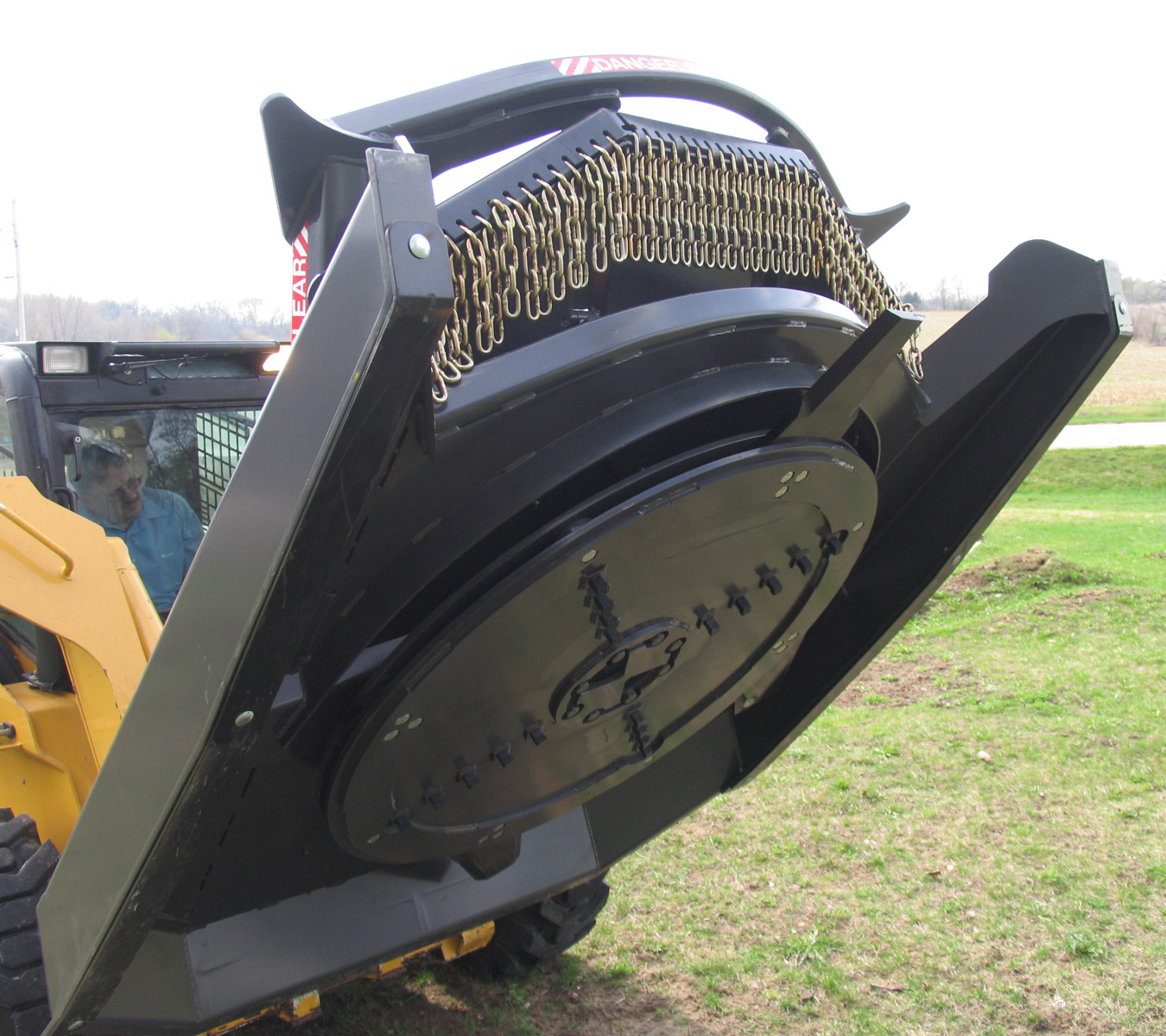 The Bradco Ground Shark Extreme-Duty Brush Cutter by Paladin attaches to high-flow skid steers for increased production when clearing tough ground vegetation, brush and sapling trees up to 7 inches in diameter. Four blades with alternating bevels provide deep penetrating, self-clearing, axe-like cuts and spin on a heavy-duty retention disc for increased stability and smooth operation.
To increase blade wear life, the 3/4-inch thick steel blades are designed to rotate in when there is contact with an obstacle. The auto-retractable front shield allows for maximum blade utilization and optimized debris deflection, and the heavy-construction push bar prevents trees from falling back toward the machine for increased safety.
Constructed of 1/4-inch steel and finished with a high-quality powder coat, the unique "Clean Deck" design reduces snagging and funnels material to the corners for optimal debris control and greater blade performance. The highly visible pressure gauge allows the operator to maintain peak performance and prevent stalling.
The Bradco Ground Shark Extreme-Duty Brush Cutter comes in a 72-inch cutting width and is designed with a direct drive system for smoother and quieter operation. The vertical motor features a heavy-duty spline shaft that increases performance.
Optional stump grinding bolt-on carbide teeth increase mulching performance and allow for leveling of stumps, and the replaceable wear shoes extend deck life. Motor and valve assemblies are fully shielded and dual steps improve safety when entering or exiting the cab.
Paladin is a manufacturer of couplers and attachments throughout North America and parts of the world for the construction, aggregate, agriculture, landscaping, land clearing, recycle, mining, demolition, utility, aviation and municipal market segments.
For more information about Paladin's entire coupler and attachment offering, call 800-456-7100; fax 734-996-9014; email pcginfo@paladinbrands.com; or visit www.paladinconstructiongroup.com.