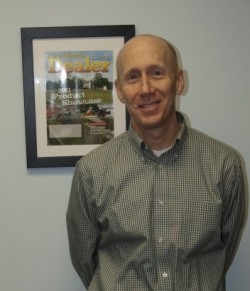 Michael Ellis has been promoted to Publisher of Lessiter Publications' Rural Lifestyle Dealer properties.
After prior industry media sales experience with Yard & Garden and Pro magazines, Ellis joined Lessiter Publications in December 2008 as Associate Publisher of the then-semiannual Rural Lifestyle Dealer. During his time on the magazine, Rural Lifestyle Dealer has grown both in frequency and dealer circulation.
"Michael has been instrumental in growing both the print and e-media advertising revenue, as well as the number of total advertisers, for Rural Lifestyle Dealer during each of the last three years," says Mike Lessiter, president, Lessiter Publications. "Most important, his vision is aligned with our long-established operating philosophy — that it's the content and actionable ideas to help our readers succeed that is the foundation of our publishing business model."
Ellis will continue as Senior Account Executive within Lessiter Publications' Ag Division, which also includes Farm Equipment, No-Till Farmer, Conservation Tillage Guide, Strip-Till Strategies, Precision Farming Dealer, the National No-Tillage Conference and related websites and e-media properties.
Lessiter Publications launched Rural Lifestyle Dealer in 2007 to serve equipment dealers aiming to improve sales and service to the unique rural lifestyle, hobby farm, prosumer and lawn/turf and landscape segments. It is received quarterly by 14,000 equipment dealers throughout the U.S. and Canada.