A Farm Equipment Staff Report
Innovative equipment was in abundance at the 2012 Farm Progress Show, held August 30-September 1 in Decatur, Ill. From more refined tillage tools to high-tech telematics systems, the range of new products rolled out this year easily surpassed those of recent years.
Between Farm Equipment, No-Till Farmer and Rural Lifestyle Dealer magazines, seven editors spent two days interviewing manufacturers and combing the 500 exhibits, to find the newest and most innovative products for the North American agricultural market.
Much of the newest and most innovative products that we found is covered here.
Click on any image below to see it in full size.
Ag Synergy showcased new high-speed single-disc no-till opener at the show, as well as its unique track
.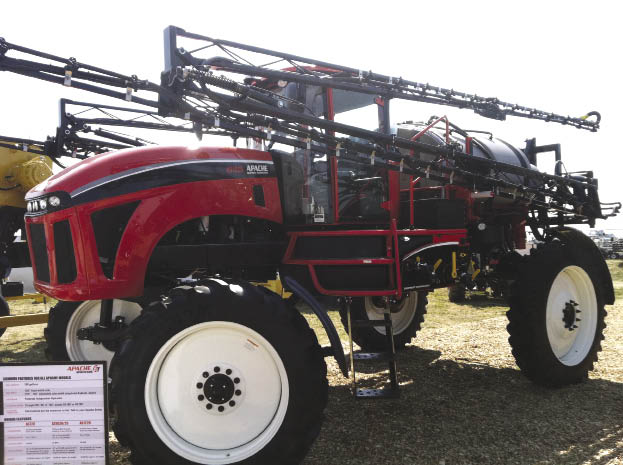 Equipment Technologies announced its Apache self-propelled sprayer is now factory-installed with both Trimble and Raven options.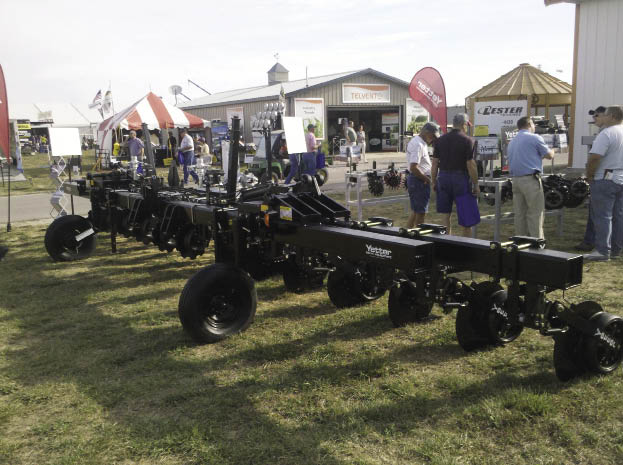 Yetter Mfg. introduced its first-ever toolbar — a 30-foot model for attaching strip-till row units or for use with fertilizer applications.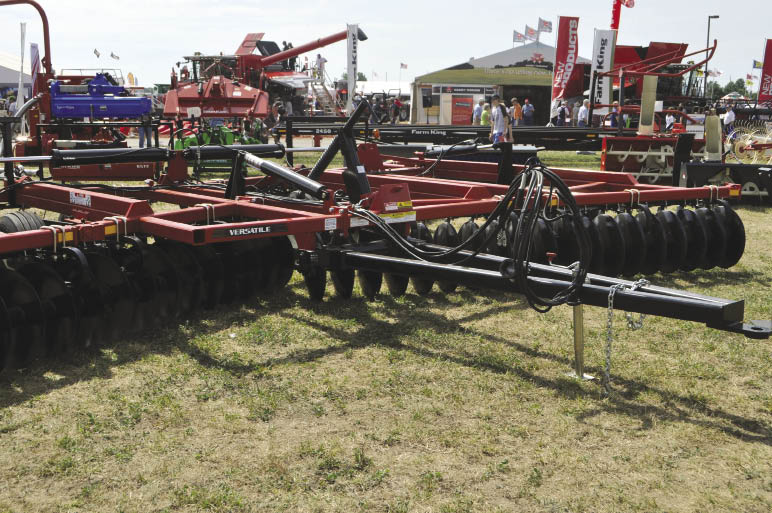 Versatile rolled out 1st branded line of tillage tools. The line includes offset discs, tandem discs and cultivators.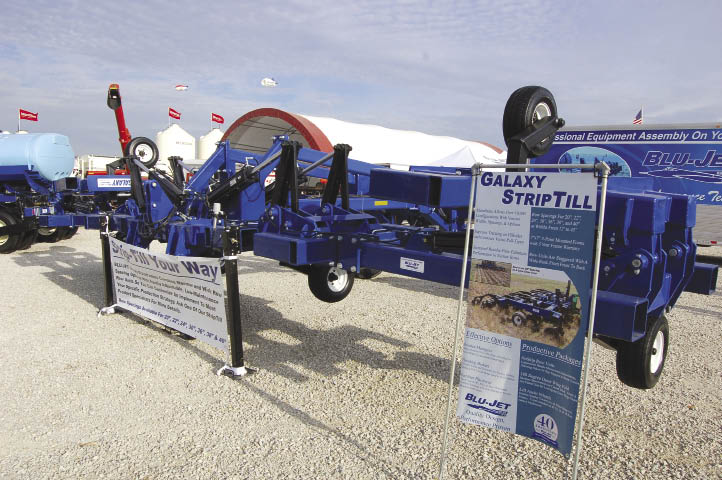 Thurston/Blu-Jet featured its new Galaxy strip-till mainframe that lets growers take their operations to 20, 22, 24, 30, 36, 38 or 40 inch spacings on the same mainframe.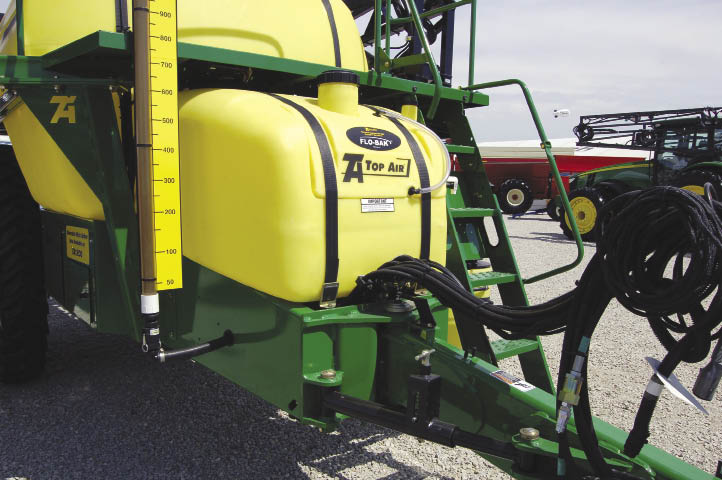 Unverferth exhibited its steerable-hitch option for its Premier line of Top Air TA1200, 1600 and 2400 sprayers. Hitch allows the sprayer's wheels to follow in the tractor's wheel tracks, which means less crop damage and compaction.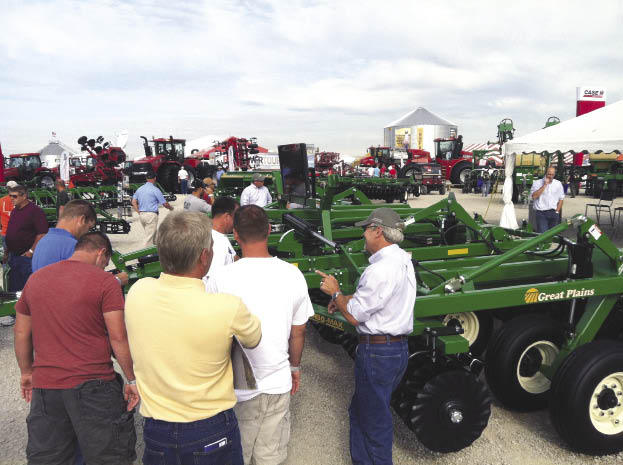 Great Plains Mfg. unveiled new Turbo-Max vertical tillage tool that covers more residue with 0-6-degree angles. According to Tom Evans, the unit provides more aggressive leveling, weed removal and enhanced residue sizing/coverage while continuing to work in the vertical plain.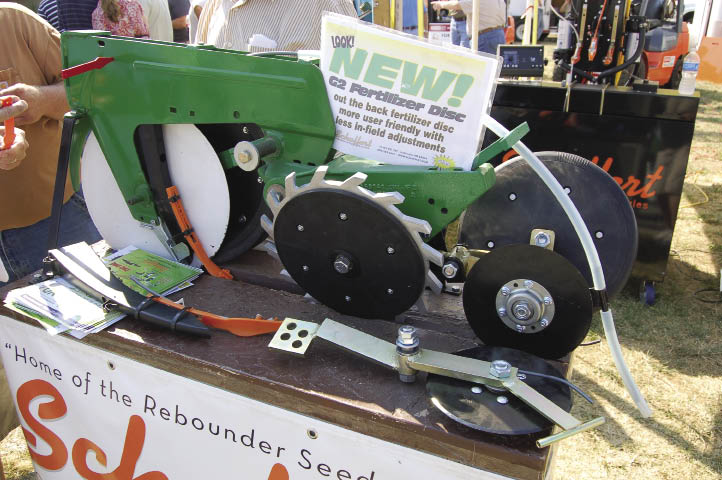 Schaffert introduced its G2 fertilizer disc that provides similar features to 2x2 inch fertilizer-placement systems, says owner Paul Schaffert. The GS offers 8 or 9 inch steel discs, triple-sealed bearings and oil-impregnated pivot bushings.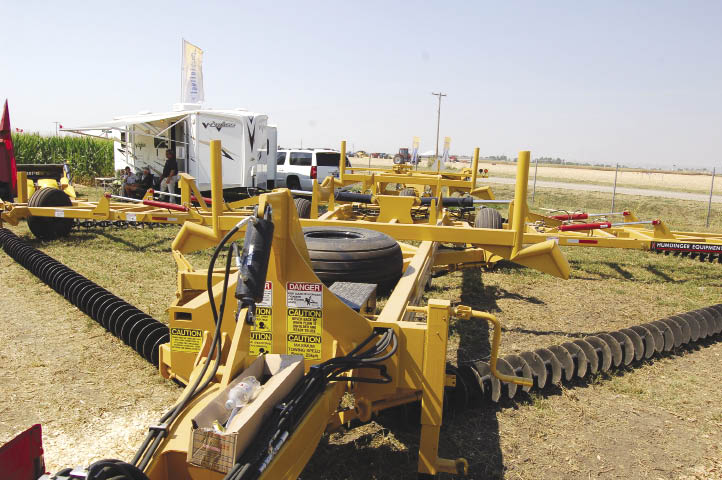 Humdinger unveiled its 455 CDH chain-disc harrow for stubble management and seedbed preparation. The 45.5 foot machine includes heavy-duty hubs, axles and chain rotators and a disc chain designed for aggressive performance.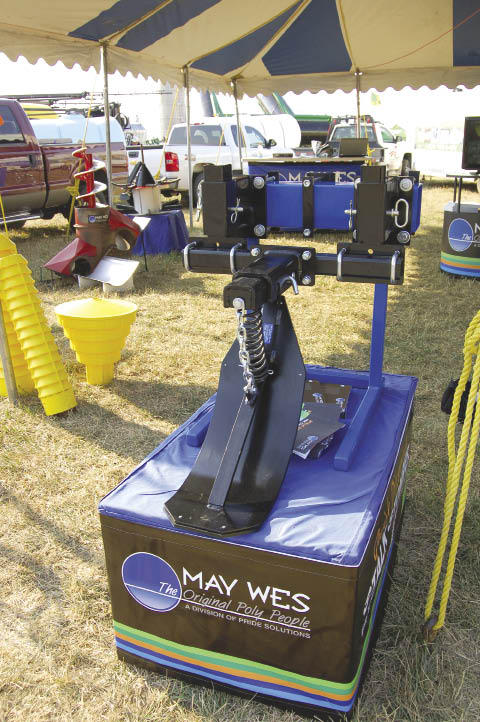 May Wes unveiled its new quick-disconnect Stalk Stompers for combine headers. The attachments fasten to the front of the header to push over standing stalks and prevent tire damage.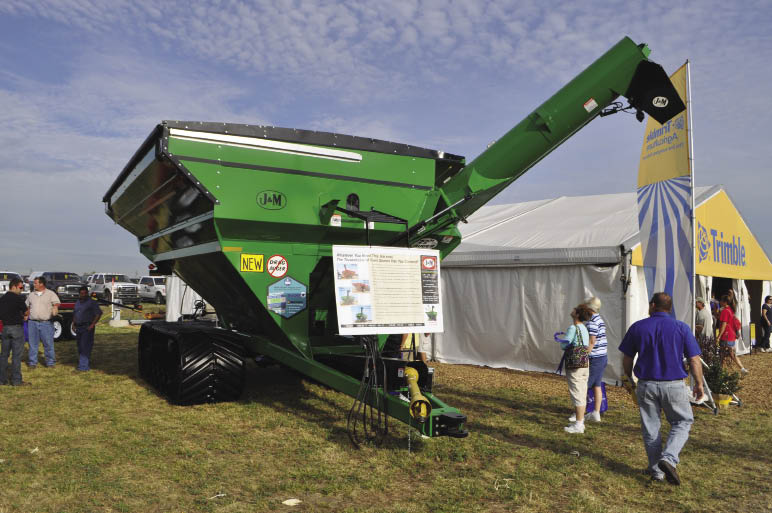 J&M introduced its "Leaner" grain cart designed to work in tandem with the largest of corn heads (40 feet). According to David Dow, this unit allows the combine to get closer to the cart in the field without bumping one another. Available in several sizes from 1,000-1,325 bushel capacity, it's available with 20 or 22 inch auger with an unload rate of 600 bushels per minute.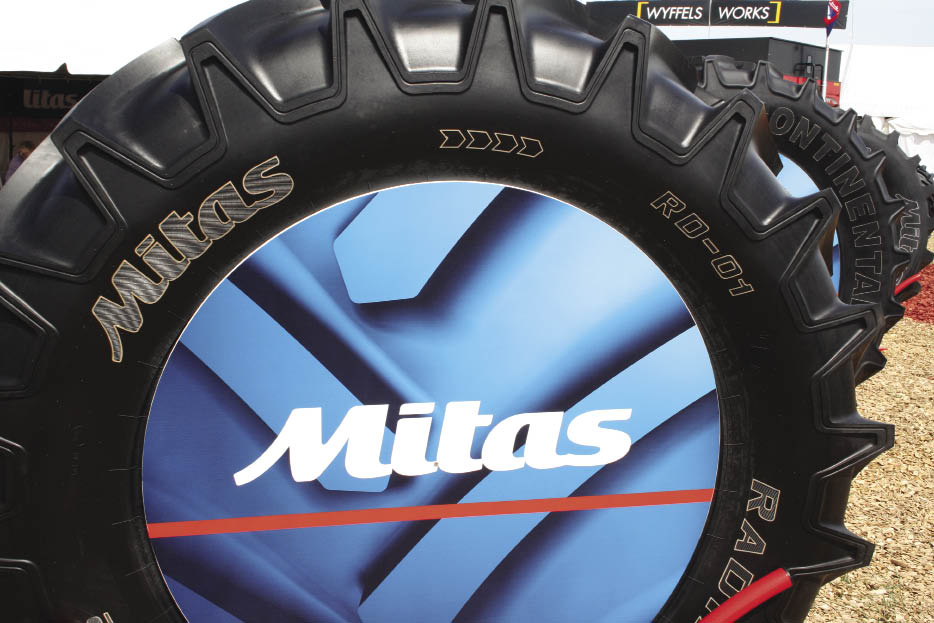 In 2012, Mitas will phase out Continental ag tires in favor of the Mitas brand, says Neil Rayson, president of Mitas Tires North America. Those tires will be produced at the company's new plant in Charles City, Iowa.
---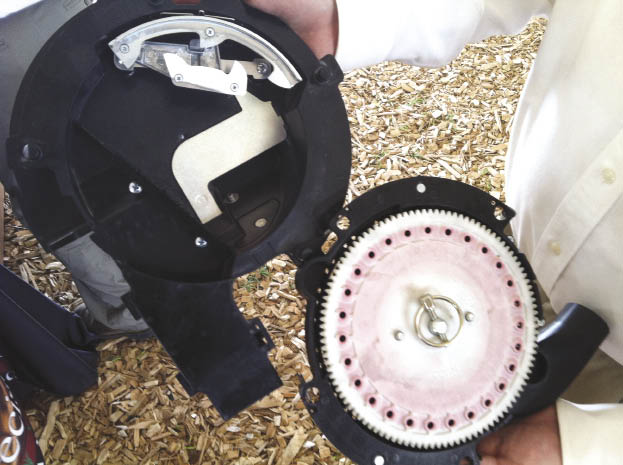 In addition to its highly attended demos, Precision Planting had the first public showing of its eVac vacuum seed metering system. Dustin Blunier says the unit is based on the success of the eSet system, but with its own dedicated chamber, providing a more accurate system for finger-type and EdgeVac planters.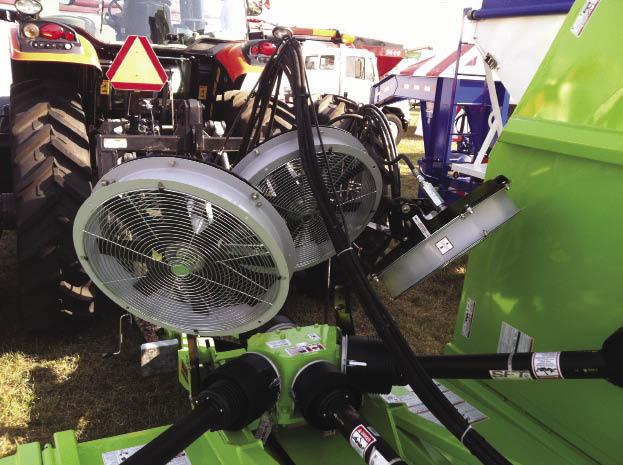 Schulte showcased its new Cyclone Deck Debris Fan Kit. The kit keeps all field debris and straw off the deck of the cutter, improving efficiency, reducing fire hazards and preventing weed contamination from field to field. It also allows for easier visual confirmation of properly operating drive shafts.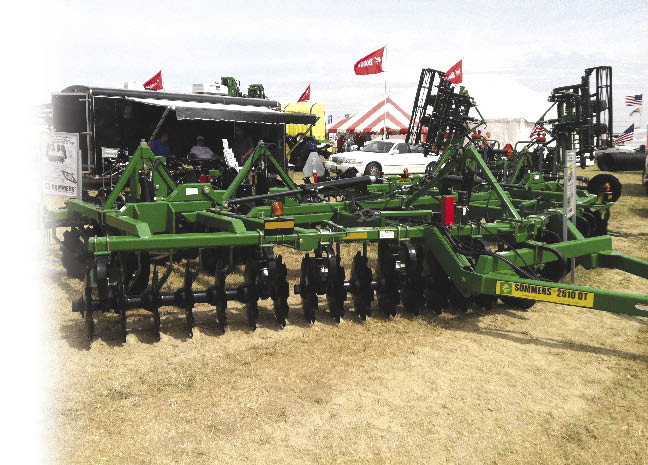 Summers Mfg. unveiled its 2510DT for the first time. It's based on the Diamond Disk frame structure but provides greater capability to handle challenging residue and wet soil conditions. Summers' Brian Perkuhn explained that it's a hybrid between a disc and true vertical tillage, providing non-stop tillage in the tough conditions where it's most needed.
---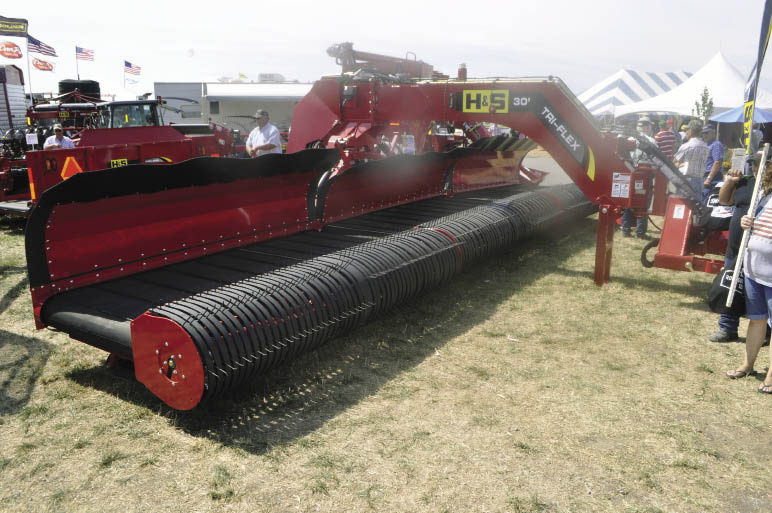 The 30-foot Tri-Flex merger was one of several new products H&S introduced this year. The triple-head hay merger features 3 identical width 31 inch diameter heads. It has the industry's only center cam/center drive system that provides fewer gaps between the heads, according to Ron Zygarlicke.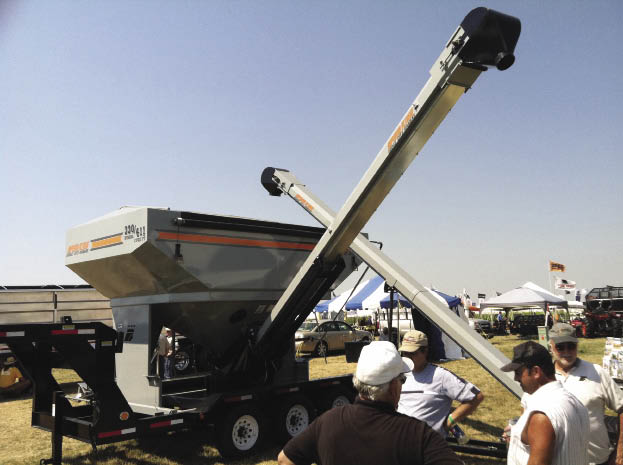 Crustbuster Speed King showcased its new seed tender, which gives farmers another 90 bushel capacity (to 330) and a higher reach. Wayne Daubert also explained its new Honeycomb belt, allows significant grain capacity efficiencies due to steeper conveying.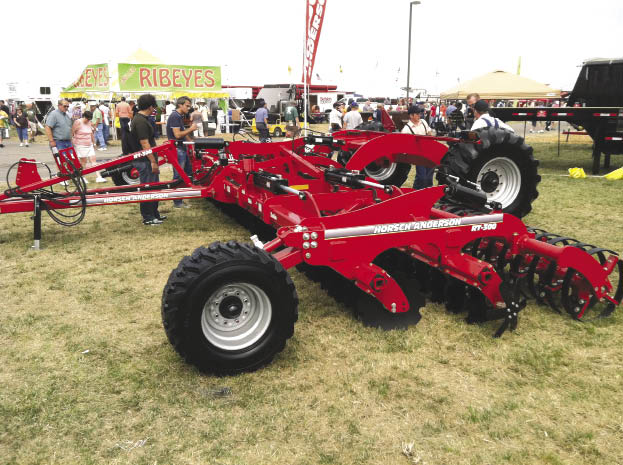 Horsch-Anderson displayed its Joker RT-300 compact tillage tool for the first time, which Jeremy Hughes says is also the first Joker that's being built entirely in the U.S.
---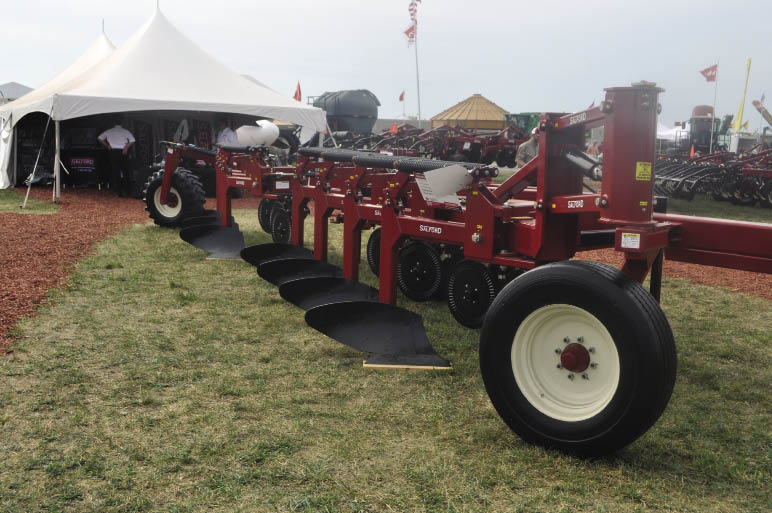 An outright showstopper for the second straight year was Salford Farm Machinery's exhibition of a moldboard plow. According to Anson Boak, sales of the unit doubled over the last year, with particular interest from seed corn and corn-on-corn producers.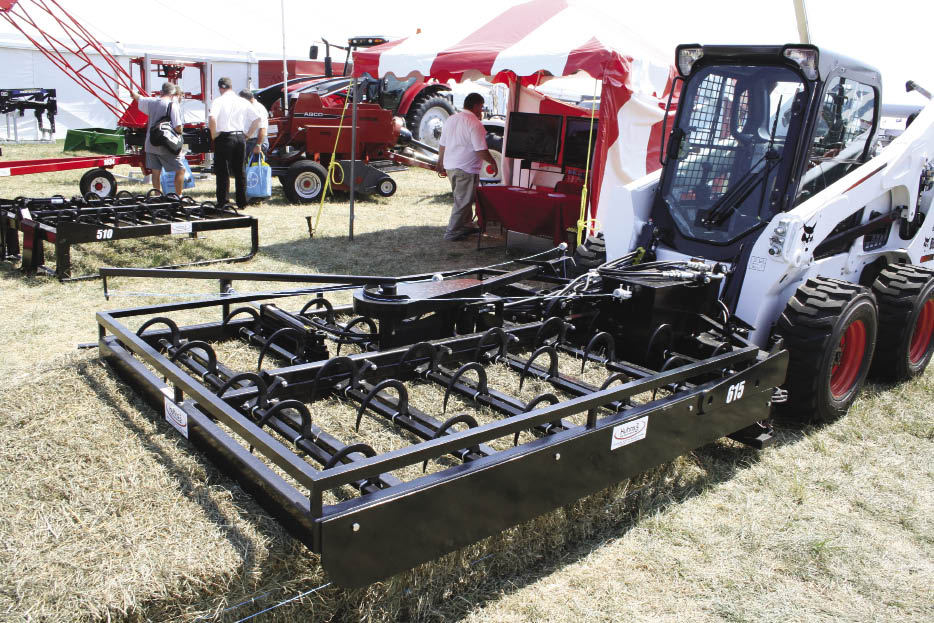 Kenny Kuhns of Kuhns Mfg. says the new 615 Tie-Grabber required a lot of innovative engineering, but is now ready for the field. The Tie-Grabber puts a string around a group of bales as it picks them up, allowing for steady loads on the trailer and reducing the need for load tie-down.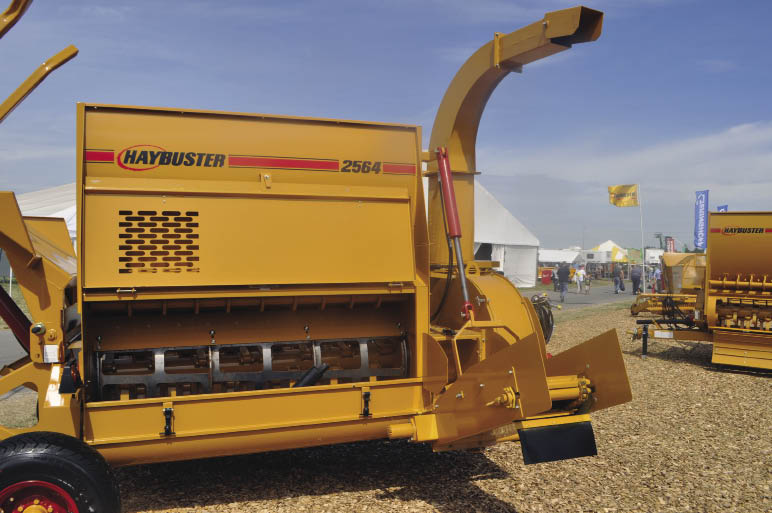 Dirk Gaebe of DuraTech Industries describes Haybuster's 2564 Balebuster as a bale processor with blower. It can process a 4x5 bale in about 4 minutes. It's designed to process bales for erosion control, feed or bedding cattle or poultry.
---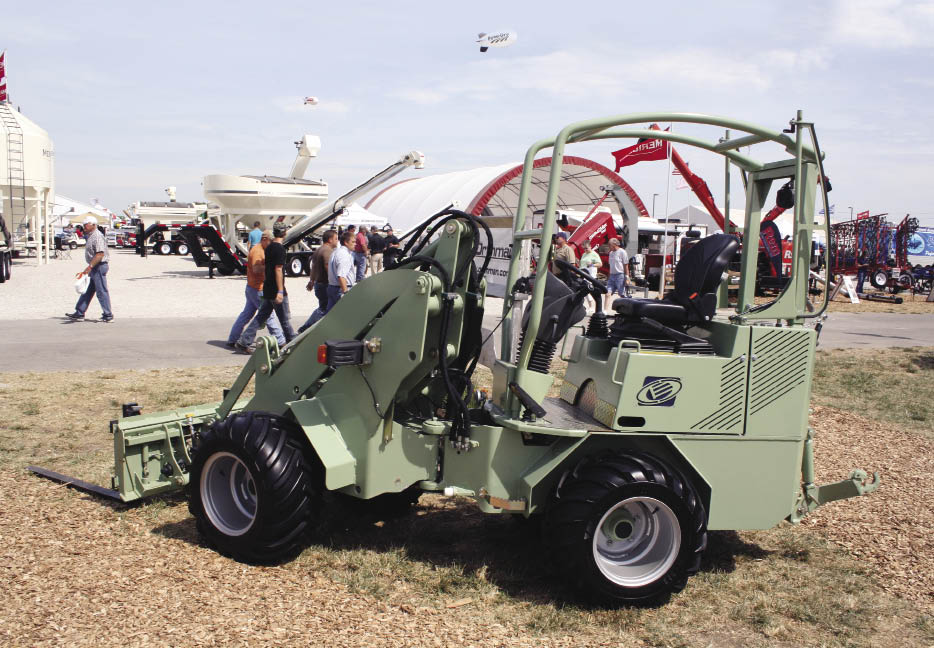 Warren Coulter says Orthman's loader project is well under way. Based on a compact wheel loader produced by a specialist in Germany and adapted by Orthman for the North American market, plans are for prototypes to get into user's hands early next year, followed by full production after testing.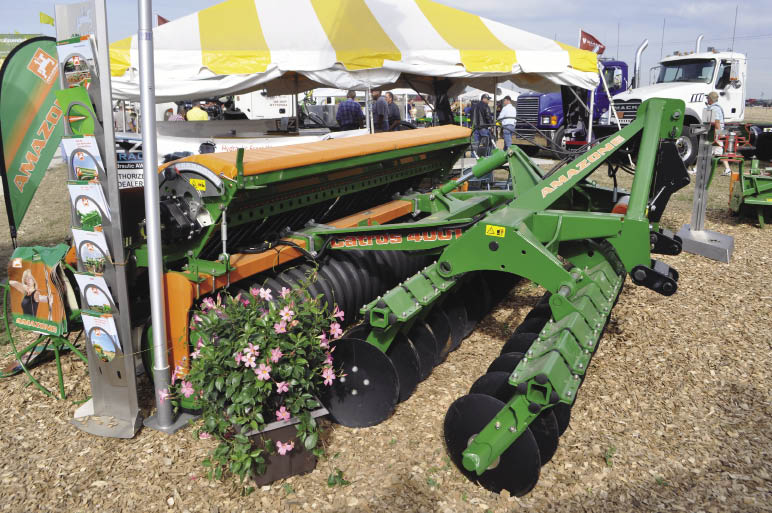 According to Jac Knoop, Amazone is introducing its new Catros C-Drill. This is a 2-in-1 implement designed to do the initial tillage pass and put down and seed cover crops in one simultaneous operation. During the initial tillage, drill incorporates between 60-70% of residue and then rakes the seed into the seedbed.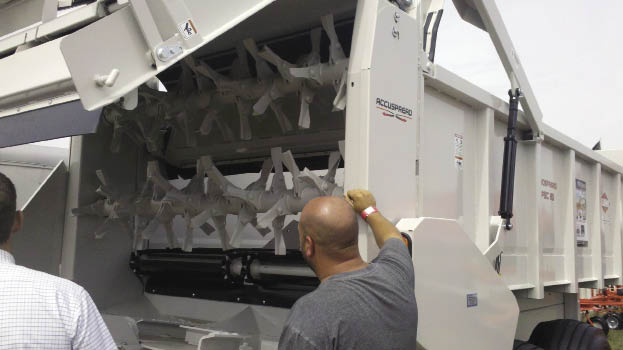 Doug Williams of Kuhn Knight described the features of the new Accuspread spinner discharge system for commercial apron box spreaders. The Accuspread allows the controller to precisely control rate and placement of material to suit a broad range of applications.
---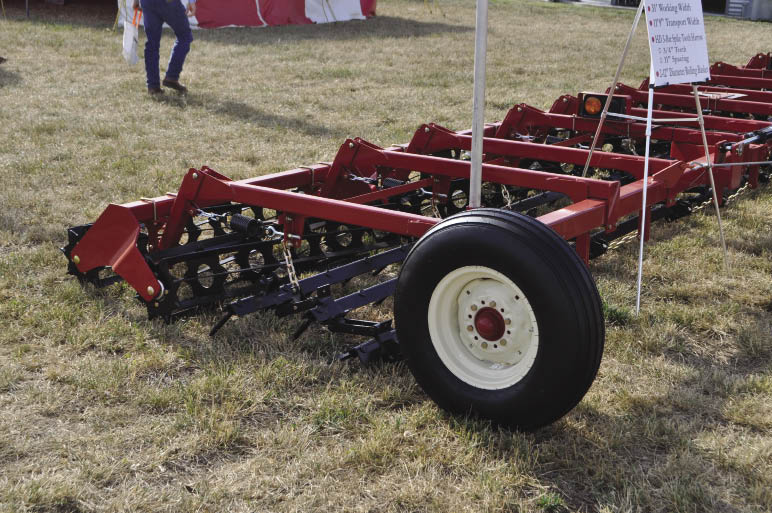 Fred Gilman, mfgr's rep for McFarlane Mfg., says the company's RBH-230-3 Field Finisher provides superior break up of clods behind a field cultivator or disc, leaving an exceptional seedbed surface. This unit is designed for a 31 foot working width, but folds to an 11 foot 9 inch transport width. It has a 2 foot 12 inch diameter rolling basket and a 3-bar spike tooth harrow.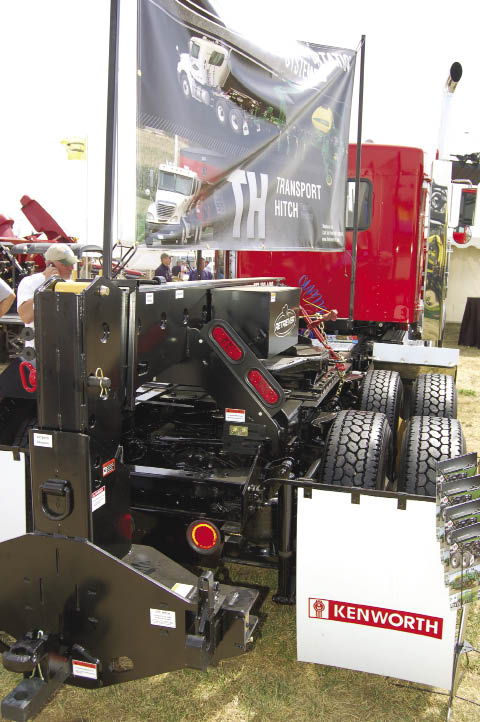 Bestway showed its new Retriever Transport Hitch for pulling large drawn planters, grain carts, tillage and fertilizer-application equipment. It can be changed quickly from a Class III to Class II hitch, and also has a removable heavy-duty drawbar with a 12,000 pound tongue-weight capacity for drawbar-type implements and planters.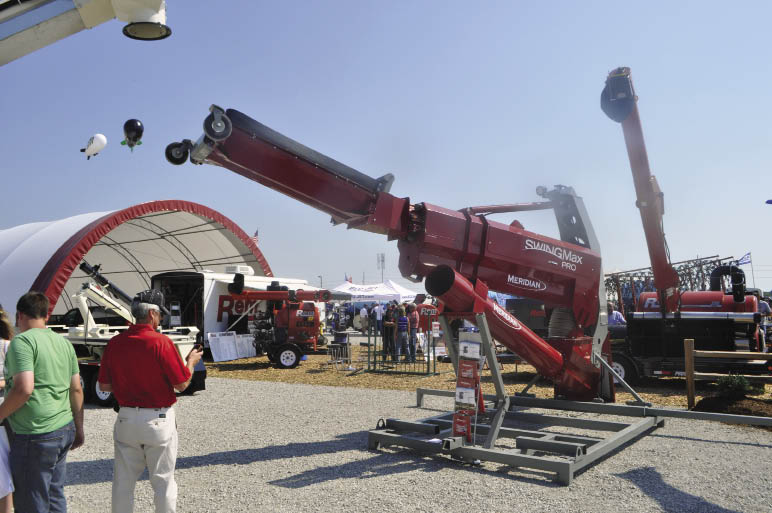 Dave Fletcher of the Meridian Mfg. Group demonstrated the company's new scissor lift, mechanical drive grain auger. The unit shown here has a 14-inch tube, but a wide range of sizes and lengths are available. The self-leveling, low profile hopper features a patented drive system that turns the two Super-Edge flighting augers toward the center of the hopper and creates a smooth flow of product to the feed tube.
---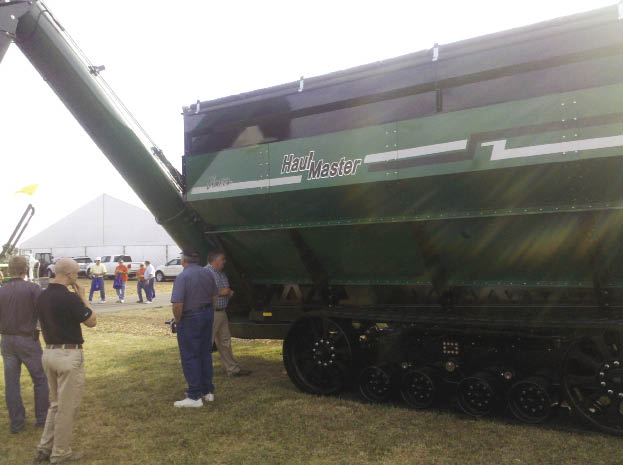 Eric Braun of Elmer's Mfg. says its new high-capacity Haul Master 1600 comes equipped with the largest tracks in the industry, which allows it to manage a large payload with reduced compaction.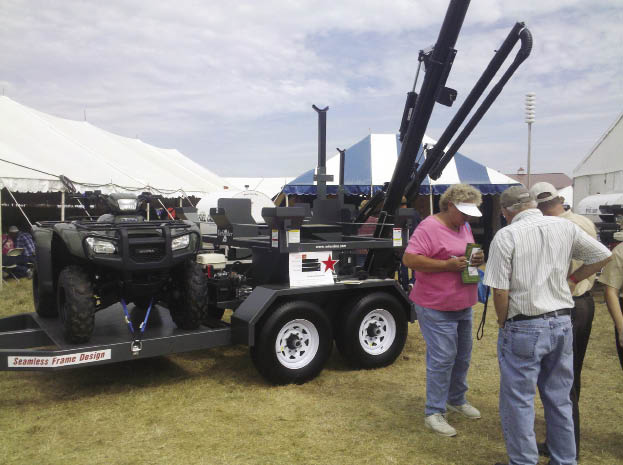 Azland unveiled its Defender 2+ two-box seed caddy. It comes available with dry or liquid seed treaters and also has an additional fuel caddy option. The Defender 2+ features an easy glide feed tube that delivers seed directly to the auger base.