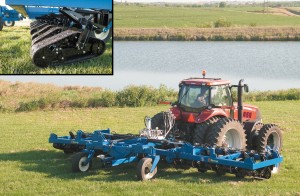 AgSynergy announces its Genesis TRX applicators which use a single disk, high speed opener for precision placement of anhydrous ammonia. This system ensures the least amount of soil disturbance and residue movement when placing nutrients in no-till environments.
Among the features is an aggressive sealing system that includes a set of 4 ¾ inch wide rubber track that holds residue stationary while the coulter cuts into the soil. This holding effect minimizes residue and soil movement for a superior sealing of anhydrous ammonia in a wide range of field conditions. A hydraulic down pressure system helps make this possible.
This, combined with a heavy-duty undercarriage with ¾ in. thick steel rails and components lubed for life for minimal maintenance, makes the Genesis TRX able to withstand hard field use.
The Genesis TR is equipped with independent hydraulic cylinders that allow for excellent row unit travel. Each row unit has a total vertical range of motion of 16 inches and a road clearance of 8 ½ inches. Side-to-side oscillation is at 5° and provides excellent trailing in contoured ground.
Dual placement of anhydrous ammonia with liquid fertilizer is currently available and dual placement with dry fertilizer will be available in the fall of 2012.
The Genesis TRX units are supported by the AgSynergy Semi-Mount and Trailing model tool bars that are available in several models to better fit your customer's operation. 
Joe Reitz, from AgSynergy, introduces the Genesis TRX in this video shot on the grounds of the Farm Progress Show in Decatur, Illinois. For more information contact Joe Reitz, AgSynergy at 785-431-7948: