Special Management Report:
Roll Programs Redefine Role of Used Equipment
Greg Petterson
These days, a smart auctioneer to push up the price on a used farm equipment need only ask, "Boys, what's a new one cost?" to get farmers bidding.
This, says, Greg Peterson, is the result of the tighter availability and the higher prices of new ag machinery. These together with the higher grain prices that growers are getting have converged to change the nature of the used farm equipment market.
Peterson, who's better known in the farm equipment business as "Machinery Pete," has been collecting data and plotting buying and pricing trends of used ag machinery for more than two decades. What he's seeing in recent years is a doubling of prices that used equipment sellers are getting compared to just 7 years ago.
This has played well as dealers who increased their use of equipment roll programs have relied on solid used equipment pricing to produce the profit margins they aren't making on their new wholegoods. "Used selectively, I believe these programs can be a great tool," Peterson says.
At the same time, he warns, that if roll programs are overdone, "Eventually someone will have to pay the piper. My sense right now is that everything is fine, but I'm beginning to pick up some vibes that dealers are concerned about having too much used inventory."
At least some portion of the current volume of used machinery is the result of roll programs. As long as pricing holds on good, used machinery, dealers utilizing equipment rolls seem to be happy with the results.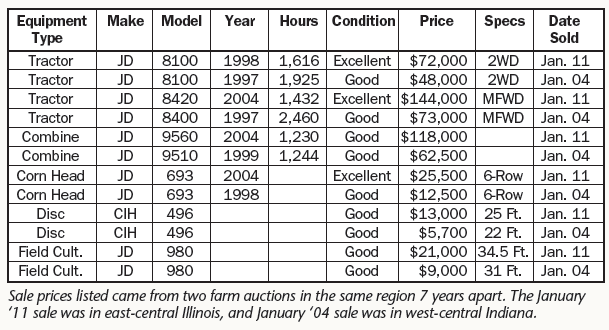 Rising Used Prices
Peterson says that overall values of used equipment have risen steadily since 2004 and spiked in late 2007. A large part of this, he says, has been the diminishing availability and rising prices of new machinery.
"Every time a manufacturer increases the price of new machinery — 8% or 9% annual increases seem to have become normal — it makes the 3-year old equipment doubly attractive," he says.
"In late '07, it looked to me like a pressure valve had been released. Pent-up demand for new or good used equipment really took off."
That trend, he says, held true through much of last year when prices jumped again in late 2010. "We're seeing just amazing things on the auction market this year with record high prices. It makes it very challenging for dealers to price what's sitting on their lots."
This is especially true now as more dealers, with the help of the Internet, are selling beyond their usual sales territories. Peterson says that the real "delineating line" is the condition of the equipment, not necessarily its age. "That's the stuff that's in demand. It doesn't matter if it's 30-years old or 2-years old; as long as it's really nice and well cared for.
"Today, dealers are allotted equipment by the manufacturers and it's become 'you buy it first and then we'll build it' vs. dealers carrying inventory on their lots. Availability is a primary driver, but so are the price increases that manufacturers have been building into their new products in recent years. This has been a huge driver in the used market," says Peterson. "This is making even high prices for good machinery very attractive for many farmers."
Another trend that Peterson notes is the comeback of dealer auctions he started seeing last summer.
He explains that in the 1990s, dealer auctions were a common way that equipment retailers used to manage inventory. Dealers were willing to take their lumps on used prices just to get the equipment off their lots. But the market for good used machinery has become so tight over the past 5 or 6 years that dealer auctions became a rarer occurrence.
Peterson reports, between 2001 and 2003, the average number of dealer auctions per year was 3,291. This fell to 1,769 between 2007 and 2009.
More recently, the prices fetched at dealer and consignment auctions were significantly lower than what farm auctions were producing. Two examples Peterson cites from 2010 include the average price for a Case IH 2388 combine sold at farm auctions was $83,412 vs. $69,438 at dealer auctions. The same held true for JD 9760 STS combines, for which the average price at farm auctions came in at $147,250 compared with $121,607 at dealer and consignment auctions.
"Last summer we started seeing the comeback of dealer auctions where multiple dealers brought in equipment. It sold OK, but they took their lumps on pricing. The dealers were happy because it cleared a lot of stuff from their lots," Peterson says.
Is This the Year?
But this year could be the year that tells the real tale, according to Peterson. "I'm interested to see what will happen this year. Will there be more dealer auctions? Will there be more inventory? Will dealers take bigger lumps on pricing? This to me is the whole thing with the roll programs. This is the backside, if dealers only focus on pushing new," he says.
It's becoming an increasingly delicate balance of supply and demand that manufacturers and dealers must manage if they hope to sustain equipment roll programs, says Peterson. "Today, dealers need to look at used equipment as a profit center."