JCB introduces the 3230 Fastrac Xtra to North America. First launched to the European market last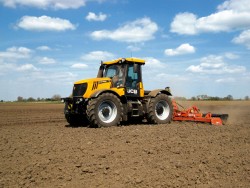 June, the model incorporates new features designed to meet the needs of the modern operator and maximize the machine's potential.
 
The new 3230 Xtra comes standard with the 24-speed P-Tronic power-shift transmission offered in the Fastrac 7000 Series. With this transmission, operators can smove the joystick for clutch-less gear and range changes between the 6 gears in each of the 4 ranges.

In drive mode, the tractor shifts like an automatic car for speedy operation on the road. A cruise control option allows the operator to set and resume an optimum forward speed.

The JCB Fastrac 3230 Xtra also features Xtra-Drive as standard, which makes it possible to drive the machine by just using the brake pedal. Like a vehicle with an automatic transmission, there is no need to use the clutch, which is ideal for regular headland turns. When the operator is hitching the 3230 Xtra up to implements, the tractor's clutch pedal overrides Xtra-Drive to retain inching capabilities.

Headland management is now available as an option on all Fastrac 3000 Series Xtra models as part of the field performance package, which also includes the ground speed radar. The system allows farmers to pre-program up to 5 different sequences, each containing up to 15 different functions. These functions can be linked together to provide an instant reaction or a delayed reaction based on a preset distance or time. This results in a true "one press" solution to headland maneuvers.
For more information, contact Ray Bingley at ray.bingley@jcb.com.