In this episode of On the Record, Stifel's quarterly dealer survey reveals that while OEM lead times have improved slightly, the majority of dealers still say they are longer than last year. In the Technology Corner we look at AEM's recent white paper that outlines 13 trends that could influence how food is produced — many of which are tied to precision ag technologies. Also in this episode: A closer look at Titan Machinery's acquisition of Heartland Ag Systems, how farmers view shortlines compared to the majors, and a look at the 6-month unit sales report for 100+ horsepower and 4WD tractors.
This episode of On the Record is brought to you by Associated Equipment Distributors — the leading association in North America strictly dedicated to the equipment distribution industry.  AED offers a wide range of education, events, advocacy and reports for companies of all sizes and all roles within your organization.  Learn more about AED by visiting www.aednet.org/agdealers
Expectation for Inventory Normalization Pushes Out Farther
OEM lead times are getting longer relative to last year, according to Stifel's second quarter Ag Equipment Dealer Survey. A net 74% of dealers said lead times have increased compared to last year. While lead times are still elevated, the percentage of dealers who report longer lead times has been dropping over the last 4 quarters. In the third quarter of 2021, a net 92% of dealers reported longer lead times.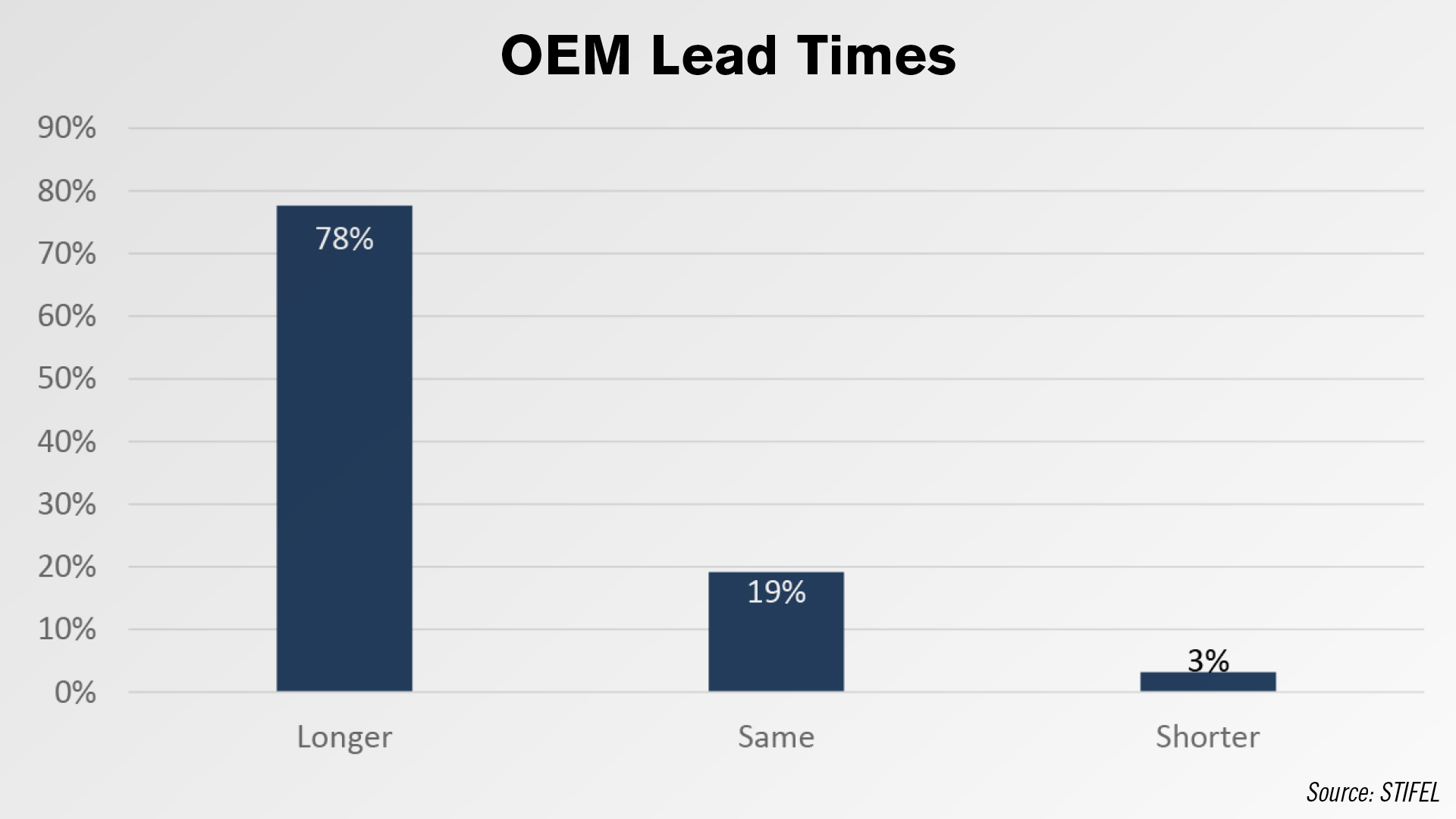 According to the survey, expectations of when dealers expect inventory to normalize continues to push out. A total of 34% of dealers now expect new equipment inventory to normalize in 2023, down from 47% last quarter. Another 38% now expect normalization in 2024 (consistent with 39% last quarter), but 25% expect normalization after 2024. This is up meaningfully from the 5% last quarter.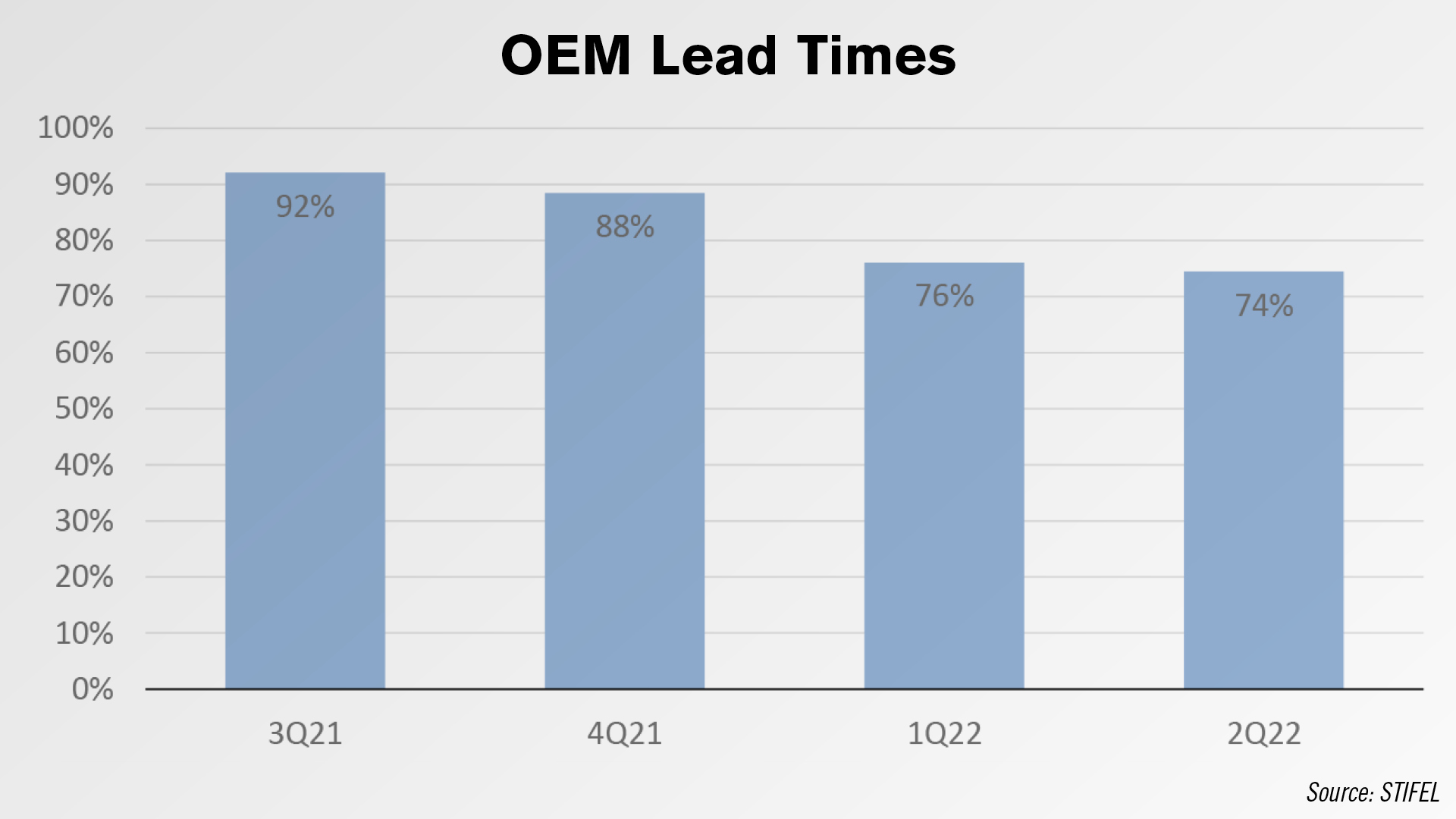 "We believe this push-out in expectations for normalized inventory levels reflects further supply chain and production disruptions, likely in part due to the Ukraine conflict and China's zero-COVID policy," says analyst Stanley Elliott.
One New Holland dealer commented, "Our dealership started 2022 off strong. Sales were in-line or better than Q1 of 2021. Low inventory levels, long lead times, and allocations have caught up to us. Q2 is about 10% less than Q2 of 2021 due to the inventory situation."
Dealers on the Move
This week's Dealers on the Move include Titan Machinery, Johnson Tractor and United Ag & Turf.
On July 11 Titan Machinery announced its acquisition of Heartland Ag Systems. The deal, expected to close in August.  We'll have more on the acquisition later in the episode.
Case IH dealer Johnson Tractor has acquired Value Implement, expanding into the west central Wisconsin market. The acquisition brings Johnson Tractors total locations up to 9.
John Deere dealer United Ag and Turf has acquired Fish & Still Equipment, adding 5 stores to United Ag & Turf's South Central region for a total of 36 locations in region and 73 ag stores in total.
Technology Corner
A recent whitepaper from the Assn. of Equipment Manufacturers (AEM) outlines 13 trends that could influence how food is produced — many of which hinge on adoption of precision agriculture technologies.
As a growing population, climate change, supply chain challenges, demographic shifts and labor shortages are pushing farmers to do more with less, precision agriculture is prime to influence the future of global food production.
Precision ag is key to helping farmers produce more with less environmental impact.
The AEM's Environmental Benefits of Precision Agriculture study found farmers using precision technology saw a 4% increase in crop production, a 9% reduction in herbicide and pesticide use, and a 6% reduction in fossil fuel use.
With food security contingent on water security, the AEM predicts embracing precision irrigation will help ensure a stable food supply. The association's study found growers using precision irrigation reduced their water use by 4%.
The AEM report calls connectivity the lynchpin of agriculture's future because connectivity enables precision technologies, artificial intelligence and automation, and other components of the food chain of the future.
The report says only 25% of U.S. farms use connected equipment or devices to access data. As reliable internet access becomes more available, using technology becomes more practical, and agriculture will shift to be more productive while conserving resources.
The AEM report predicts artificial intelligence will begin to assume a prominent role throughout the entire crop production process over the next 10 years.
Equipment will work smarter and do more using AI, machine learning and image recognition. The report cites a 24% increase in net returns when including both input savings and yield increases due to less compaction with the use of autonomous equipment.
Finally, as food production changes, so will the business models of farm equipment dealers and manufacturers.
The AEM predicts a rise of Equipment as a Service (EaaS), giving farmers the opportunity to lease equipment for a specific time period, rather than buy the machine. Dealers could include additional services, such as data analytics and preventative maintenance, in the price of the rental.
Custom farming will also become popular as farmers look to add more acres without assuming the risk of   industry will also shift to outcome-based pricing models — programs that guarantee a certain yield goal, elimination of disease or other metric — as digital tools make outcomes easier to guarantee.
Click here to download the AEM's Future of Food Production whitepaper.
Titan Machinery Expands Reach with Heartland Ag Systems Acquisition  
Titan Machinery's acquisition of Heartland Ag Systems brings together Case IH's largest North American dealer with Case IH's largest application equipment distributorship. 
Chairman and CEO David Meyer said, "From a strategic point, this is going to be not only good for the industry, it's going to be good for Case IH, it's going to be good for the farmer, rancher, and it's also good for that commercial applicator out there because it takes all our existing parts and service locations we have in our core footprint. All of a sudden you've got that many touch points for the customer for this parts and service support."
Heartland Ag Systems has been focused on the commercial application business since 1966 and in that time has grown to 12 stores with distribution covering 17 Midwestern and Northwestern states.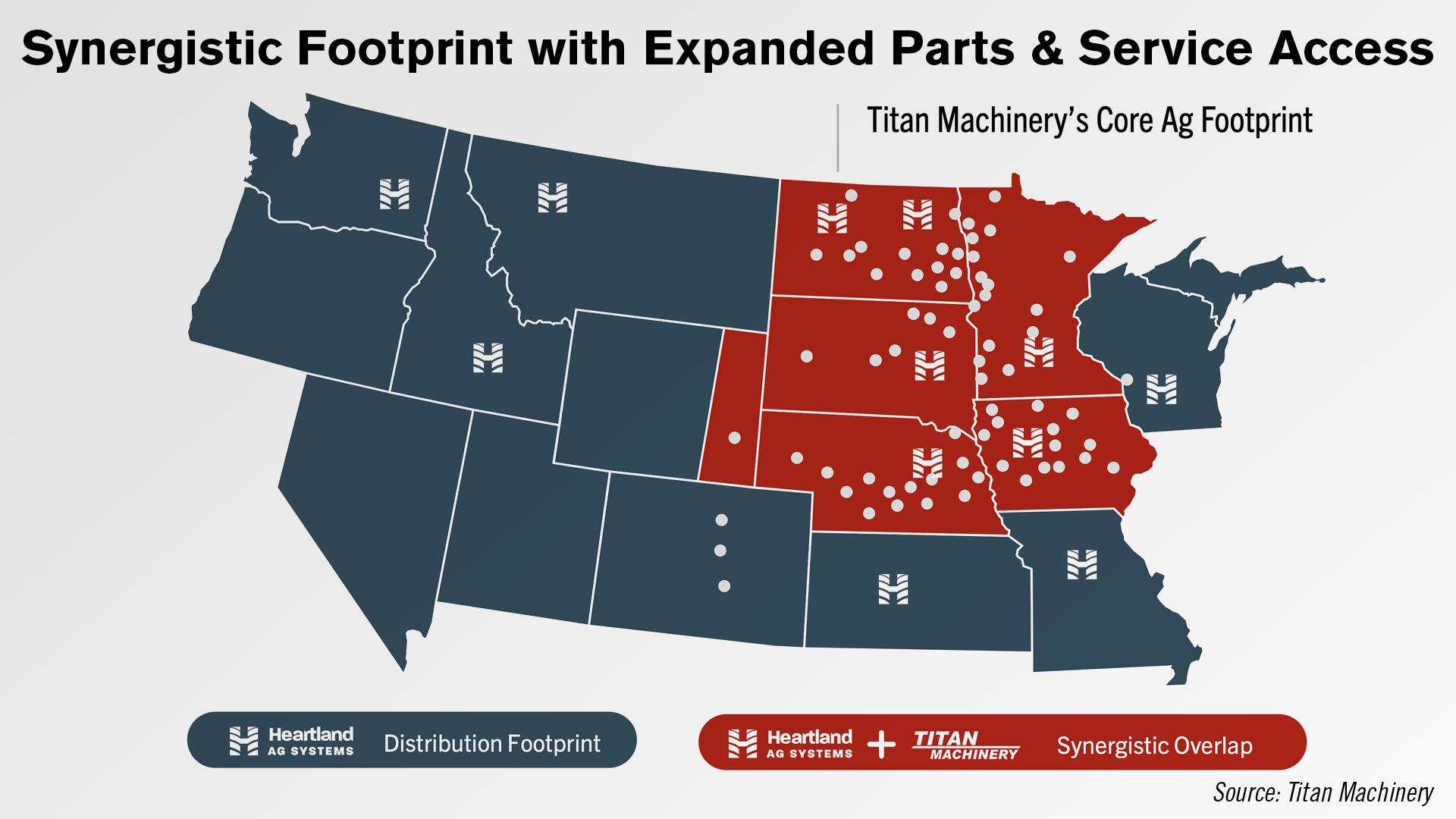 The acquisition provides Titan access to the commercial application segment of the market, which Meyer said the dealership previously was unable to participate in due to Case IH's distribution agreements. The commercial application customer accounts for about 40% of the self-propelled sprayer industry today, Meyer said. 
Through this transaction, Titan Machinery now has distribution rights for the entire North American Case IH, New Holland and Case Construction product portfolio. 
In addition to the commercial applicator market, Heartland also brings shortline manufacturing expertise through its "vertical integration of proprietary, specialized equipment for the commercial customer," Meyer said. 
The manufacturing segment includes fertilizer toolbars, spreaders, tenders, tanks and various application specific trailers, and represents about 11% of Heartland's total equipment sales and has a margin profile similar to Titan's existing business, Meyer said. 
Farmers Rank Shortlines Over Majors in Self-Repair Resources
A recent survey from Farm Equipment saw farmers rank shortline manufacturers over major-lines in their available self-repair resources.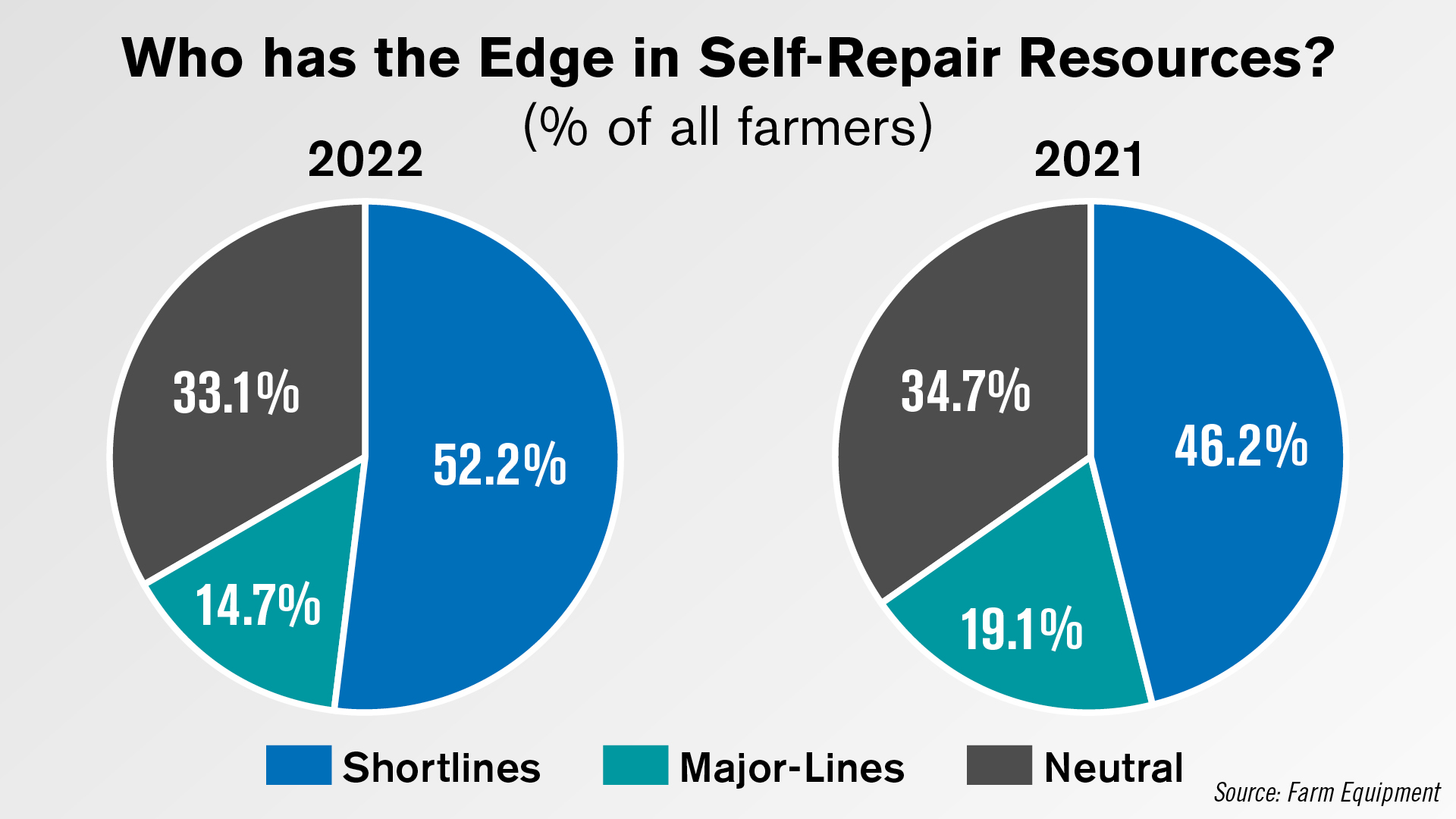 Just over 52% of farmers said shortlines have the edge this year, up from 46% last year. The percentage considering majors to have the edge in self-repair was down to 15% from 19% last year. The percentage of farmers who were neutral on the topic was down from 35% last year to 33% this year. Self-repair has been in the spotlight more than usual in 2022, with John Deere currently facing 13 lawsuits from farmers regarding right-to-repair.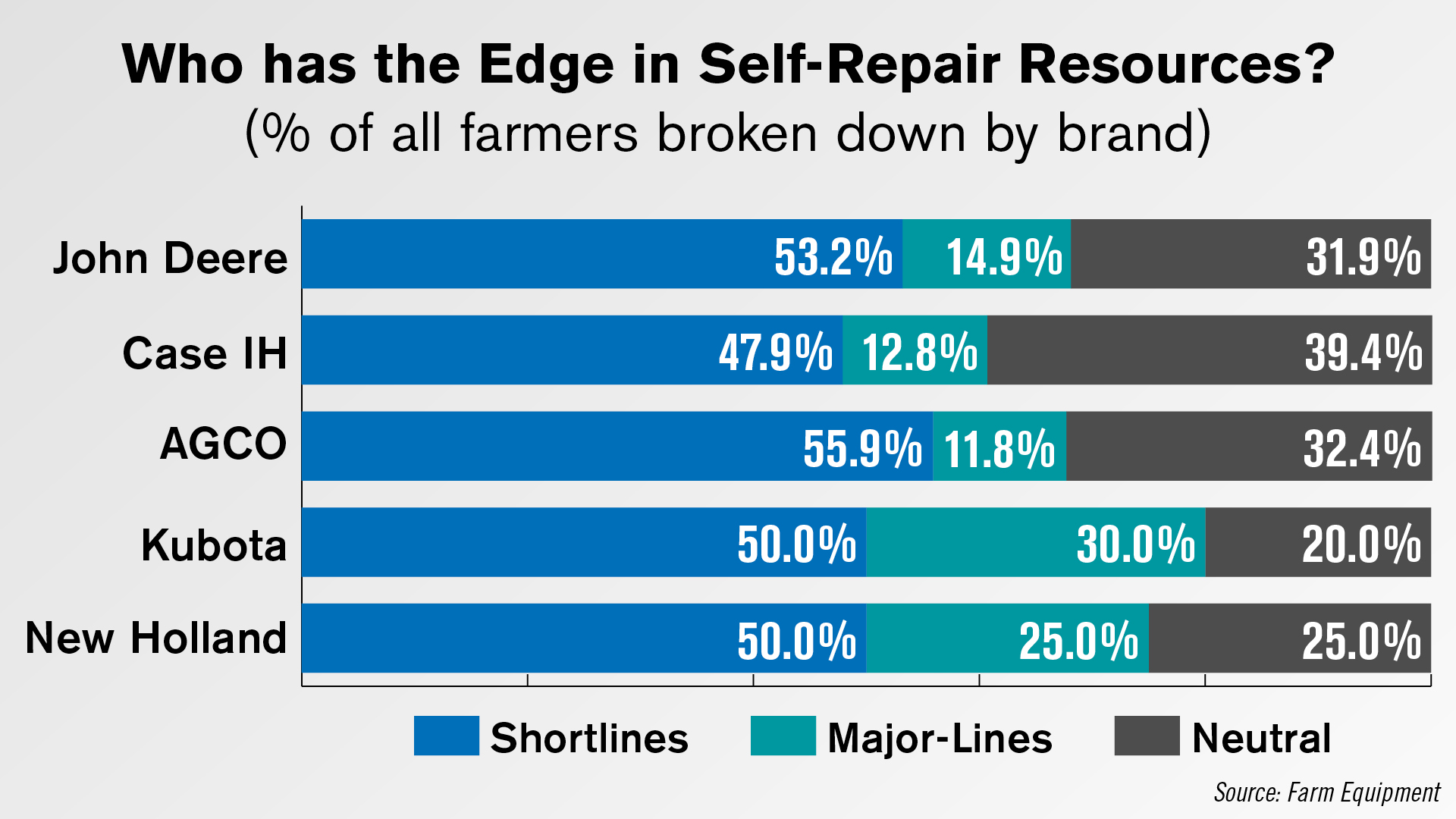 Broken down by the major-lines farmers most identify their operation with, AGCO farmers were the most likely to say shortlines have the edge in self-repair resources, with 56% picking shortlines. They were also the least likely to say majors offered better self-repair options at 12%.
John Deere farmers followed with 53% picking shortlines as having the edge in self-repair and 15% picking majors. Exactly half of all surveyed New Holland and Kubota dealers picked shortlines, with 25% of New Holland farmers and 30% of Kubota farmers picking majors.
Some 48% of farmers identifying with Case IH said shortlines have better self-repair resources, the lowest by brand, and another 13% picked major-lines.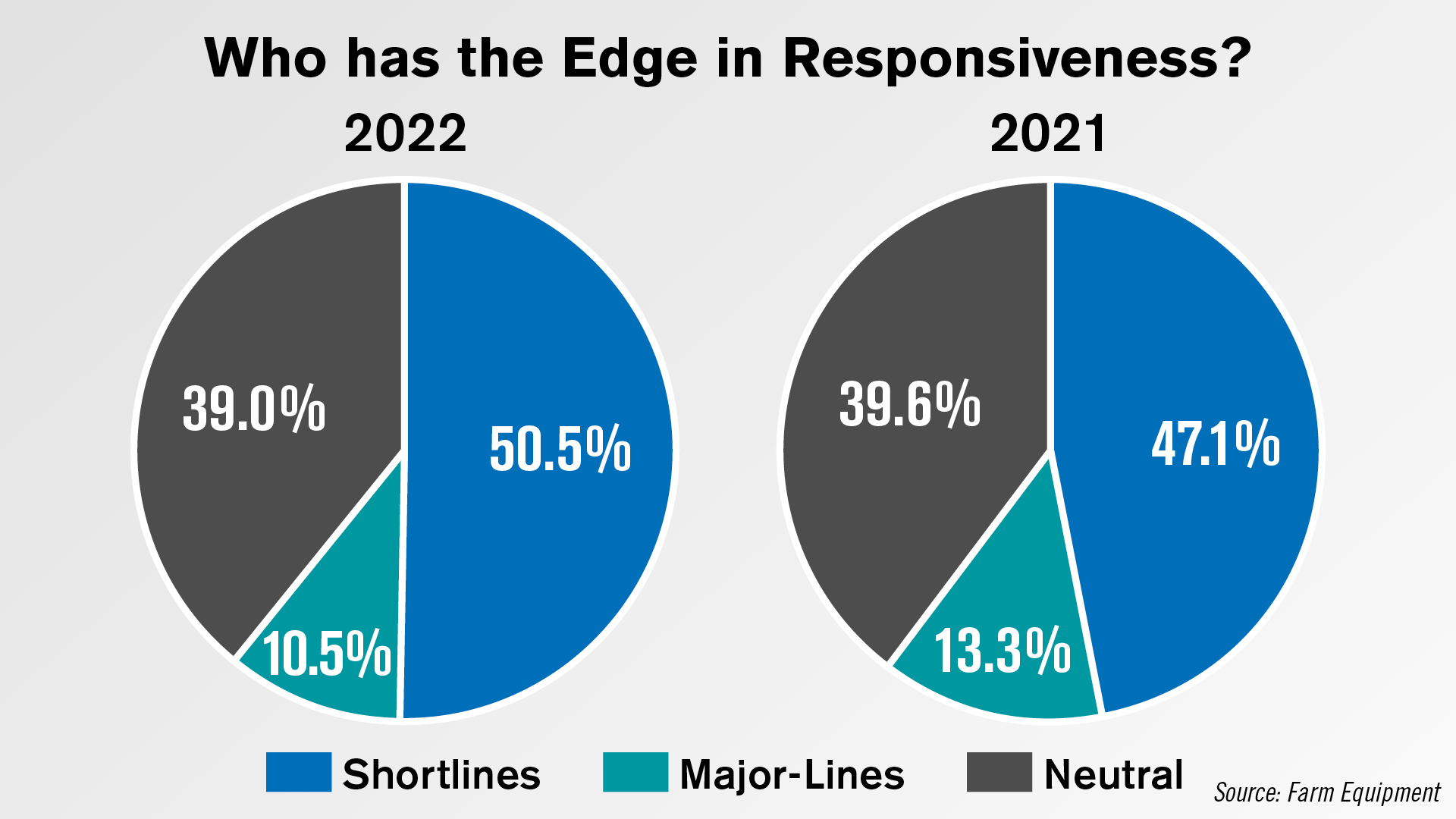 Farmers also ranked shortlines over majors in terms of their responsiveness. Just over half of surveyed farmers said shortlines had the edge in this category, above the 47% who said the same last year. Some 10% said majors had the edge in responsiveness, down from 13% last year.
Mid-Year U.S. HHP Tractor Sales Up 10%
According to the latest equipment sales numbers from the Assn. of Equipment Manufacturers, both U.S. and Canada sales for tractors over 100 horsepower were up for the first half of the year.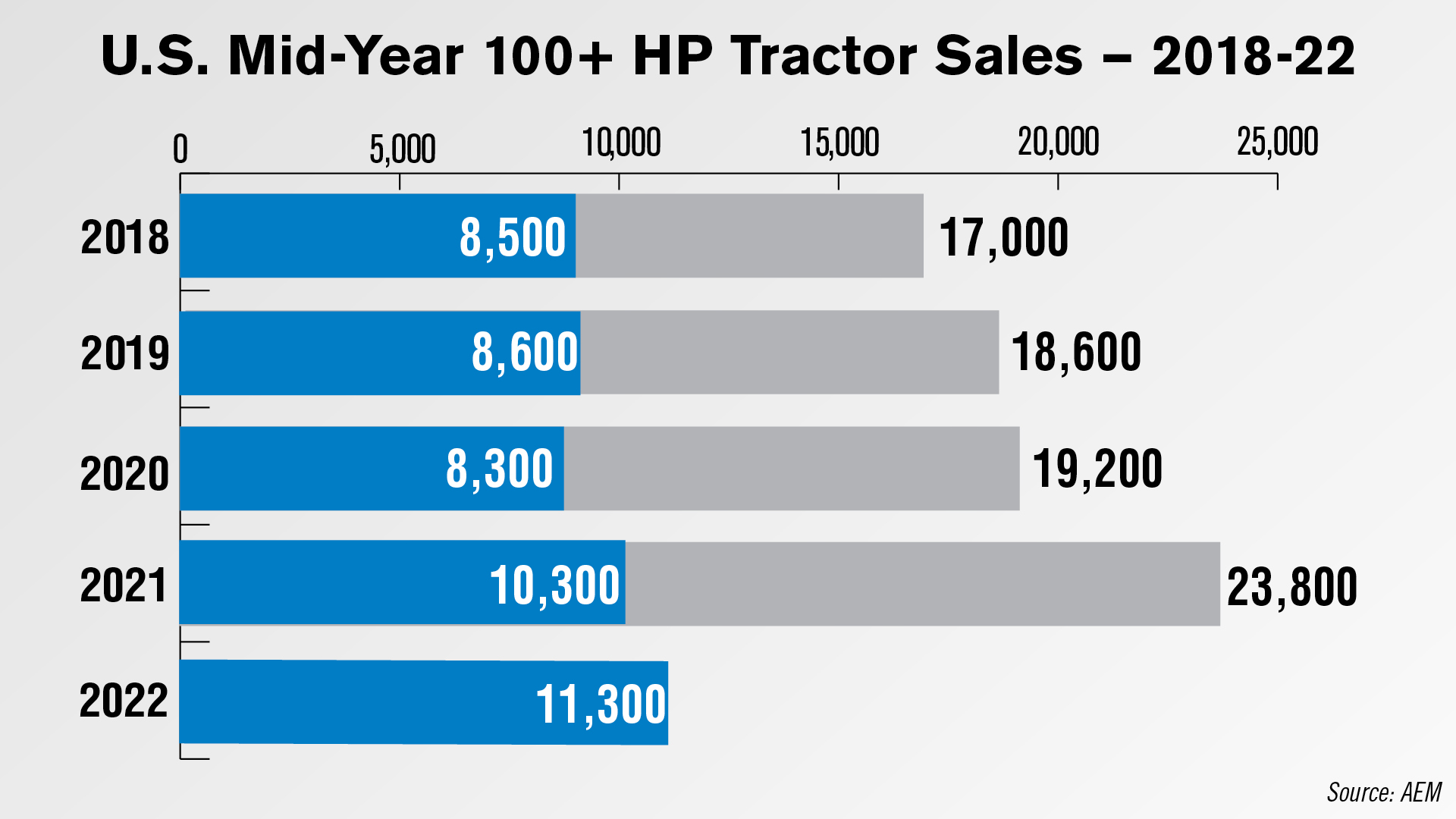 There were 11,282 tractors with over 100 horsepower sold in the U.S., a 10% increase from the 10,231 sold last year. This was the highest mid-year sales figure reported in the last 5 years.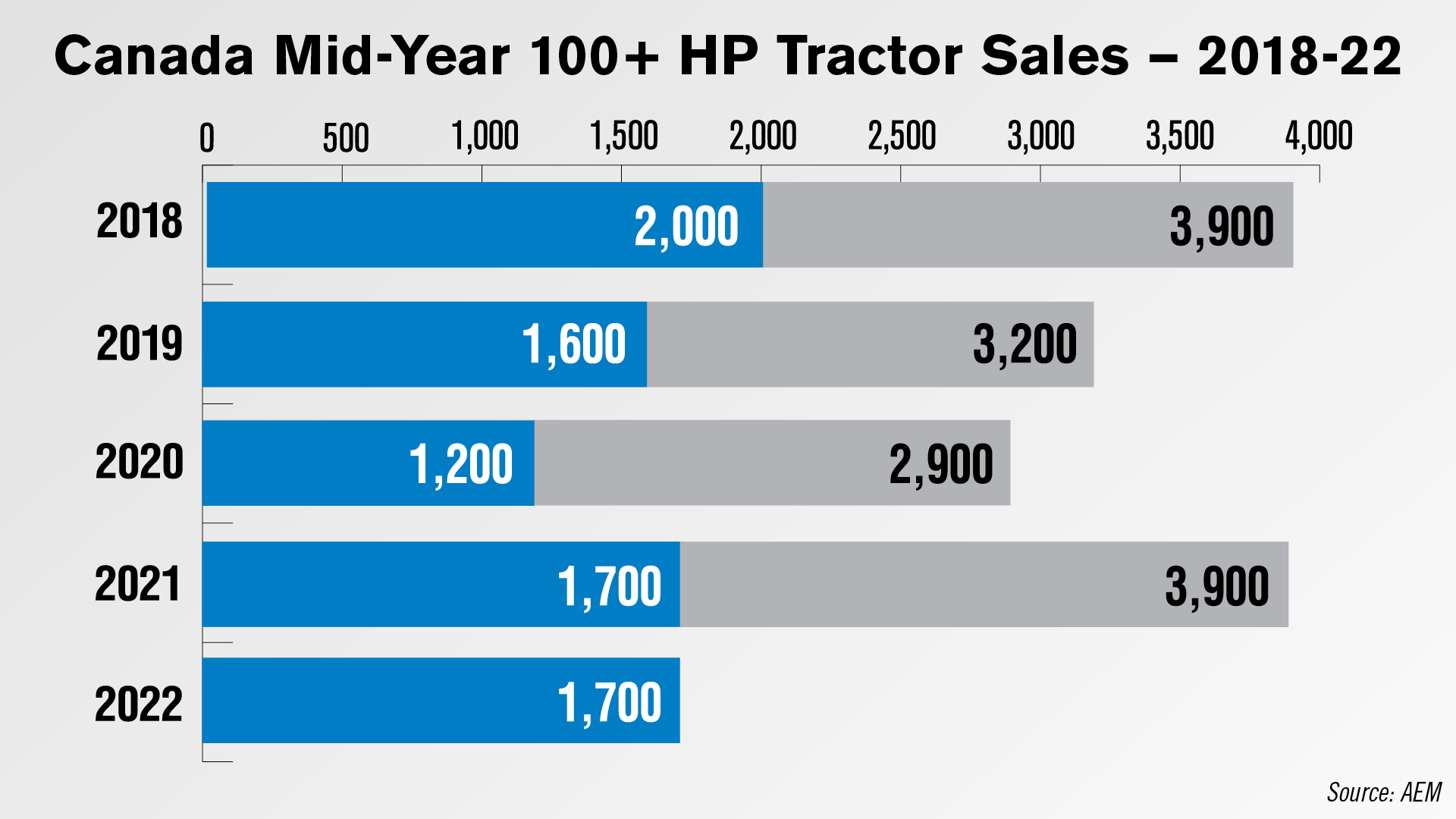 In Canada, sales came in at 1,741 units, up 2% from 1,710 the year before, the second-highest mid-year figure reported since 2018.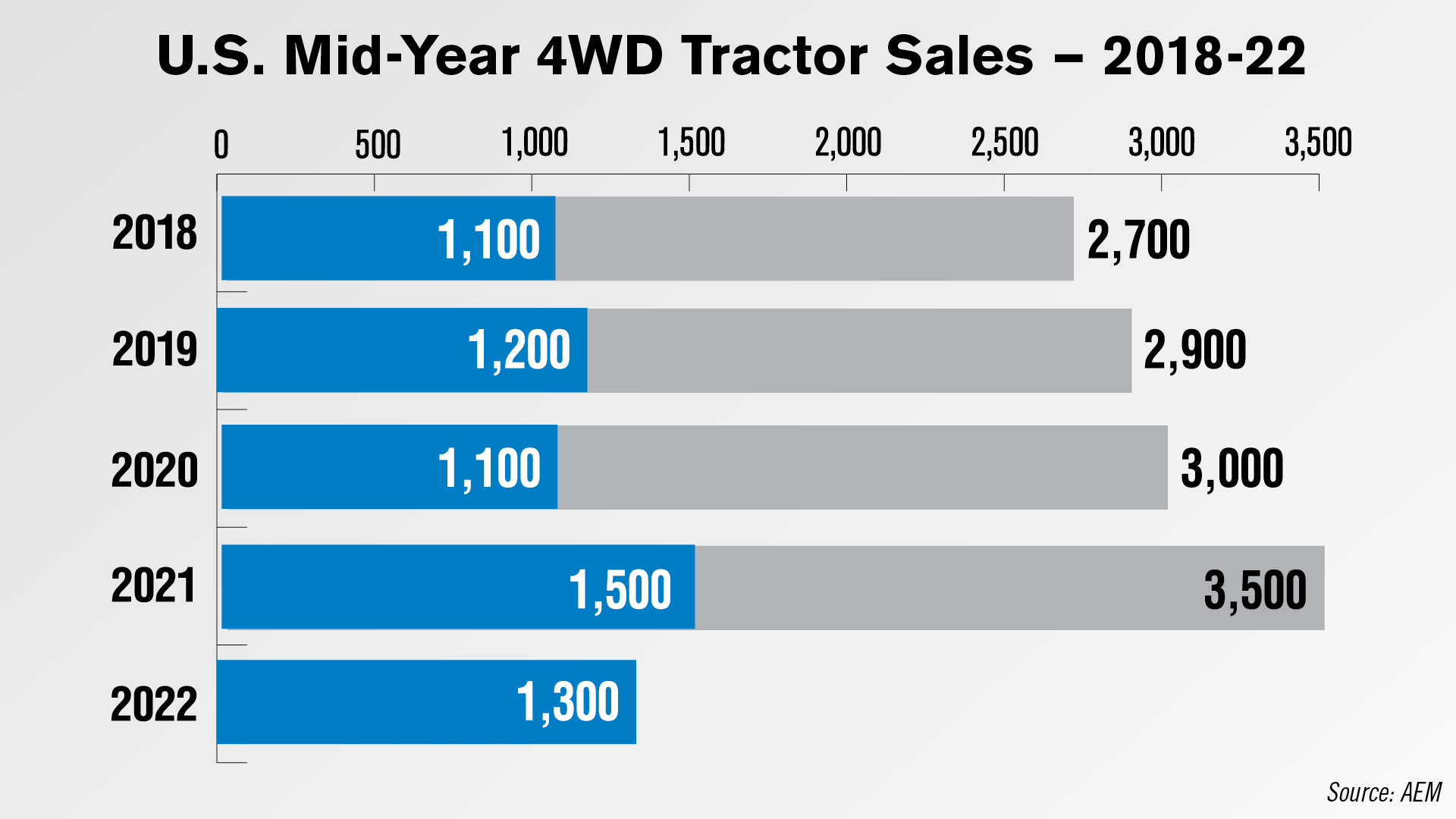 U.S. 4WD tractor sales were down 11% year-over-year to 1,286 units. This was also the second-highest mid-year sales figure out of the last 5 years.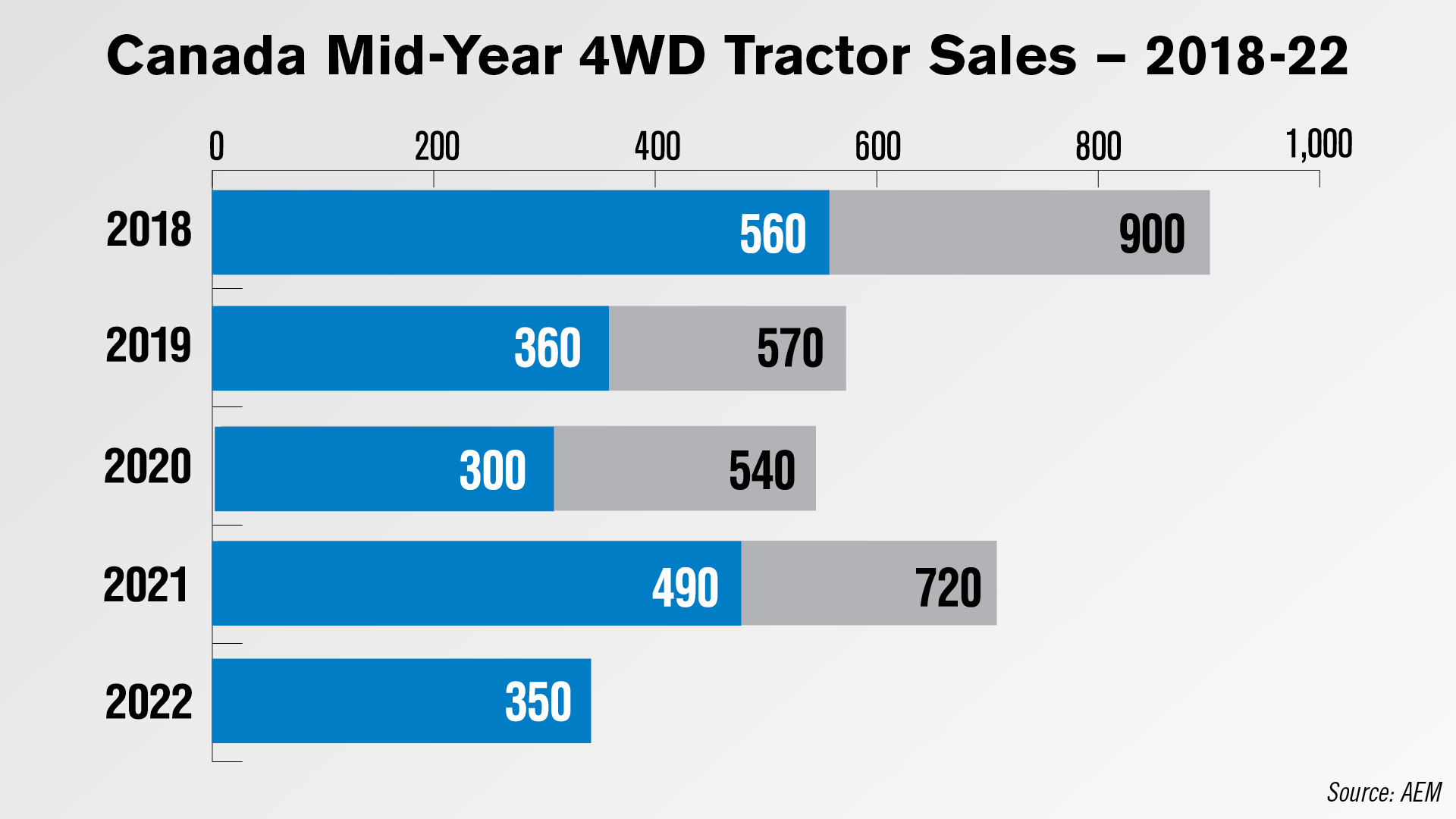 Canadian 4WD tractor sales were down 28% year-over-year to 349 units, the largest percentage decrease seen in this year's mid-year equipment sales.
All other equipment sales for the first half of 2022 were down year-over-year, including U.S. combine sales down 6% and Canadian combine sales down 16%.
---
On the Record is now available as a podcast! We encourage you to subscribe in iTunes, the Google Play Store, Soundcloud, Stitcher Radio and TuneIn Radio. Or if you have another app you use for listening to podcasts, let us know and we'll make an effort to get it listed there as well.
We're interested in getting your feedback. Please feel free to send along any suggestions or story ideas. You can send comments to kschmidt@lessitermedia.com.