What it takes to run a successful precision department or precision dealership today is different from what was required in the past — and is likely far different from what it will take to be successful in the future. Over the last 10 years, Precision Farming Dealer has recognized dealerships that have demonstrated excellence in precision sales and service as part of the Most Valuable Dealership (MVD) program. The ability to overcome adversity, adapt to change and innovate out of necessity are cornerstones of every dealership that has earned the title of MVD. 
We brought our last 3 MVDs — Jenner Precision (2022), Van Wall Equipment (2021) and RDO Equipment (2020) — together to share some of the best practices, outlook for the future and lessons learned when it comes to managing the precision department. Bryan Fehr, manager at Jenner Precision; Scott Meldrum, Integrated Solutions manager at Van Wall Equipment; and Joel Kaczynski, product specialist manager at RDO Equipment, provide their take on what's required to run a successful precision farming dealership. You can view a video of their complete discussion at www.PrecisionFarmingDealer.com/PFDSvideos.
Your three dealerships have some impressive precision revenue numbers. What did you do to reach those numbers, and how are you continuing to improve on them going forward? 
Scott Meldrum: Customer service is how we kept growing year after year. Do what you say you're going to do. I've also been lucky enough to have people on my team who have been here 6-8 years, so it's the consistency of the individual going out to the farm gate and spending time with the grower, getting to know them on a personal level that allows them to have that relationship, too. When they do ask for a recurring revenue or a brand-new technology, the customer is more open to it. 
Joel Kaczynski: For RDO Equipment, I've attributed a lot of the success to the culture of our organization and our company's core values. But specifically for the precision ag department, developing the team I oversee definitely attributed to our growth. We have set goals that align with the technology our manufacturer partners were developing as well as our customers' needs. Our package is aligned with that. 
Going forward, we are transitioning to an even deeper integration of this team into our organization. We have 3 different regions: Midwest — the Dakotas and Minnesota; Northwest – Oregon, Washington state; and Southwest – Central California and Arizona. 
Each one of those three regions is unique. We have an overall culture in our organization in regard to what we're trying to do and goals we're trying to set. Each region has their own culture that it takes to work in those regions, and each store almost has a microculture. For each store or region, you try to fit what's going to work in those regions and let them dictate what they need. 
Bryan Fehr: At Jenner, we play the Great Game of Business, and it's all open book. Our guys know every week where we're at as a company, and we look at it as we want to do a physical every month or every week and not an autopsy at the end of the year. 
The biggest thing is the service. Our two main service techs have been with us since 2014. One of our core salespeople has been with me since 2013. That consistency is what's helped us grow. Then we've got another salesperson who's come on and he's going on 3 years. Just keeping the same core is what has made us grow to where we are. 
---
"There's a lot of technology out there that may not be getting fully utilized or optimized. Let's make sure customers are utilizing everything that they currently have so we can kind of get through this…" – Scott Meldrum, Van Wall Equipment
---
Could each of you give us your No. 1 "Do" and No. 1 "Don't" to becoming successful?
Kaczynski: My No. 1 do is don't be afraid to screw up and to be humble when you do. That's how we learn. Just be willing to take risks, and don't be afraid to do that. That's how we learn. 
I have a lot of don'ts, but my No. 1 is don't come in with a preconceived notion when you're meeting with a customer or even with an employee. I think a lot of times, we have this mindset already of why you shouldn't go or what the conversation is going to look like. It's good to be prepared, but if we have some preconceived notion, you can definitely cut yourself short in any form of communication, whether it's internal or external. 
Fehr: No. 1 for me is to be true to your word. If you tell a customer that you're going to be there at 1:30, we expect you to be there at 1:30. Now, I know there are circumstances that come up that you can't be there at 1:30, but then call the farmer and let him know ahead of time. "Hey, I got tied up here. It's going to be 2 o'clock."
Does that always happen? No. But the farmer will be understanding because he understands that when you're working on equipment, it might take you longer than what you originally thought. Just keep the customer informed. We strive on that. Just be your word, and do the best you can. 
My No. 1 don't is don't overcommit or overpromise. We have 3 salespeople, including myself, and we have 3 service techs; we all have to be on the same page. Right now, I am telling all the salespeople, "If you sell something from January to March, there's no guarantee it's going to be installed for spring." If you overcommit, it will be a bad day. 
Meldrum: I think the No. 1 do, which Joel touched on, is be humble. This really focuses on the younger generation. If you go out to a grower who is 40, 50, 60 years old, yes, you know the technology like the back of your hand. Don't come off that way because you will put that grower off. Be humble. Act like you're talking to your grandparent. Don't talk down to them, but be humble. Don't come off arrogant. 
Probably the No. 1 don't, and I preach this to my team, stay off social media when it comes to work. It gets around. It's tough. I don't care what you do on your own time, but leave work off social media. 
How do you structure pricing for precision services, and why did you decide to do it this way?
Meldrum: We started probably 8 or 9 years ago, going from "for free" to "for fee." At that time, it was more just a blanket precision — I'm going to take care of you spring/summer/fall. 
---
"Don't be afraid to screw up and to be humble when you do. That's how we learn. Just be willing to take risks, and don't be afraid to do that…" – Joel Kaczynski, RDO Equipment
---
We've actually started to now split that out, whether it is a hardware support package or a data support package. We also have something that is mixed fleet if we have someone who might plant with green but they harvest with red, so we're not able to help support them as much in the fall of the year. We give them a break on it. 
It is a flat fee, it's not a per acre, it's not a per machine. But I would say 50% or more of the growers who we deal with are on some form of support package. Some of them opt to go on an hourly basis, whether that is on the data side of things, because we do charge. If you still want to print maps, I'm charging you to print maps because ink and paper are not free. They have the ability to print on their own, but if they want us to do it, we're billing for that. After the first year, they tend to want to go on some sort of a prepaid plan because there's usually a price break. 
Kaczynski: Over the years, we started out having a consistent price with an a la carte where you can pick and choose what type of services you need and have a consistent pricing across the regions. We've adapted that to meet the needs of each region and what they're looking for. 
We've also developed some packages more so toward integrating more of our other departments, like inspection by the service department, for instance. The services we provide from a precision ag perspective have some guarantees behind them. We've gone down that path as well. 
Also, the pricing is by region, too. We've had some stores that have integrated it more so in their playbook of their pricing of equipment when they sell the new equipment, where others have kept it a little more transparent with talking more about it and selling it. 
We're a little bit all over the board on that, but we've been letting each region dictate which way we're going to go with that, so we see a little bit of everything. 
Fehr: On the service side, we have two options when we sell you equipment. One, we can charge it by the hour, and we can show you how to do a couple rows or whatever you want to do, and then you can do it on your own. We pretty well know what it takes to install the stuff we sell, so we have a flat rate, and then we try to bake in an extra 5 hours. 
If a customer says, "I want to install it myself, can you help me?" Then we'll go and help them. Then at the end when we're done, we charge an extra 5 hours because we know we're going to have to support that piece of equipment. That's the biggest thing. We don't want to sell something and not support it. That's how we do that side of it. 
Then on the support side or the phone call side of it, we're like everybody else in this room. We've been messing with AgriSync. We had two different plans. We had just a basic plan that was a certain amount of phone calls and extended hours. Then we had an advanced plan where you got extended hours and phone support, then you got a discount. We'd come and do the inspections, and then we'd give you 5% off labor, 5% off parts. 
That's how we've kind of ran that. But with AgriSync going away, we're working around that to figure that out, so we're going to probably change that up a little bit this spring. 
With display, receiver and other inventory shortages, do you still project revenue growth for 2022? What are you going to do to make up for the lost revenue of hardware? 
Meldrum: In 2021, we looked at it and realized there's a lot of technology out there that may not be getting fully utilized or optimized. Let's make sure customers are utilizing everything they currently have so we can get through this. I don't know if the situation we're in is short-term, but let's make sure they're getting every bit out of every piece of equipment they currently have while we're waiting to get the latest and greatest out there. 
Kaczynski: We have been proactively trying to manage what we have of our supply and what's coming and keep enough for specific situations. We've been trying to manage it, but it is difficult because you don't know what that crystal ball looks like or what opportunities might be out there for sales, too. We don't want to cut ourselves or our customers short either. 
---
"If you sell something from January to March, there's no guarantee it's going to be installed for spring. If you overcommit, it will be a bad day…" – Bryan Fehr, Jenner Precision
---
I feel we're doing OK at managing that with what we're doing. As far as sales go, we're not concerned there. We're working it through. Just like Scott said, there's so much stuff, so many things that aren't currently being utilized today that we can approach customers on and make their operations better currently with what they have. Even if the hardware sales are going down, there's other opportunities. 
Fehr: We started in January 2021 telling customers that there's shortages. They just thought we were telling them we wanted them to buy stuff. 
I will say our first quarter with the numbers I received on Monday with what guys have got sold, our first quarter is going to be fine. During the second quarter — April and May is when we're busy in the field — we don't really sell a whole lot. It's mostly service revenue that comes in there. Then June and July, we're riding with guys. We're talking to guys now about 2023 on planters. That's where it's at. 
When the stuff comes available, it's my job to order it, and we're going to order it and then we're going to sell it. That's what we did in August. I ordered a whole bunch of stuff, and we're working our way through it. 
The biggest problem there is not ordering stuff that when this does cycle through — because it will cycle and we will be on a downturn — is not having too much. That's what I'm trying to adjust. We're ordering fall inventory from Yetter for 2022. 
What is the best change you've made to your business operations in the past 3 years? 
Kaczynski: I'll give one example. It's putting some focus on widely adopted technology, like our radio-based RTK network. It's going right about 3 years now that we really put some emphasis on that and continue to pick up more customers. It's recurring revenue.  
We structured it differently than we had it before, and it definitely has paid off. That's technology everybody can see on the horizon could be going away, yet we're definitely making the most of that. 
Fehr: Probably 5 years ago when we switched from having sales/service guys to service and sales as two different divisions. Then probably 3 years ago, tracking billable hours and having each employee have a player stat that they need to meet every quarter. They get paid commission off billable hours, so we're driving revenue on the service side. That's probably been the biggest driver on our side. 
Meldrum: Going on 3 or 4 years ago now was when we put a heavy focus on telematics or our JDLink platform, getting that on older machines, for machine health, data transmission and also the remote display capabilities. 
For the last 2 years, that has enabled us to provide the same level of service during the COVID situation, but also it increases uptime with our growers. We put a huge focus on getting as many terminals as we could in older machines or machines that were going dark. 
That's now reaping the rewards and paying dividends now that it's an uptime experience for the grower, and we can remote in. But it's also getting that data offboarded much faster, so it's in a much easier, more accessible and usable platform for the grower and the people they want to share that data with.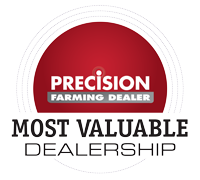 Learn More About the Most Valuable Dealership Alumni
You can find more coverage on all of Precision Farming Dealer's past Most Valuable Dealerships, view video interviews and nominate your dealership for the 2023 MVD by visiting www.PrecisionFarmingDealer.com/mvd.
Are We Entering Precision Farming Sales & Service 2.0?
3 Precision Managers Share Their Keys to Success
How to Prepare Your Dealership for Autonomy
Turning Data Into Efficiency to Boost Your Precision Business
Master Precision Management at Your Dealership
Shared Values & Vision are Vital to Maintaining Employee Engagement