By Mary Shepherd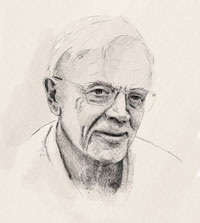 Leon Walterman
From the Wall Street Journal down to Internet chat rooms, there was a lot of buzz and speculation when Walterman Implement was shut down with no warning--at least no warning to the employees or the small Iowa community of Dike, Iowa. Coming on the heels of Case IH and CNH Capital's termination of their relationship with the dealership and the filing of an involuntary Chapter 7 bankruptcy petition, the closing on October 21 seemed to shock farmers and equipment dealers all around the country.
The buzz question was, "How could something like this happen?" After all, some chatted, Walterman Implement was known as one of Iowa's largest combine and farm equipment dealers and even had a plaque on the wall naming it the number one dealership in the U.S.--even self-proclaiming it "Combine City USA." And owner Leon Walterman wasn't new to the business. He had operated the dealership for the past 15 years, taking over from his father who had operated it for several decades prior.
CNH Capital claimed Walterman Implement had misappropriated funds and had an unpaid debt of more than $22 million. The most notorious problem seemed to be Walterman's combine leasing program, called a "combine roll," in which a farmer enters into a contract to lease a new combine each year. When the harvest is over, the farmer returns the combine to the dealership and a new one is ordered for his next year's harvest. The year-old model then goes to a second farmer, and the process continues down to other farmers who receive similarly-aged, handed-down combines annually. This process enables the first-tier farmers to get the top harvesting technology each fall by paying $15,000 to $22,000 and getting a season's use of a brand-new $200,000-plus combine. One news report said about 500 farmers traded for new combines each year at Walterman Implement--and, if true, then in the down-the-line tiers of farmers, there would be hundreds more paying annual leasing fees to get the used combines.
Other CNH Capital charges claim that Walterman had never deposited the farmers' deposits into escrow that was to be held by CNH Capital, that some equipment was double financed and that Leon Walterman had recently transferred more than $400,000 to himself and other third parties. Whatever the truth and circumstances of the case, the outcome will be watched closely by farmers, dealers and manufacturers.
Media statements released by Case IH and CNH Capital on October 21 and November 3 recapped the situation. "We can't say any more than that because the case has just been filed," Ritch Anderson, Corporate Communications, told Implement & Tractor. "We can only state the facts which are in the petition before the court."
Larry Adams, Director of Regional Sales for Case IH, announced on November 3 that Titan Machinery, a large Case IH dealership, would be the company's agent in operating the dealership and handle equipment new purchases, financing, parts and repair services as part of Titan's business operations. Many of the dealership's employees displaced by the bankruptcy have been retained by Titan.
The company's news release said "Our top priority is to continue to meet the needs of affected customers ... we will support their equipment, parts, service and financing requirements."
The Walterman Implement sign has been taken down. There is no more Walterman Implement.
For more on Farm Equipment's coverage of Walterman Implement and the fallout of the 2005 bankruptcy and resulting charges, click here