Zach Hetterick wants more people to focus on leadership development within their organization.
"There is no secret to developing people," says Hetterick, founder of the management consulting firm Harvesting Potential and former CEO of Case IH dealer Redline Equipment. "It's a process. Developing teams and people is a journey, not a destination. It's taking management skills and transitioning them to leadership skills."
Hetterick knows that in an industry with a heavy focus on specific positions like service managers, parts managers and regional manager, it can be easy for dealership owners to get caught up in training employees to successfully execute the responsibilities of their role, rather than developing their leadership skills.
"When we focus on management, we're really focusing on the production of something — labor hours, selling capital goods, selling parts, precision technology," Hetterick says. "We focus on the skills it takes to do that. We focus on our metrics and our KPIs. We all have them, and they're all very important. That's our guiding light when we're developing our managers."
Although Hetterick understands the importance of that training — and the role it plays in ensuring consistency across an organization — he notes that it's crucial to also create a culture of leadership. Hetterick believes that process begins and ends with an emphasis on individual development.
Dealer Takeaways
While it's important to develop leaders who work toward a central goal or vision and create clear plans to achieve that goal, it is equally important to develop individuals who are flexible when a plan doesn't work out.
Coaching, mentoring and managing are 3 different things with 3 different outcomes. Managing is task based and focused on the day-to-day. Coaching is more performance based and works in the short-term. Mentoring is knowledge and experience based and is a long-term method of development.
Leaders don't need to have all the answers for their employees. Develop leaders who will empower their employees by trusting them to solve problems on their own.
"Development has to be woven into the fabric of our organization," he says. "That means it's not something we just do, it's something we live. It's something that starts at the bottom and works its way up, and it starts at the top and works its way down. 
"We have to have a culture of development." As part of that culture, Hetterick emphasizes the importance of developing leaders who embrace change. He says it's necessary that leaders not only define what the change is but explain it in a way that invites buy-in from other employees.
"That's a developed skill," Hetterick says. "That's not something you wake up and know how to do. You develop that, and there's a process."
Comfort with taking risks is also something Hetterick wants to develop in leaders, as well as an ability to reflect on what was learned from taking those risks. 
"Having a culture of risk taking is very important," he says. "Otherwise, they focus in on just the management aspect of what happens every day."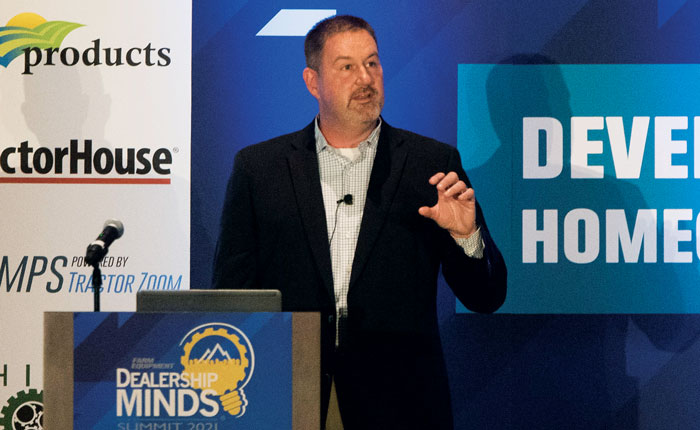 Zach Hetterick, former dealer executive and founder of Harvesting Potential, stresses the importance of developing a culture of risk taking within the dealership.
Increased Empowerment Yields Increased Results
While many novice leaders believe they should have all the answers for their employees, Hetterick says the opposite is true. In fact, he encourages dealers to develop leaders who are eager to empower their employees by trusting them to solve problems on their own. Hetterick has seen the benefits of this approach firsthand.
"I had a young departmental manager at one of my locations early on," he says. Hetterick told the manager he would come in twice a week to oversee things until a general manager was hired, but the departmental manager was unsure about carrying that level of responsibility on the days Hetterick was away. "I asked him to prioritize what he would need from me — immediate needs were an A priority, B priorities could wait until I was at the location on Tuesday or Friday, and C level issues weren't extremely significant."
Hetterick says that, while he initially spent a few weeks fielding daily phone calls from the anxious manager about A-level priorities, over time that manager became more confident and was empowered to take ownership over those issues.
"I learned if I continued to give him the answers and think for him, he would continue to take the answers and make the actions," he says. "But by allowing him to work through the answers and find the solutions, he became a great leader."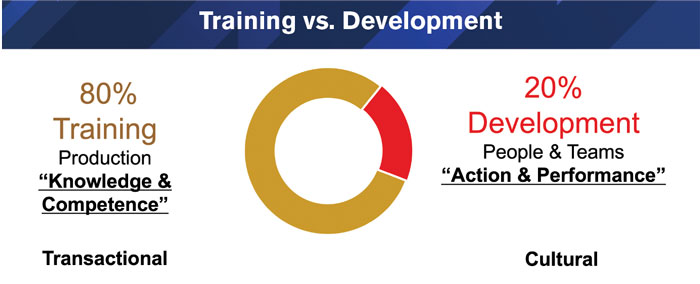 Zach Hetterick says training focuses on knowledge and competence and is more transactional. Development, on the other hand, focuses on action and performance and is cultural. The above ratios are from a publicly traded company he did some work with. "If training is about production, the knowledge and competence to do each one of the roles, and development is about the people, can we shift ourselves to have a culture of development and training? It doesn't matter if it's 90/10 or 95/5. Can I shift my culture to a culture of development?" he says.
According to Hetterick, it's also crucial that, when dealerships are developing their people, they challenge them to have a vision for their department — even if it creates an initial push back.
"When you really challenge people to have a vision, they can get frustrated," he says. "Most people have never thought about where they're taking their service department or their parts department. It's not about getting out of bounds of the company vision — it's challenging them to think about what they want the customer to experience. 
"Once everyone learns their contribution, their impact and where they fit, they get behind the vision of that department and become more influential over what happens."
Hetterick says the ability to plan goes hand-in-hand with having a vision.
"When you're developing people, you've got to challenge them to have a plan and you've got to reinforce that plan," he says. "They'll ask you what the plan is. Challenging them to take that department or take that on a journey is one of those more significant challenges you have in developing people because it will frustrate them." 
One way to combat that frustration, Hetterick says, is by giving appropriate encouragement to employees. 
"We all want encouragement," he says. "It's something we need to teach how to give. Developing employees is going to require encouragement."
Although Hetterick says it's important to develop leaders who work toward a central vision — and who create a clear plan to achieve that goal — he also wants leaders to possess flexibility when things don't follow the script.
"We're bringing up homegrown talent and people that have never led," Hetterick says. "Problems are going to be lined up for them. Whatever that problem is, they've got to have agility to realize they might have laid out the best plan for that day and it's just not going to work out. Unless we coach them on that and teach them to steer around a situation that they're in, it will just frustrate them, and you may end up losing them."
The Power of Mentorships
Hetterick says mentorships are one of the more successful strategies for developing leaders within an organization.
"Mentoring is one of the most powerful development tools in an organization if used effectively," he says. "Mentorship is the process of using knowledge and experience to grow people inside your organization. You use a seasoned service manager that's a cultural leader in your company to mentor the newer service manager, the newer salesperson. It's really about [the mentor's] journey to success, and they use real-life examples. 
"It tends to be much more advisory. It should be a little less formal and less structured."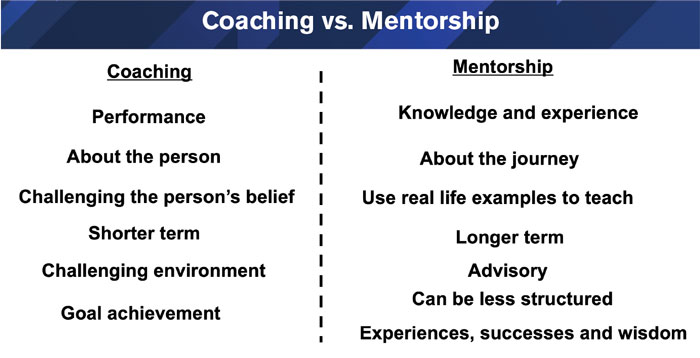 Coaching and mentorship are both effective in developing leaders, but have different goals and outcomes. Coaching is more short-term and zeros in on the person and their performance. Mentoring is long-term and focuses on experiences.
Each mentorship relationship is different, Hetterick says. Some mentors meet weekly with their mentees; some meet monthly, quarterly or even yearly. 
The relationship "can last a long period of time," he says. "But it has to be intentional. It's not something that just happens."
Hetterick cautions dealers who are interested in developing mentorships to set aside time before beginning the process to work with the mentors and determine how the process will work. This way, he says, those people can go into the mentorship prepared to cultivate an effective relationship. Hetterick also recommends pairing mentors with employees who aren't direct reports.
"It's much more effective to mentor people who don't work for you because they'll show vulnerability and opportunity," he says.
It's also important to cultivate an atmosphere in which both the mentor and mentee derive benefits from the relationship, Hetterick says.
"Nothing frustrates you more when you're a mentor than when the other person shows up and says, 'Teach me something'," he says. Hetterick suggests establishing a meeting structure in which the mentee brings 3 things they're working on, and the mentor brings 3 things they think the mentor should know. Another strategy is asking the mentee to come to the meeting prepared to discuss a big challenge they're facing.
---
"You can't want it more than the person you're coaching. You want the success, you want the growth, you want them to get to the next level. But you're pushing them. That's the hardest thing to accept…"
---
"You want something you can work with because that's how you transfer wisdom," Hetterick says. "It can be very powerful."
Hetterick reminds owners who are considering introducing mentorships to their organization that it's a big commitment. He says they should be prepared to stick with this new leadership development approach for the long haul.
"If you're going to engage in mentorship programs inside your organization, don't make them the season of the day," he says. "Make sure to put the time and resources into mentorships and stay with them. Because nothing will frustrate people more than that flavor of the season — something that just happened and then we forgot about it." 
Boost Performance Levels Through Coaching
Another approach to leadership development that Hetterick utilizes is coaching. He says it's a method of leadership development that is much more heavily focused on an individual's performance.
"When you coach a person, you're challenging that person's beliefs," he says. "You're challenging that salesperson to believe they've got more potential. It tends to be shorter term. It's ultimately about achieving a goal."
A key aspect of coaching, he says, is obtaining permission from the employee before beginning to coach them.
"If I ask for permission, they're less likely to build a wall," he says. "If they give you permission, they've opened the gate for you to challenge them. If not, you're managing them."
It's also key that the employee being coached wants to improve and succeed, Hetterick says. Otherwise, you risk creating an environment that's frustrating for everyone involved.
"You can't want it more than the person you're coaching," he says. "You want the success, you want the growth, you want them to get to the next level. But you're pushing them. That's the hardest thing to accept — that you're going to just frustrate yourself. You'll frustrate them, but you'll also frustrate yourself." 
Although mentorships and coaching are more universally embraced approaches to leadership development, Hetterick also advises some organizations to consider a less commonplace strategy called peer development groups. This method involves bringing together a small group of leaders from throughout the company to conduct what Hetterick calls observational learning.
"We focused on bringing in all facets of people — leaders who had a year or 2 under their belt or were new, and some who had 15 years," he says. "The observational learning technique means you teach a lesson, and they go back to their respective location and implement it. Then they come back the following week and talk about what they learned with the group."
Hetterick acknowledges that this approach won't work for everyone, and some people may be uncomfortable with this type of leadership development. However, he believes it can have a huge impact on those with whom it resonates.
"It's an amazing experience," he says. "They seem to grow courage right in front of you. They learn that they're all facing the same challenges, and the same opportunities, and they start to share best practices."
Not only that, but Hetterick says he's found that conducting these peer development groups serves to unify the organization.
"If you're a senior leader who facilitates those [groups], it connects you with the organization," he says. "It allows you to influence people at the bottom that may never get to know you, but they get an opportunity to learn from you. It's a very powerful tool."
Hetterick knows it can be daunting for organizations to shift their focus from exclusively training employees to dividing time between management training and leadership development. However, he stresses that the payoff is worth the time invested.
"The key to development is just time," he says. "It's not necessarily an investment in money — it's an investment in time. 
"I challenge you, as you think about how you're going to develop your people, no matter how you do it, to ask yourself — are you willing to put in the time? Because it's more of an investment in time than it ever will be financial resources."    
Facing Reality: Dealers Must Develop Their Own Home-Grown Talent
Why Executives Should Train the Next Generation of Leader
Developing Leaders Takes Time but Yields Big Results
How to Identify, Develop & Retain Your Dealership's Next Generation of Leaders
Leadership Development Must Be Proactive
College Recruitment Programs Help Alleviate Hiring Crunch