---
Pictured Above: Montag Manufacturing's Emmettsburg, Iowa, headquarters includes the firm's original 60X40 farm shop where Roger Montag developed a metering system for precision dry-fertilizer banding in the 1980s. The technology led to the rapidly-growing company's current leadership status in applicator technology.
---
Anthony Montag, CEO of Montag Mfg. Inc., is convinced agriculture offers the solution to many of the public's environmental concerns about soil and water quality, and says a growing number of farmers are eagerly changing their methods to do their part. In fact, he says his company's premier applicator model line is the direct result of listening to those farmers.
Montag Mfg. got its start in the 1980s when Anthony's father, Roger Montag, developed a simple, reliable metering system to accurately band dry fertilizer. By 1986 Roger and then-partners Michael McNeal and Ken Clark started NewMatics, which developed a complete dry-banding solution using the meter and worked with several original equipment manufacturers (OEM) who incorporated the concepts.
"The company grew rapidly, and by the 1990s it was apparent it needed investors to grow," Anthony Montag explains. "In 1993 NewMatics was sold to interests from the automotive industry. They didn't develop complete systems, but rather sold just metering systems to OEMs, and my father continued working for them. We built parts and components in our 60X40 farm shop as a contractor for NewMatics."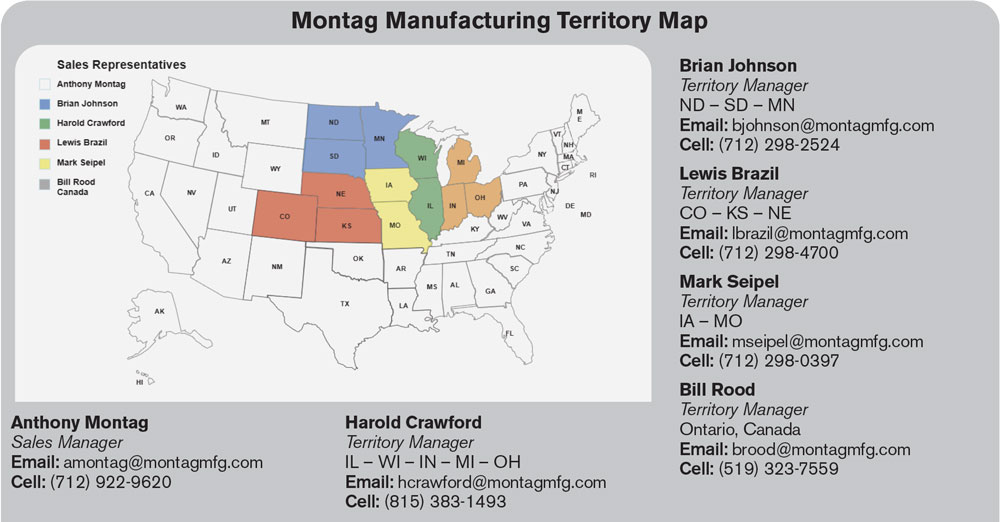 Meanwhile, by 2000, Montag says the family began seeing opportunities for a more technological approach to banding and were developing a steerable cart and poly-tank system that eliminated traditional ground-wheel drives and made the machine capable of being a GPS-driven platform. 
"We developed that technology on our own, apart from NewMatics, and by January 2005 we incorporated as Montag Mfg. Inc.," Montag explains. "The first unit we sold as a company was a 9-ton, 24-row machine a Nebraska farmer wanted to pull behind his White planter.  That was in April and he planted with it that same year." 
Montag recalls the machine performed well and spawned almost immediate interest in dealers who wanted to market the machines. 
---
"It's fun to see our products involved in making a difference in agriculture and overall water quality for rural and urban populations…"
---
"Over the next several years we saw 400% growth and continually added dealers as word spread about our products and growers saw our displays at local and regional farm shows," Montag says. "The dealer interest and sales growth continued until the economic slump of 2008-09, when we saw a very scary 20% drop in sales in one year."
Turning Point
"By 2010, however, we'd weathered that storm through conservative business practices and saw an important turning point in our business when Kuhn-Krause came to us and wanted to pair our product with their new Gladiator strip-till machine," Montag explains. "They were the first big OEM to come to us, and that was a real boost to a company that was only 5 years old. It was truly a turning point for us."
Product Portfolio
In addition to the company's legacy auto-steer liquid and dry fertilizer application carts, the Montag portfolio also includes the proven Gen I stainless-steel fertilizer metering system for deep banding dry fertilizer.
The Gen II fertilizer system maintains nearly all of the features of the Gen I system but provides the ability to add rows and configure drives for increased flexibility with changing farm sizes and practices. 
The Gen II – 2108 is a single-tank metering system which can be used for VR cover crop or fertilizer application at rates of up to 500 pounds. per acre at 5 mph. 
The Gen II – 2208, like the larger 2218, both twin-tank machines, can be used for VR cover crop and/or fertilizer application at rates of up to 800 pounds. per acre at 5 mph.
The Fortifier – 2212 is a Montag Gen II delivery system built for Hagie STS-10 and STS-12 applicator models. The system features ISOBUS rate control, twin commodity bins and boom widths from 90 to 120-feet.
The liquid fertilizer system is designed for banding liquid nutrients and consists of the Montag Auto-Steer cart with the proper-sized liquid tank and can be used in planting, tillage and side-dress operations.
With the Kuhn-Krause collaboration, Montag Mfg. began evolving from its early core roots as a manufacturer only to a company more focused on developing products.
"By 2012 we realized we had developed what is known as the Gen I technology to the point we needed to ask what's the next step?" Montag recalls. "We had a lengthy meeting of listing and discussing what our customers were telling us they wanted, what were the paying points for dealers, what were the paying points in the market, and we discussed what the next metering system would look like.
"We literally listed the input from our customers and dealers on a white board as objectives and started developing what controls would be needed to build a machine to accomplish those goals," he says. "Ultimately, we got 90% of it included as we crafted a completely different metering system that is the heart of our Gen II line of equipment. That system has been the focus of our company since 2015."
The latest iteration of Gen II technology is the company's Gen II-2208, a metering system capable of being used for GPS-based Variable Rate (VR) cover crop seeding or fertilizer application — or a combination of the two. It's available in 60- or 100-cubic foot tank capacity and can apply up to 800 pounds per acre at 5 mph.
Montag's legacy Generation I fertilizer banding system is exemplified by this 6-ton applicator running behind a Kuhn-Krause Gladiator strip-till machine. Kuhn-Krause collaborated with Montag for the tool combination in 2010.
"Montag Mfg. engaged the cover crop aspect of agriculture because of our belief in building soil quality and soil health," Montag explains. "Before the Gen II was developed, I had become aware of the need to address soil health because of visits to farms which had no soil structure remaining after years of repeated deep tillage and soil disturbance. It put me on a path to learn more about the benefits of improved soil organic matter levels and the importance of biology and diverse crop rotations.
"We had made our name in proper and accurate nutrient application and helped farmers with that aspect of soil health, but as important as fertilizer placement is, it's not the total answer to fix soil quality problems.
"Growers need to be doing less tillage to preserve soil structure, and the only way to do that is to intentionally and intensively grow cover crops," he explains. "I firmly believe we have to do all we can to build soil organic matter to improve a living biology in our farm fields.
When the Gen II system was unveiled, Montag knew it would be a good fit for growers wanting gentle and accurate seed handling for cover crops. 
"This reliable, integrated system allows growers to use technology from the tractor cab to VR-apply fertilizer and cover crop seeds simultaneously based on field maps of soil types and yield potential," he explains. "For instance, it can change rates between small grains and brassicas based on whether planting is being done on heavier, more-productive soils, or lighter hilltop soils and where a grower wants to build carbon, or scavenge nutrients. All this can be done on-the-go in real time with Gen II."
When Montag's Generation II metering system was released in 2015, John Deere included it for its 2660 VT machine. The system offers the ability for VR application of fertilizer and/or cover-crop seed.
Eager to address various soil quality challenges, Montag Mfg. entered a partnership with Hagie Mfg. to adapt the Gen II technology to build a cover-crop system to fit the STS10 and STS12 Hagie high-boy platforms under the Fortifier model name.
"Our Fortifier – 2212 is based on a 12-row, twin-bin design of industry-leading capacity with an integrated scale and ISOBUS rate control, and a 90- or 120-foot hybrid boom that provides unmatched row-to-row accuracy," Montag explains. 
"Nine of these machines are currently running in Kansas as part of an EPA-funded grant project to prevent nutrient runoff in sensitive watersheds," he says. "It's fun to see our products involved in making a difference in agriculture and overall water quality for rural and urban populations. As we've evolved as a company, our product development is increasingly being focused on those goals."
Since the Gen II line was introduced, Montag says he's become more convinced agriculture is the solution to water quality challenges, and holds the ability — through proper management of soils — to clean both surface and groundwater resources. 
The Fortifier system was designed from the ground up to provide accurate nutrient and cover-crop seed application with Gen II technology mounted on Hagie's STS-10 and STS-12 high-boy machines.
"With proper soil building and armoring the soil with cover crops we can preserve more water for crop production and reduce large runoff and erosion problems," he explains. "Agriculture's fields can also become large buffers for improved flood control."
Going Global
Montag says the company's sales footprint is heavily represented in the U.S. Corn Belt, but has machines operating worldwide. Six U.S. territory sales managers (See p. 35 for contacts and territory boundaries) oversee domestic sales, backed up by distributors in South Africa, Ukraine and Russia.
"We have a very strong dealer network, but if others approach us and are willing to service the needs of our customers and service our equipment, we'd welcome them with open arms," Montag says. For more information on becoming a Montag dealer, he suggests visiting with the closest territory manager.
The 16-year-old company has 35 employees — 8 of whom are Montags, including founder, Roger Montag — and is headquartered in Emmetsburg, Iowa, with a smaller parts distribution and manufacturing facility in Milford, Neb.