---
Pictured Above: Stephanie Schulz, aftermarket manager, believes Shoppa's Farm Supply's online ordering system is the future of the parts department's growth, particularly when getting maintenance parts to larger customers.
---
Technology in the parts department plays an integral role in the efficiency of a dealership's aftermarket services. Considering how crucial the ability to quickly and easily understand parts inventory is, the search for the right parts inventory system can be daunting. 
Shoppa's Farm Supply, an 8-store John Deere dealership based in Texas, after watching the parts inventory system marketplace for some time, decided on John Deere's Prism system for their locations. Based on Deere's EQUIP business system and used in coordination with Deere's Dealer Parts Management (DPM) system, Shoppa's found this system brought more to the table that fit their operation.
"We've chosen to stay with John Deere as far as our business system is concerned, as well as our parts inventory system," says Stephanie Schulz, aftermarket manager. "We use EQUIP and, in 2014, we decided to join Dealer Parts Management because we were intrigued by their Prism system. Prism is used to better manage our day-to-day inventory usage and gives up more flexibility in how, when and what we stock."
Deere defines its Dealer Parts Management system as "leading dealers in optimizing their fill to customers and overall parts business profitability through a combination of collaboration, best parts management practices, innovative tools and techniques and creating an environment of mutual accountability, and elevating the role of our analysts to Trusted Dealer Advisors." Prism is defined as "a world class replenishment platform that integrates dealer business systems with JDPoint to streamline parts management activities."
Considering Options, Requirements
Schulz joined Shoppa's in 2010, right as the company was considering its options in switching from its then unix-based system. She said, as a Deere dealer, the integration that came with working in a Deere inventory system trumped the benefits other third-party systems might have brought them.
One reason Schulz says Shoppa's began looking at new systems was the need to replace the loss of more veteran staff that they knew was coming.
---
"We visited other dealers and sat down to watch them use their parts systems, which I think is the best testimonial you can get…" – Stephanie Schulz
---
"Seeing what Prism could do through demos was a big selling point for us," she says. "For me, part of it was looking at some of our 40-plus year employees, and asking myself, 'How are we going to move forward once they retire?'"
When considering switching their parts inventory system, Schulz says it needed to work seamlessly with their multi-store model. "We don't look at our stores as individual inventories, for us it's all one inventory," she says. "We're capable enough with our trucks to get any parts where they need to go."
She adds that the modern parts inventory system needs to support the growth of a dealership and align itself with a mission to grow the aftermarket business.
"We are not interested in standing still," Schulz says. "We need to sell more parts this year than we did last year, and that means we need to utilize our inventory the best we can. We need to utilize our dollars through things like returning surplus to keep our margins where they need to be."
Working with a Parts Inventory Analyst
One benefit Shoppa's John Deere inventory system brings is the ability to work with an outside analyst from Deere, which Stephanie Schulz, aftermarket manager, says supports work Leonard Leopold, parts inventory manager and father to Greg Leopold, parts inventory manager in training, had been doing for years.
"As a part of the Dealer Parts Management program, we were assigned an analyst who helps us identify trends in how we sell and stock parts," she says. "Leonard was doing all the analysis of our inventory for a long time, but we've had a lot of success getting assistance from someone on the outside who we can bounce ideas off of. She notices indicators that we might not see bogged down in the day-to-day."
One point Schulz makes is that their John Deere DPM Analyst, Christy Stearns, prioritizes the dealership's goals and doesn't push Deere's parts goals on their parts teams. Stearns will often compare Shoppa's parts sales year-over-year to find areas that need attention.
"We have monthly calls with Stearns where we cover different topics," says Leonard. "She'll break down our numbers in different parts categories and show where we are in relation to our goals, then work with us to reach them."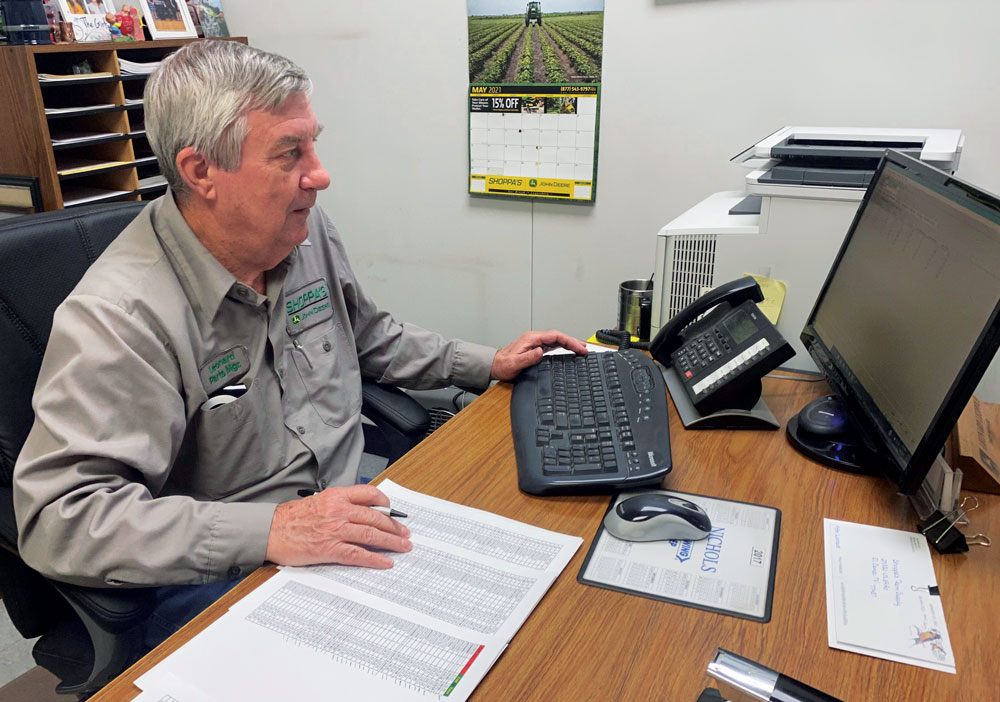 Leonard Leopold, parts inventory manager, says working with an outside parts analyst lets Shoppa's focus on the important day-to-day tasks, then meet once a month to examine their year-over-year selling and stocking trends.
Greg Leopold, parts inventory manager in-training, emphasizes integration when picturing his ideal parts inventory system, remembering unhappily having to working with 3-plus programs at his previous job.
"Sometimes businesses have systems that are set up with 3-4 programs at a time, all exchanging data," he says. "It benefits everybody to have only one program where you get information, and it keeps you from having to train every employee for multiple workstations."
Schulz recommends dealers looking at implementing a new parts inventory system start by viewing demonstrations from multiple companies and running their systems through hypothetical scenarios, something she says Shoppa's did for years before making a decision. She also recommends dealers consult with other dealers in their area and ask about their parts inventory systems. "Another huge help is talking to other dealers who are using a system that you're considering," she says. "We visited other dealers and sat down to watch them use their parts systems, which I think is the best testimonial you can get."
Hurdles with Implementation
When it comes to implementing a new parts inventory system, Schulz says one pain point that comes up is former "experts" feeling disenfranchised by the learning curve.
"When you switch to a new system, those employees that have been here the longest will suddenly have to learn a whole new way to work," she says. "They were experts in the previous system, and they'll take a lot of pride in that. Then suddenly the person who started 6 months ago knows just as much as they do about the software, and that can be intimidating.
---
"You can overwhelm yourself with the latest system that isn't driving anything to your bottom line…" – Stephanie Schulz
---
"It's great to see newer employees giving tips to the older guys on how to use the system efficiently. You know you're getting somewhere when the new and old guys are sharing and talking with each other."
She says it's important to have staff all continue to consider themselves parts experts, even if they're operating in a new system. 
Schulz adds that it's important for dealers to analyze their options and only adopt technology that will benefit their business and not necessarily take every option they have. She considers Shoppa's not technically on the "cutting edge," as they'll often pass on new technology offerings that they feel don't fit their business.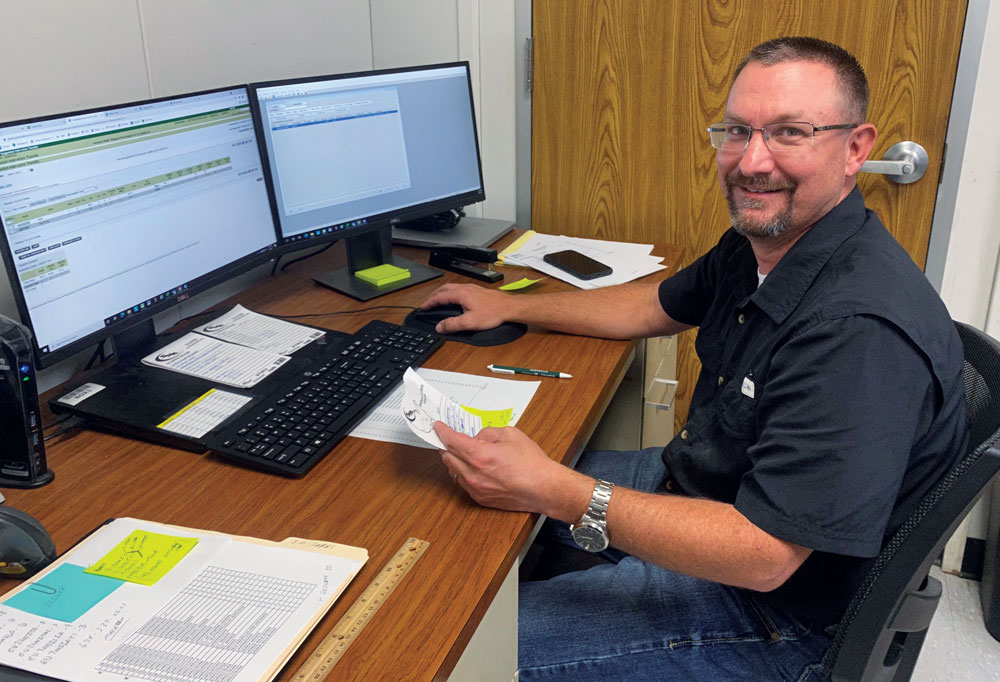 When choosing a parts inventory system, Greg Leopold, parts inventory manager in-training for Shoppa's Farm Supply, looks for integration, avoiding the need to know and work in more than one system within the parts department.
"There's a lot of cool stuff out there and a lot of programs, including from Deere" she says. "You have to be very critical and do a lot of research before you jump in. You can overwhelm yourself with the latest system that isn't driving anything to your bottom line. 
"A case in point would be the Dealer Parts Management System. It's been around for over 25 years, and we only just took it on 7 years ago because we felt the timing was finally right. The point is, if you're going to do it, do it right. If you're stretched thin, maybe that project should wait a little longer."
Shoppa's also hosts its own dedicated online parts ordering system. Built on Dealer Customer Portal from Sedona Technologies, Schulz says they purposely waited a little longer than other dealers to implement this tool until they had the resources to do it right. "Once we did implement it though, we ran with it, and now we're on track to sell $1 million worth of parts within the first two years of having it," says Schulz.
Future of Inventory Management
Looking ahead at their next steps with their parts inventory, Schulz immediately focuses on keeping maintenance parts with larger customers going forward, a side of the business brought to light during the pandemic.
Are Third-Party Parts Management Systems Right for Your Dealership?
While Shoppa's Farm Supply elected to keep their parts inventory management entirely within Deere's integrated system, third-party options exist in the marketplace that need to be considered. Lynn Reed, chief technology officer with HBS Systems, a provider of equipment dealership management systems, breaks down what he sees as the key issues dealers should look at when considering outside parts management systems.
"The number one thing to consider is integration with your OEM," he says. "Before you can even get your foot in the door, that has to exist, all the way from parts catalogues to ordering systems. You have to consider things like what transaction software you use, how easy is it to track your transactions, how easy is it to reorder and track those reorders?"
For smaller dealerships or dealerships just coming out a recent acquisition, Reed recommends they start by forming the discipline necessary to use a new parts inventory system efficiently.
"It will likely be a more sophisticated system, meaning employees can't just be changing setting and numbers as they please," he says. "A big problem I see is dealerships with employees who will manually change the on-hand value of a part. And that's a bad process because there's no accountability in that, there's no record of why that number was changed or what it should be."
He adds that many dealerships looking at third-party systems are addressing poor parts management practices within their locations, such as reordering parts inappropriately. 
"It can be as simple as reordering a part that just sold without considering that it had been sitting for 30 months," he says. "Is that really something you want to reorder, just after one sale? Many owners are really looking to manage situations like that, and tools that will allow them to easily calculate how reasonable it is to order parts based on things like their sales history.
"I also see dealers who are just looking for software to help them find parts that simply go missing. They may have some kind of leakage going on between parts and service, and they find themselves asking, 'Where did that part go?' They're looking for auditability."
"We had many more online orders last year, and that's something we have to embrace going forward," she says. "Online sales will be big when it comes to helping our larger customers manage their maintenance parts, something we've talked about but not really addressed until now.
"We have some pretty big customers who don't need to come here for every filter they need. They need to have their inventory on site, and we need to keep up with that, which our website parts ordering process will help with."
She adds that growing Shoppa's online parts ordering platform will help capture more of the maintenance of their smaller ag market, which she says makes up about 50% of their business. "Our small ag customers are working all day, and many can't get here before we close at 5:00 p.m.," she says. "So many of our online orders come in after 7:00 p.m., which is when people are home and able to think about these things. And our online parts business is open 24 hours a day."
Does Your Dealership Have the Right Technology Tools in its Arsenal?
Finding the Parts Inventory System That's Right for You
Increased Cyber Threats Require Dealers to Be Proactive, Not Reactive
Assess Risk, Value to Avoid Costly Consequences of Cyber Attacks
Taking CRM to the Next Level
Fleet Management Data Offers Bottom-Line Boosting Opportunities
4 Changes Dealerships Must Make to Stay Connected to Customers