The Successful Equipment Remarketing Strategies series highlights the best practice strategies employed by top farm equipment dealers to promote and sell used equipment. It is brought to you courtesy of Iron Solutions.
At Iron Solutions, we are the trusted managers of equipment and agronomic lifecycle data for the crop production marketplace. The actionable intelligence we provide through IRON Search and our IRON Guides drives profitability. Learn more...
Don Aberle of Titan Machinery and Robert Benning of AgLand ­– Lloydminister use a number of tools and resources to determine the value of used equipment, from the dealerships' own data to various guide books. The remarketing managers say Iron Solutions, and most recently its Guides/Plus Pro product, are a big part of that process for themselves and their teams.
The tool helps the valuations team pull information from various sources to determine a unit's value. Managers agree that the main topics to consider during valuation are the model year, hours, attachments, features and condition.
"Iron Guide Plus pulls that information from the OEMs as far as original invoices, original costs. It has algorithms that take advertised prices on the internet and it takes the sold day reports from the dealers from across the country and puts that all into a pot and stirs it up and spits out a number," Aberle says.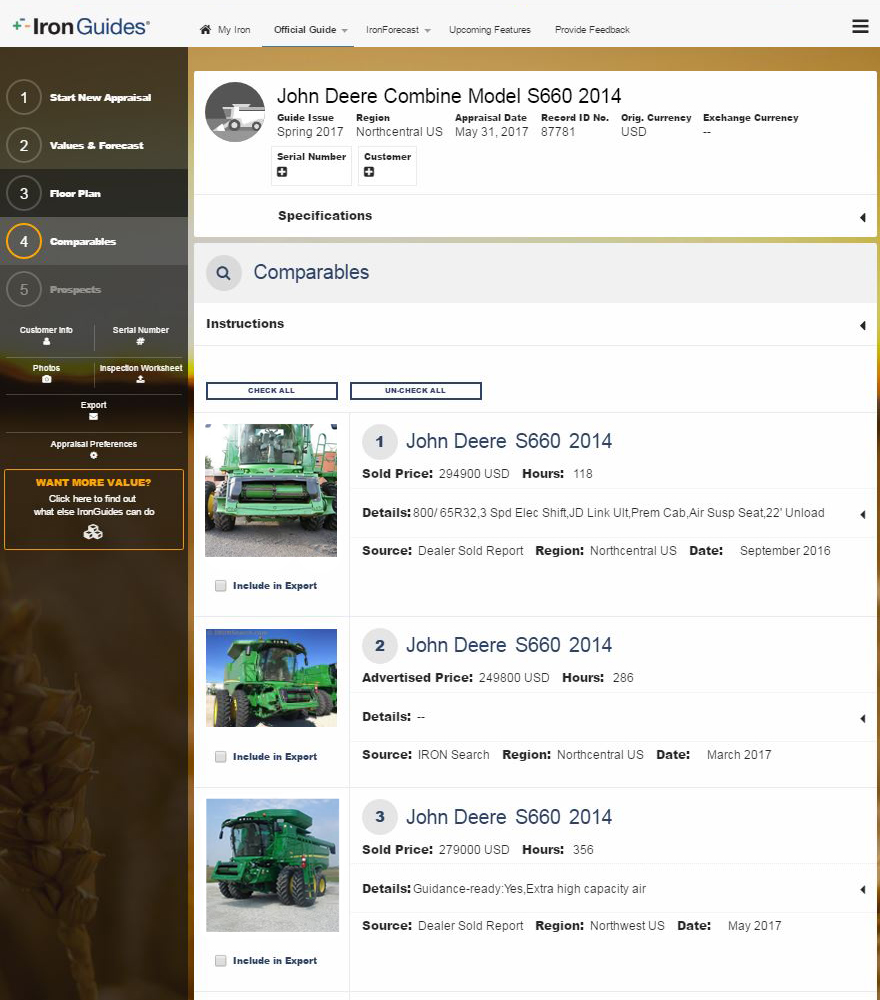 As an avid Iron Solutions user for the last 16 years, Aberle recalls using the Iron Guide print books (which will no longer be printed starting in 2018) as the main source in the valuation process and says the advancements continue to improve. Since upgrading to Iron Guide Plus in February, Aberle enjoys the ease of having information at his fingertips, as opposed to scanning through old data in a print publication, hoping the right number matched up with the serial number and hour adjustment.
"Iron Guide used to only print once a year," Aberle says. "The difference with Iron Guide Plus is that the product is digital, online, up-to-date everyday." An additional feature is a feedback button, which allows for faster updates and the opportunity from people in the field to make suggestions. For example, Aberle explains, "A tractor/combine that maybe was listed with a base package price with separate values for  tires, cab or some other features,  and now you find out that the base price update from the Manufacture now Includes those value(s) in the bases price,  you can now easily alert Iron Solutions and that change can be updated in a more timely manner.   This allows more accuracy when valuing trade ins.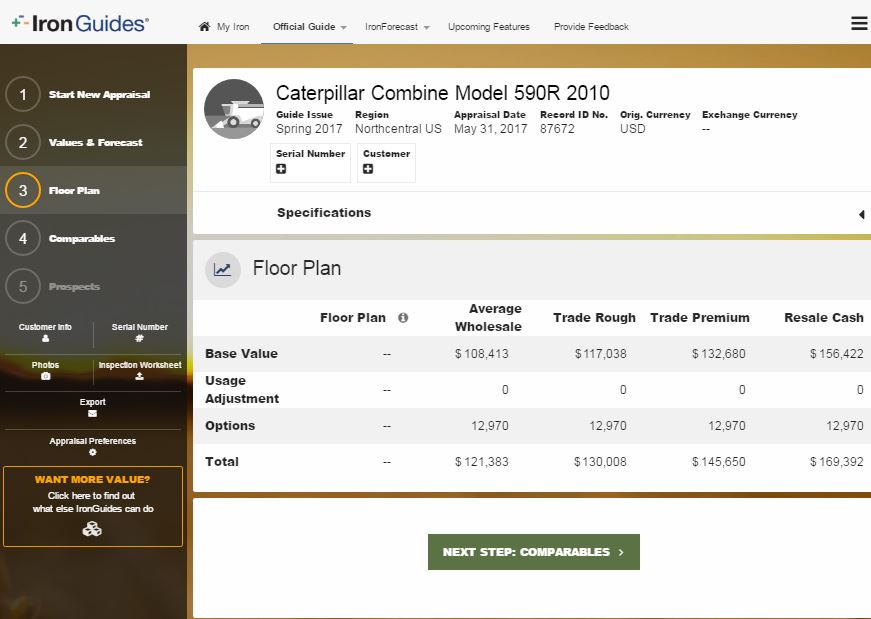 Along with consistent updates, Aberle appreciates that Iron Guide Plus is more accessible. It is available on any internet connection, such as a mobile phone or tablet.
Benning's primary source for valuation of used equipment is an Excel spreadsheet that factors in the dollar exchange rate. After looking at a depreciation schedule based on hours a year, his team adjusts for options. But for equipment that is 5 years or older, Benning uses Iron Guide Plus, which allows him to understand configurations of other combines and put value on competitive products, in addition to using sources like TractorHouse or Machine Finder.
"You can go through the evaluation, but then it actually allows you to look at comparables without having to go through and find them yourself," Benning says. It's an all-encompassing tool that brings everything together."
Benning also uses the new version for competitive and old John Deere trades and on machines with low sales history. He decided to upgrade because Iron Guide Plus allows for saved data, trade appraisals and new features such as floorplan calculation and breakdown of option values.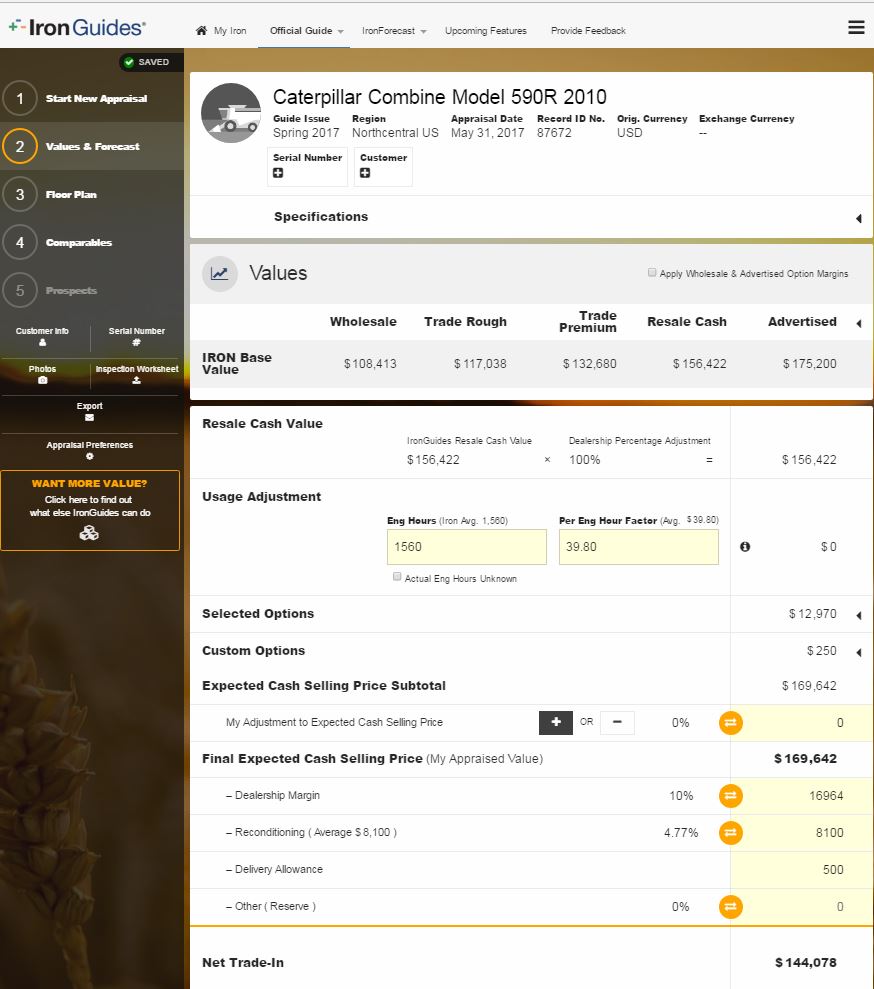 Factoring In Exchange Rates
AgLand–Lloydminister is a Canadian dealership, and Bennings said it's a different world when it comes to working with exchange rates. This is because currency affects the value on used equipment. Currency and straight-line depreciation have more of a bearing on the value of equipment than comparables do on products that are 5 years are newer because currency has been fairly volatile.
"That's why it's is a great tool for equipment that is older," Benning says. "Because currency is less of a variable and there's enough population and machines being sold that there's a good database to pull from."
Managers want tools in the evaluation process that will help their business do a better job of breaking down options and offer an efficient way to figure out used values. All of the changes implemented into Iron Guide Plus complement the various other sources (i.e. Dealers own sold data, internet listings, timely auction data) that dealers use, Aberle says. "Throw everything together, and we're able come up with a number we're happy with that reflects the industry and current market."