We are all acutely aware of how divided our country is along cultural and political lines. Much of that division derives from the concept that there is something inherently right about a majority, a democratic concept we are inculcated with from birth as Americans. However slim that majority, whoever possesses it these days has vast, unchecked governmental powers at their disposal. Hence the fierce competition to win elections and the tendency to perceive electoral outcomes as dire.
The Federal Balance of Power
A quick look at the current balance of power reveals just how closely divided America is. The Democrats retained power in the House by a final margin of 222 to 213. Only 31,751 votes separated the closest races and control of the majority out of a total of 159 million votes cast in the election. 
Combine that with a Senate tied at 50-50, and we have one of the slimmest congressional majorities in recent memory, but a majority nonetheless.
With Democratic control, new leaders have taken their positions in Congress. Representative David Scott (GA) made history as the first black chairman of the House Agriculture Committee. On the Senate side, Chairwoman Debbie Stabenow (MI) is familiar as the Chair of the Agriculture Committee, having first taken the gavel of that committee in 2011. Taking the helm at USDA is Tom Vilsack, who previously served as Secretary of Agriculture for 2 terms under President Barack Obama. 
Dealer Takeaways
Right to Repair remains a top priority, with 20 Right to Repair bills introduced throughout the country and 8 bills specifically targeting farm equipment.
At the state level, budget concerns will likely force policy debates to be tabled this year. State revenues are down an average of nearly 11% compared to pre-COVID estimates.
To date, no Right to Repair bill has passed a legislative chamber yet, but several have received strong support in committee votes.
Federal Priorities
What is less familiar are the agriculture priorities of the Biden administration and the new leaders in Congress. Before signing an executive order on climate change, President Joe Biden made the comment that U.S agriculture would be the "first in the world to achieve net-zero emissions." 
The declaration was vague on details, but how the administration intends to carry that out has become clearer in recent weeks as discussion of establishing a USDA-controlled carbon bank have accelerated. 
Chairman Scott has stated that his first hearing will be on whether USDA has the authority to establish a carbon bank without legislation, and incoming Secretary Vilsack has promoted the idea during his confirmation hearings. 
There are more immediate, pressing matters Congress and the administration must grapple with, though. The first is a COVID stimulus package that was released passed. The current $1.9 trillion bill is directed at transfer payments to support individuals and state and local governments. 
The bulk of the package would create a new round of stimulus payments, increase weekly unemployment assistance and provide rental and utility assistance. Another $350 billion goes to state and local governments to backfill budget deficits created by COVID-19. 
Unlike previous relief packages, there is little in the way of assistance for businesses except a mandate to provide paid family and sick leave, which will be expanded to include all employers. Companies under 500 employees will be eligible to receive reimbursement for employees taking paid leave. 
State Balance of Power & Priorities
Turning to the state level, the balance of power remained largely unchanged. Looking at political trifectas, where one party controls both chambers of the legislature and the governor's office, bears this out. After the election, Republicans now have 23 state trifectas, an increase of 2. The number of Democrat trifectas was unchanged at 15. 
The big question heading into this year's state legislative sessions was whether budget or policy would dominate the discussions. Clear headwinds seemed to indicate that budget concerns would force policy debates to be tabled this year. 
According to the National Assn. of State Budget Officers, state revenues are down an average of nearly 11% compared to pre-COVID estimates. The total fiscal shock according to Moody's Analytics is over $500 billion, which would put the decrease in state revenues on par with what we saw during the Great Recession.
Right to Repair
Despite those challenges, it appears that policy issues such as so-called Right to Repair have taken center stage in legislative sessions across the country. There are already 20 Right to Repair bills introduced throughout the country, with 8 bills specifically targeting farm equipment. That was an unexpected development as previous bills were primarily focused on consumer electronic devices such as smartphones. 
No Right to Repair bill has passed a legislative chamber yet, but several have received strong support in committee votes. COVID-19 protocols at state legislatures have made it difficult to discuss complex issues like this one and in some instances there has been minimal deliberation on the legislation before being passed.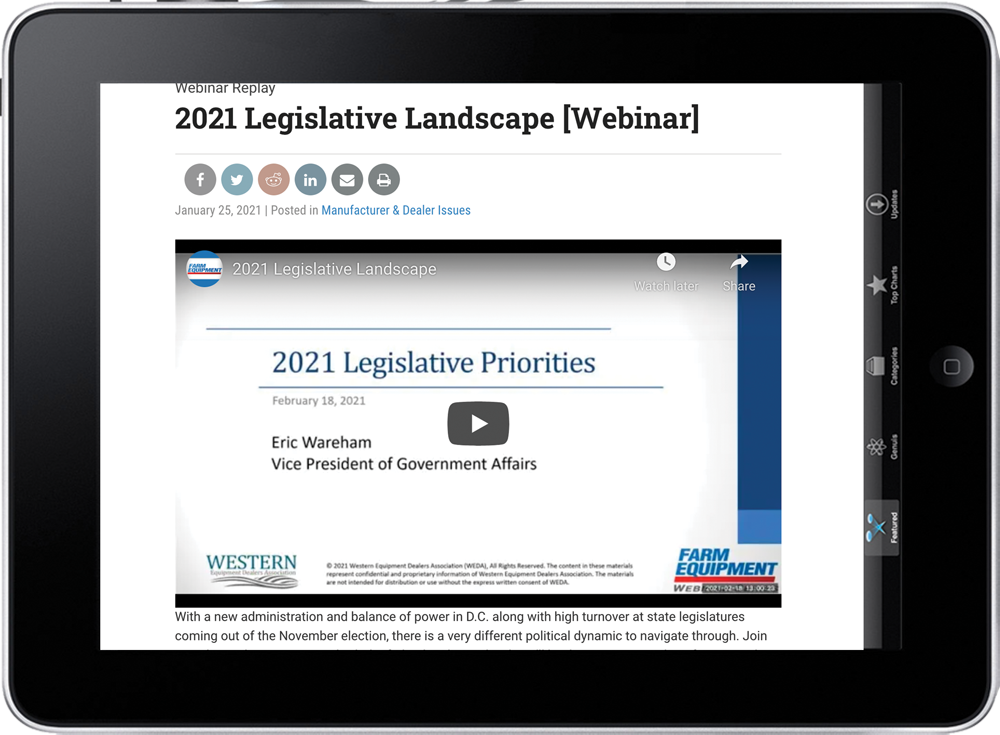 Watch the Webinar
For additional details on these topics and more, you can find a replay of the webinar Eric Wareham presented — 2021 Legislative Landscape — on Farm-Equpment.com 
With a new administration and balance of power in D.C. along with high turnover at state legislatures coming out of the November election, there is a very different political dynamic to navigate through. Join us to hear what to expect at both the federal and state level. We'll be discussing everything from stimulus to state budgets in this unique era and time, and we'll breakdown the status of Right to Repair across the country. 
In some instances, testimony has not been allowed. Despite that, there is a strong coalition of opposition against these bills and it appears we are making headway against groups outside of agriculture who are pushing this legislation at the state level.
Right to Repair may soon become a national issue. Over the summer, the Democratic Party adopted Right to Repair as part of its national platform. This followed after two Democratic presidential hopefuls campaigned on the issue, Bernie Sanders and Elizabeth Warren. One of their Senate counterparts, Senator Jon Tester, also sent a letter to the Federal Trade Commission over the summer requesting they examine Right to Repair specifically for farm equipment. 
Redistricting
Whether Democrats will be successful in their efforts to wield a razor thin majority for long will depend largely on redistricting. The 2020 census is now complete, which under normal circumstances would mean that congressional and state legislative districts lines would be redrawn this year. Due to COVID-19, however, the Census Bureau is delaying the release of census results until the end of September. That will place a significant time crunch on the redistricting that must take place prior to the 2022 elections. 
Even without the data, there is broad consensus that several congressional seats will be shifting. Among those states picking up seats it is anticipated that Texas will gain three, Florida will pick up two and Arizona, Montana, North Carolina, Oregon and Colorado will gain one congressional seat. Correspondingly there are several states that will lose a seat with the California expected to lose a seat for the first time since becoming a state.
Going back to the narrow majority that now exists in Congress, these shifting congressional seats could easily change the balance of power. 
By their advantage in state legislatures, Republicans will control how 43% of congressional districts are redrawn (188 seats). Compare that to Democrats who will control only 17% of redistricting (73 seats), and you are looking at a very similar scenario to 10 years ago. At that time, Republicans controlled redistricting for a similar number of seats after being swept into power in the 2010 elections. The result was an entrenched electoral advantage for Republicans that lasted an entire decade. 
Limited Government & Unity
If you have followed along through this meandering article meant to recap a recent webinar, you can take solace in the fact you were spared 45 minutes of listening to a nasal summary of the same, and also this. America was founded on more than the ideal of democracy, which left alone the founders understood would fall to licentiousness. It is equally founded on the ideal of a limited government with checks and balances. 
History bears out that there is nothing inherently right about a majority. Our elected leaders from both parties — and the American populace — would do well to remember that fundamental civics lesson if calls for unity are not meant to be trammeled by the oscillation of partisan power.